Worker behind praying mantis may have hottest Las Vegas job — PHOTOS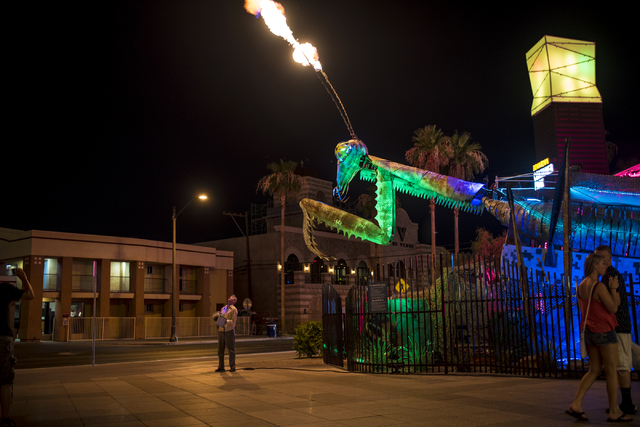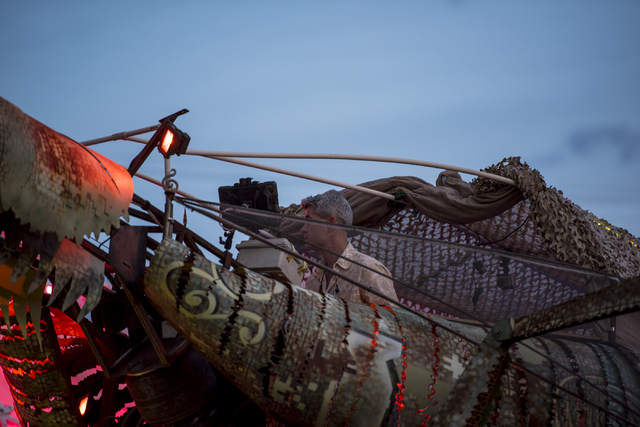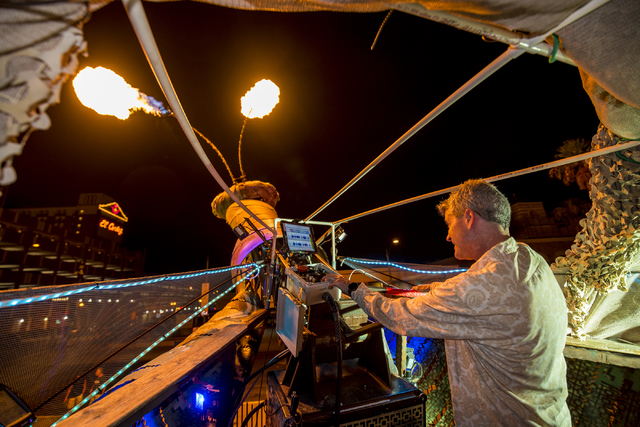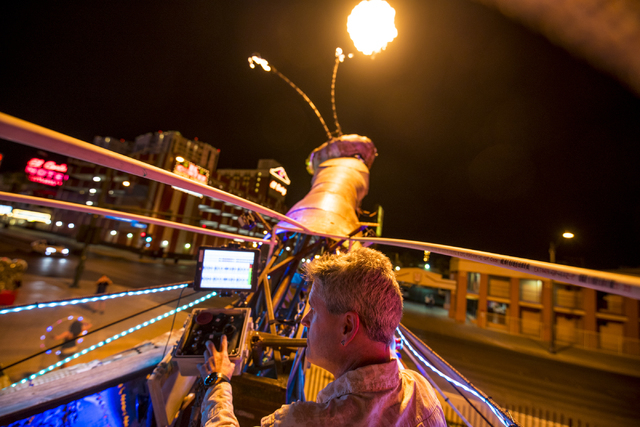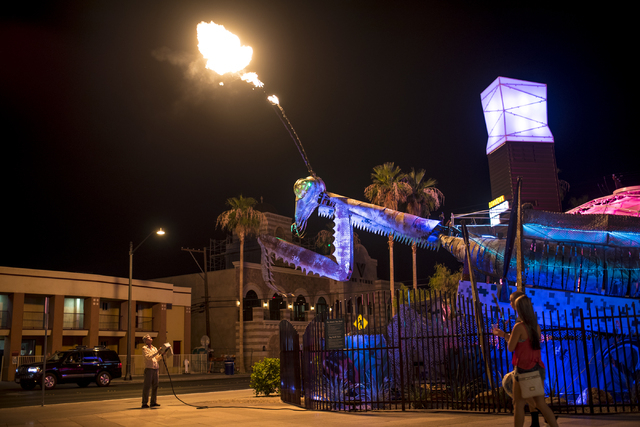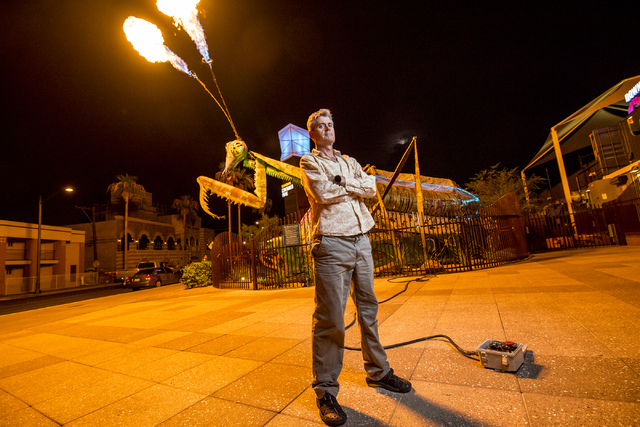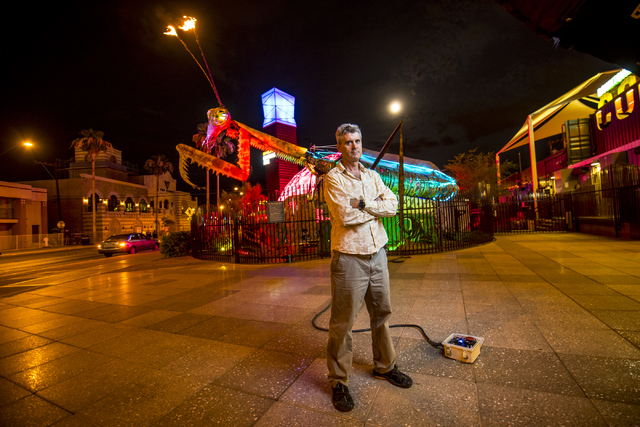 Inside the belly of the giant bug, Merritt Pelkey points a temperature-reading gadget at several objects.
First, it reads 107 degrees. Then Pelkey points the device in a different direction. This time, 113.
Man, it's toasty inside here as sunset is still an hour away.
Pelkey monitors everything inside this mammoth metal insect, which just happens to be downtown Las Vegas' hottest attraction.
Officially speaking, Pelkey's job title is director of fire operations of the flame-throwing, music-playing, 40-foot-tall praying mantis at the entrance of Container Park, the popular downtown shopping district comprised of 38 repurposed shipping containers.
The fire-spewing praying mantis-on-wheels is the mascot for Container Park, the flagship commercial development of Downtown Project, Tony Hsieh's $350 million downtown redevelopment initiative.
It's hard to pin down Pelkey's job description because the mantis duties are so varied.
In essence, he's caretaker, serving as DJ playing fire-theme tunes through seven speakers; propane tank operator fueling fire blasts from the insect's antennae; puppeteer controlling the mantis' head via two handles linked to cables; and handyman fixing items like propane tank valves and arranging fans to keep speakers from overheating.
He's even a closet drummer, blasting out the shots of fire to the beat of the songs he plays such as "Great Balls of Fire."
"I might get a kick out of it more than the people watching her," Pelkey, 51, said, referring to the praying mantis as a female. "I've had a lot of cool jobs, and this is my favorite."
That's powerful testimony considered Pelkey spent a decade working for pop rock band Huey Lewis and the News in the studio and on tour.
These days, Pelkey's four-day shift is sunset to Container Park's closing — about 50 hours a week. He goes through 40-50 gallons of propane per shift.
The only times Pelkey doesn't operate the mantis is when weather problems such as wind, rain or lightning strike Container Park, shutting down the big insect, which is 150 times the size of an actual praying mantis.
The praying mantis has been in its pen since Container Park's opening on Dec. 5, 2013. Hsieh — Zappos CEO, downtown redeveloper and Airstream park resident — bought the praying mantis from Kirk Jellum, a former aerospace engineer from Utah who fashions large scale metal art pieces.
Jellum drove the giant bug, which is mounted on a 1983 GMC dump truck, to Burning Man in 2010. Hsieh then bought the art work and first displayed it in Las Vegas in 2012 at the Las Vegas Rock 'n' Roll Marathon and First Friday events.
The praying mantis hasn't moved since Container Park opened and has acquired its own specific set of Las Vegas fire regulations.
Pelkey, a Las Vegas resident, worked with fire and rescue officials to craft the rules for the artwork, which includes four fire extinguishers,
To enter the insect art work, Pelkey climbs a six-step ladder, which leads him into cramped, toasty nerve center.
On this warm evening, Pelkey stands in a perch inside the insect to watch people and overhear sidewalk conversations below. A folding chair gives Pelkey access to a control box, which includes one of the emergency turn-off buttons.
Pelkey's iPad allows the praying mantis to speak 15 languages, from French, German and Spanish to Korean, Chinese and Russian.
He also comes dressed for the job, donning camouflage clothing so that visitors don't see him in action.
"She's the star," Pelkey said. "I'm not."
A few real-life stars have visited Pelkey in the mantis' inner workings. They have included English businessman Richard Branson and actress Sarah Jessica Parker.
"He was giggling like a school kid," Pelkey said of Branson. "He's not an easily impressed man, but he thought it was cool."
Contact reporter Alan Snel at asnel@reviewjournal.com or 702-387-5273. Find him on Twitter: