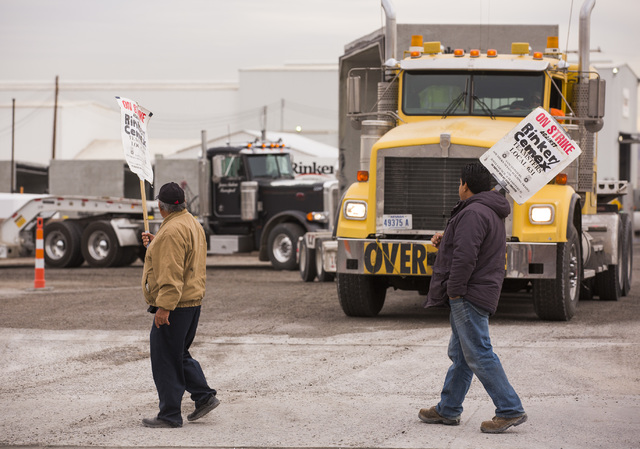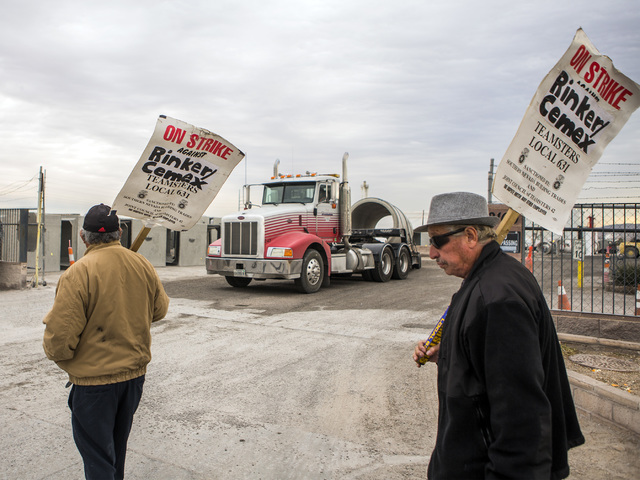 About 75 workers with a Henderson construction materials supplier expect to remain on strike throughout the holidays in response to stalled negotiations.
The workers, in week five of the strike, say their employer's offer does not reflect the company's improved financial health since the recession.
The workers at Rinker Materials Hydro Conduit, east of the intersection of North Boulder Highway and Galleria Drive, demand higher pay and the rescinding of contract concessions they made to help the company through the recession, said Tommy Blitsch, CEO of Teamsters Local 631 in Las Vegas.
The workers say the company has more money to invest in its workers, partly on the evidence that it has doubled its workforce since the 2011 contract. At that time, employees agreed to pay freezes and to contribute more into their health insurance plans, Blitsch said.
"The company is not interested in reciprocating that good will," he said.
Employees have worked about 60 hours a week six days a week for the past year, he said.
A spokesman with Rinker Materials' parent company, Cemex, said the company is disappointed the workers have decided to strike but disagrees that the company has improperly delayed negotiations.
The spokesman, Walker Robinson, declined to answer specific charges from Blitsch about its contract with employees.
"We have made every effort to negotiate in good faith with the union to reach an agreement that is fair to the workers and the company," Robinson said. "We continue those efforts."
The Henderson operation supplies concrete pipe to the construction industry.
Cemex, headquartered in Mexico, posted a gross profit of $3.65 billion from January to September, a 3 percent increase over the same period last year, according to its third-quarter earnings report.
All the workers at the Henderson building, which includes forklift and crane operators and welders, belong to the Teamsters union except for about five managers at the building, Blitsch said.
The strike started Nov. 15, the day the workers' contract expired. The company had stopped negotiations a week earlier, asking if they could wait until Nov. 29. The union and the company have met on and off throughout December with no progress, he said.
Blitsch said he believes the company sought to delay contract negotiations until after it sold its Rinker pipe business to Quikrete Holdings Inc., based in Atlanta.
"They wanted to hold a gun to our guys' heads," the union leader said.
But the company denies Blitsch's charge.
Contact Wade Tyler Millward at 702-383-4602 or wmillward@reviewjournal.com. Follow @wademillward on Twitter.