Working locally at trading globally
September 21, 2008 - 9:00 pm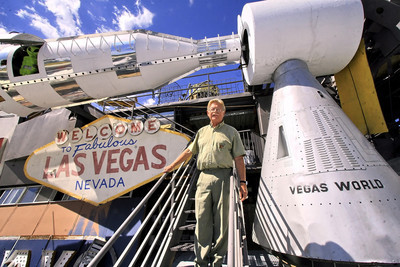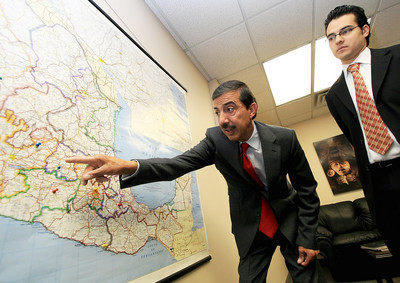 While chaperoning a Swedish business delegation on a whirlwind tour of Las Vegas just before Labor Day, Lena Walther may have stumbled on a hot new export for Nevada: The bed tax.
Walther had cobbled together a two-day visit that included stops at Mandalay Bay, The Venetian and Fremont Street to allow 15 leaders of the Swedish Exhibition Center in Goteborg both to study operations and to pick managers' brains.
"They wanted to come to Las Vegas to see how things are done at the best convention city in the world," said Walther, Sweden's honorary consul here. "They were completely overwhelmed."
Perhaps more than techniques for moving around mass amounts of food, hordes of people and all their paraphernalia, the group paid close attention to how the city finances its extensive promotional campaign by taxing visitors' hotel stays.
"It's one thing they really wanted to look at more," Walther said. "This is a concept that doesn't exist over there."
Exposing foreigners to local customs is just part of the job description for Nevada's consular corps, which now numbers 22 countries and growing. Nineteen of them have received honorary appointments, chosen by officials from their home country and approved by the U.S. State Department. They volunteer their time and often pay out of their own pockets to arrange trips or attend consular meetings.
Perhaps best known for assisting their countries' citizens with visa problems, getting them home after their passports have disappeared or even making an occasional late-night jail visit to help someone who overdid it, the consuls often form the first line of offense in the state's push to diversify its international business footprint beyond mining and gambling.
Last year, according to U.S. Census Bureau statistics, Nevada ranked 35 among exporting states at $5.7 billion. Of that total, 56 percent came from mining — the vast majority involved gold exports to Switzerland. At this point, almost all of the consuls report that the bulk of the inquiries they see come from foreigners interested in Las Vegas, but very little in the opposite direction.
Although the consular corps has grown from just four during the past decade that Gayle Anderson has served as the state's chief of protocol, many feel their prominence still lags what is seen in neighboring states, particularly Utah. Not surprisingly, Utah's export total topped Nevada by $2.1 billion, while Arizona ran $13.5 billion higher.
The government does not track corresponding numbers for imports.
"The focus on international economic development doesn't get much horsepower here unless it's related to gaming," said Randy Innis, chairman of the state's District Export Council, an adjunct to the U.S. Department of Commerce. Only recently, have the first steps been taken to bring consuls more into export marketing.
"Nevada is at least improving but still doesn't understand it," Walther said. "They don't know how to get the consular corps involved."
Paul Workman, senior vice president and Southern Nevada regional manager of City National Bank, said that a Reno-based manufacturer of kitchen ventilation hoods recently sought expertise to expand its exports from Canada to Dubai and Latin America. "Nobody has been doing much of this kind of commerce in Nevada," he said. "But as more small and medium-size companies begin to expand their reach, we expect to see a lot more exports from companies we don't even know about yet."
On the import side, there is no shortage of interest.
When British retailer Tesco picked Las Vegas as one of the launch markets last year for its Fresh & Easy supermarket chain, it called U.K. honorary consul Jerome Snyder to arrange introductions to local officials and a few pointers in navigating the permit process.
In November 2006, MGM Mirage Austria's Doppelmayr Cable Car Co. won a $60 million contract to build the people mover that will connect the Bellagio with the Monte Carlo, threading through CityCenter. At this point, honorary consul Edwin Prud'homme stepped in to help with the logistics and paperwork for the team of engineers that headed to Las Vegas to start work immediately.
During the Romanian royal family's visit in March, honorary consul Lia Roberts shepherded Princess Margarita through the World Market Center.
"Romania is a big furniture manufacturing center," said Roberts, who briefly ran for the country's presidency in 2004. "Maybe it can open an outlet here."
In other instances, the consul has to step in with some friendly advice about what won't work. Honorary consul Andreas Adrian occasionally gets calls from Germans interested in selling wurst and strudel from pushcarts on the Strip, thinking that if it works in Munich it should be a big hit in an international tourist mecca.
"They come with the idea of setting up right in front of the Bellagio," Adrian said. "But I have to explain to them that it cannot be fulfilled."
Ultimately, the trade and investment development functions that consuls perform vary greatly from country to country. Adrian estimates that he spends 20 percent of his time in this role, versus addressing the needs of individual Germans or expatriates, and deals mainly with small and midsize companies. Global giants such as Siemens, which also is working on CityCenter, have the internal manpower to take care of everything on their own.
In Italy, however, even major companies are often family-controlled and prefer to scout out new markets with the help of locals who also know the home country, honorary consul Stephano Ripamonti said.
When a group from renowned gun maker Beretta, a family enterprise since the Renaissance, came here for a trade show earlier this year, Ripamonti squired them around some of the Strip's malls. In addition to selling firearms through independent dealers, Beretta has opened a couple of shops under its own name that sell sports clothing.
"Many of them (the Beretta executives) had not been here for many years," he said. "They were not aware of the many changes in the last five to 10 years and they were surprised. I don't think they are going to do anything soon, but I saw they were surprised by the potential."
Others are just starting. Slovak general consul Geoffrey VanderPal rented a booth at this year's Las Vegas Chamber of Commerce Business Expo to highlight the country's industries, particularly on the manufacturing side. But not many concrete opportunities have yet opened up.
Honorary consul Victor Perry accompanied a trade mission to Namibia in June and was essentially given free rein to meet with government and business leaders. What he returned with is a focus on promoting academic exchange between the country and Nevada, "then hopefully try to develop tourism after that."
As honorary consul to Belize, Dr. Lonnie Hammargren has hosted several trade groups at his home, part of which is modeled on a Mayan temple.
"The big thing there is tourism, tourism, tourism" he said, in a country that has relatively lax regulations and speaks English as the native language. "But there ain't a whole lot of people burning up my phone wires to do business in Belize."
By far, Mexico and Australia have built the two most organized trade efforts, not surprising because both have full-time people leading the effort.
The Mexican Consulate downtown already has a business center, a small conference room with a separate entrance that avoids the lines of nationals who come daily regarding immigration issues. When the consulate moves to larger offices in January, it will include a strengthened business promotion section.
The situation that general consul Mariano Lemus faces is reverse of that from most everyone else: There is already a strong flow of exports from Nevada to Mexico, but much less in the other direction.
"My big challenge is to make the trade both ways," he said. "I spend about half my time on this."
U.S. Census Bureau statistics show that Mexico was Nevada's fifth-largest export market last year at $177.5 million, down 17 percent from 2006.
He counts at least 50 companies in the area that sell everything from onions to software in Mexico.
"Part of our job is to encourage people in Mexico to buy products from Las Vegas," he said.
The flow northward includes furniture and construction materials, notably produced by the cement giant Cemex. But he promotes other products, particularly in agriculture. Early this summer, for example, he escorted several restaurateurs to the Baja California port city of Ensenada, to show that Mexican commercial fisheries adhere to U.S. labor and environmental standards.
"Many Mexican restaurants now buy their supplies through brokers in California," he said. "We would like to convince them to buy from Mexico. Many people know Mexico just because of the border and immigration, but we are beyond that."
Although he performs regular consular functions, David Tully has deliberately chosen to take only the title of trade representative for Australia. As such, he feels he can better keep his focus on commerce.
For the past three years of working for the Australia Trade Commission, Tully has sought local beachheads for companies. He helped the commercial photographer Peter Lik establish his first Las Vegas gallery at The Venetian; he has since expanded to Caesars Palace and Mandalay Bay. Likewise, he worked with Sydney jewelry designer Stefano Canturi to open his location at Palazzo, a showplace not only for his work but Australian diamonds and gemstones.
On the industrial side, Australian companies have shown an interest in emerging specialties such as water conservation and renewable energy as well as gaming. Perhaps the largest presence is the 500 people who Aristocrat Technologies, a maker of various gambling machines, employs at its U.S. headquarters just south of McCarran International Airport.
With a governmental organization carried out by the new Australian administration, Tully has now picked up promotional duties for exports from Nevada.
The consuls credit the growth of their numbers, more than fivefold over the past decade, to the appointment of Anderson as the state's first chief of protocol in 1998. When she took the post, lodged in the Nevada Commission on Economic Development, she went about lobbying the numerous career consuls that she had come to know during her tenure as Orange County's chief of protocol to establish Nevada outposts.
With almost all of them now tied to European and Latin American countries, she has set her sights on adding Korea, the Philippines and Thailand starting next year.
The growth in the number of honorary consuls — representing 19 of the 22 countries — also coincided with their rising numbers across the country. Although honorary consuls have been around at least since the Middle Ages, representing Venice in the network of trading colonies it built during the era of Marco Polo, and perhaps since ancient Greece, they have come into vogue due to very modern budget constraints.
According to the State Department, the United States hosts 544 career consuls and 1,094 honoraries, with the gap continuing to widen. Edward Fanucchi of Fresno, the former dean of the Consular Corps College, said the numbers of careers have gradually declined while the honoraries have risen by about 10 percent a year.
"Basically, that is a money-saving way for governments to have representation," he said. "That's a sweet deal if you can get it."
Honoraries volunteer their time and sometimes their checkbooks to hold the posts. Later this month, for example, Prud'homme estimates he will spend $2,000 to $4,000 to attend a meeting in Washington where Austrian business executives will tout products and services they want to sell in the United States.
As a result, many consuls are attorneys, physicians, self-employed businesspeople or retirees, who can not only set their own schedules but also meet people at their homes or set aside a desk and phone line for conducting consular business.
After being asked to apply for the honorary consulship for France, Andre Portal recalls that he sent in the papers and forgot about it. As an executive in the hotel business, now the vice president of food and beverage at the Palms, he figured he was too far outside the mold to be a serious candidate.
However, his ultimate appointment 12 years ago paid off from a different aspect. The Palms has hosted many events involving French officials at no charge.
Across the board, honorary consuls say they enjoy being able to help citizens or expatriates of either their native countries or places in which they have a strong interest.
There are other benefits, too. The consular license plates are known as a shield against parking tickets — although no other form of diplomatic immunity comes with the post.
Fanucchi added that consuls have a platform for building business contacts. Although they cannot directly profit from consular work, "You can get remuneration in different ways by being a consul," he said.
For instance, the consular status might help an immigration lawyer gain a pipeline of client referrals who need help with visas, as long as they are from other countries.
Still, consuls say the state's history of not orienting itself internationally, except to find fresh pockets of people willing to visit Las Vegas, limits how much it gets out of its consular officials. By contrast, Utah, with its tradition of sending Mormon missionaries around the world, has established its own International Trade & Diplomacy Office.
"There is so much more that could be done through the consuls to promote trade," Adrian said.
This story first appeared in the Business Press. Contact reporter Tim O'Reiley at toreiley@lvbusinesspress.com or 702-387-5290.
SO YOU WANT TO BE A DIPLOMAT
Although Geoffrey VanderPal has had a longtime interest in foreign affairs, he never did much about it until early 2005.
After drafting a short list of countries, mainly in central Europe, that were both growing rapidly and looking for trade opportunities, he sent letters to about a half-dozen ambassadors in Washington, D.C., asking if they would take him as an honorary consul.
VanderPal, a financial planner with his own company, traced distant family roots to Slovakia more than four centuries ago. Otherwise, though, he had little connection to the country.
The Republic of Slovakia quickly showed interest, setting in motion a process that led him to receiving his approval from the U.S. State Department in August 2006 and formal credentials five months later.
Although his path may give hope to anyone who has ever fantasized about becoming a genuine, card-carrying diplomat, even a volunteer part-time one, the experience of Nevada's 18 other honorary consuls suggests few others could follow his template.
"His case was very unusual," said Gayle Anderson, the state's chief of protocol, a position that makes her something of the den mother to the state's fledgling consular corps.
More typically, the position seeks the person rather than vice versa. Expatriates or native Americans who have long-standing business or personal ties to the country often get tapped for the positions. Andreas Adrian, who was born near Frankfurt, Germany, was cajoled into taking over as honorary consul by his retiring predecessor, Sigrid Sommer. Lena Walther served in Sweden's Foreign Ministry before representing the country again as honorary consul here. Lia Roberts is a Romanian native who briefly ran for the country's presidency four years ago.
Anderson, who often plays a prominent role in selecting honorary consuls, outlined these steps on the route many appointments take:
Persuasion. Sometimes, countries will decide on their own to place someone in Nevada. In other instances, Anderson works the contacts she has built in the past decade as the state's protocol offcier and before that in the same post for Orange County, Calif. Her basic pitch involves convincing career diplomats, usually stationed at consulates in Los Angeles or San Francisco, that they would be would be better off with a permanent representative here rather than commuting periodically due to the country's immigrant population or business opportunities.
Vetting. Nominees may come from Anderson or from other people tied to the country, but then work their way from a consul general to the Washington embassy, then to the foreign ministry in the capital and back to the embassy.
Security. The country forwards its final selection to the State Department for background checks.
Credentials. Even though the country may appoint a person, it does not become official until the U.S. government issues credentials. Anderson said it is illegal for people to present themselves as honorary consuls before the credentials are literally in hand.
The entire process easily takes several months and sometimes longer. Adrian's nomination, for example, took two years because an outgoing German ambassador did not send his papers to Berlin before departing.
The appointment was well down the to-do list of the replacement.