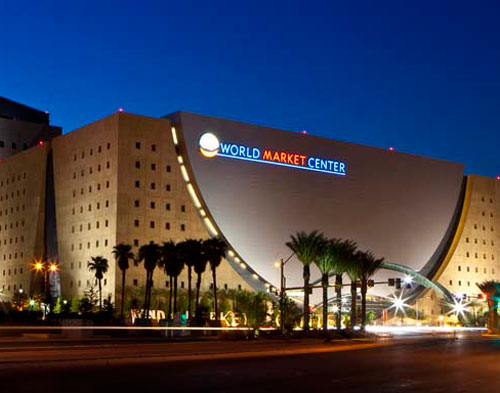 Plagued by declining occupancy and lower rents from tenants who stay, the World Market Center has defaulted on the mortgages covering two of its three massive towers.
A year ago, World Market Center informed the servicing agents for the two loans, totaling $564.7 million, that its declining cash flow would force it to skip payments within months. The default occurred in April, although it was only recently disclosed by outside companies that track commercial loan defaults.
In a July newsletter, credit rating agency Moody's Investors Service listed the two buildings, A and B, as being in foreclosure proceedings. But in a report last month, research service Realpoint said that lenders had extended a forbearance agreement, through which they voluntarily held off on any repossession actions, through Aug. 31.
In a statement Tuesday, World Market Center management denied foreclosure proceedings were under way.
"Certain parties have been misrepresenting this fact for months despite our notice to them," the statement said.
Building C, the other component of the World Market Center, opened in July 2008, after the recession had set in and financial markets had largely dried up. As a result, World Market Center could not find a long-term mortgage to replace the $488 million construction loan secured in December 2006.
Typically, construction loans come due in full after five years. But World Market Center declined to comment on the loan or other aspects of its financial condition.
A Realpoint report said that several debt-restructuring proposals had been traded between World Market Center, controlled by developer Jack Kashani and the New York-based Related Cos., and the agent representing the lenders but no deals had been reached.
Over the past couple of years, distressed real estate has become common in Las Vegas in both the residential and commercial sectors. At $2.9 billion, the valley has the nation's second-highest value of delinquencies after New York for loans included in financing vehicles called commercial mortgage-backed securities, according to a Realpoint tally.
But problems for the World Market Center would be a particularly sharp sting because community leaders often held it up as an example of the economic diversification the valley's economy badly needs.
The three towers cover just more than 5 million square feet and house several hundred showrooms for home furnishings manufacturers and wholesalers. While dark much of the year, the World Market Center draws tens of thousands of buyers to its semiannual shows.
"The World Market Center takes something that used to be temporary and makes it more permanent," said Rob Lang, the director of Brookings Institution Mountain West center at University of Nevada, Las Vegas. The long-term hope, he added, is that furniture designers will cluster around the center and create products that can be exported, much as happened in Milan, Italy.
Instead, the recession that hammered the furnishings industry struck the World Market Center. According to Realpoint, the occupancy level at Building A dropped from 97 percent at the end of 2007 to 85 percent in June 2009, while Building B went from 89 percent to 75 percent during the same span. More recent figures were not available.
At the retail level, furniture sales have dropped 12 percent from the 2007 peak to $85.8 billion last year, according to the calculation of the investment firm Mann, Armistead & Epperson. At the wholesale level, however, the decline ran 28 percent to $34 billion during the same period.
In February, World Market Center told lenders that tenant delinquencies and rent concessions had made it impossible to continue covering debt service. In an August interview, World Market Center CEO Robert Maricich said management had been "aggressive" in discounting lease renewals on Building A as "reflect(ing) the difficulty in the economy."
World Market Center has regularly touted new or extended leases it has signed, and it has tried to extend its base through steps such as adding a gifts section as part of its regular August market.
World Market Center's future could hinge on a relatively obscure provision that defines whether the mortgages are recourse or nonrecourse. A recourse loan lets lenders recoup the difference between the balance of the loan and the value of the property at the time of repossession by pursuing other assets held by the owners.
Realpoint has calculated that Building A is worth only $186.6 million compared with a loan balance of $213.8 million. Including other costs, Realpoint projected a potential loss of $32.9 million.
With Building B, Realpoint estimated a possible loss of $106.9 million on a $345 million mortgage.
However, a nonrecourse loan limits any recovery by lenders to the property itself and allows owners to walk away without further losses. Nonrecourse financing is common with commercial mortgage-backed securities, in which numerous real estate loans are pooled into one fund and then sold to investors. The funds that include the World Market Center loans were put together by the now-defunct brokerage Bear Stearns in 2005 and 2007.
For example, Vornado Realty Trust had nonrecourse loans on furniture marts it owned in High Point, N.C., and turned buildings over to lenders after defaults.
Also, further doubt would be cast on already-delayed plans to expand the market center to its planned eight buildings and 12 million square feet over 57 acres.
The lenders are represented by Centerline Capital Group, a company that tries to restructure loans that have soured. In November and January, according to Realpoint and Fitch, World Market Center submitted two proposals that were rejected by the lenders. The lenders then sent World Market Center their own offer, which is still under review.
Contact reporter Tim O'Reiley at toreiley@lvbusinesspress.com or 702-387-5290.
AT A GLANCE
Building A
• Size: 1.3 million square feet
• Height: 10 floors
• Opened: 2005
• Debt: $213.8 million mortgage
Building B
• Size: 1.6 million sqare feet
• Height: 16 floors
• Opened: 2007
• Debt: $345 million mortgage
Building C
• Size: 2.1 million square feet
• Height: 16 floors
• Opened: 2008
• Debt: $488 million construction loan