Wynn Resorts kills Philadelphia casino project
November 11, 2013 - 6:46 pm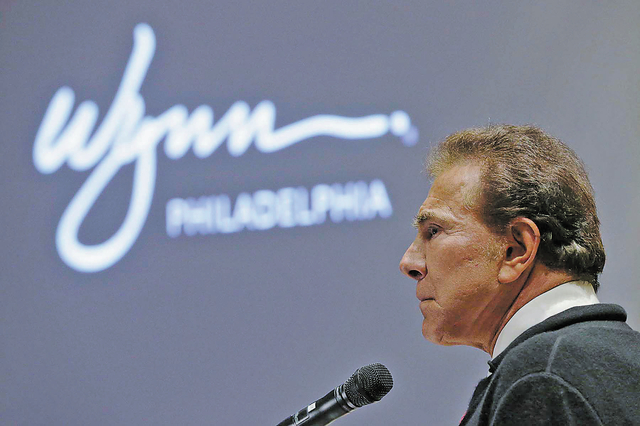 For the second time in three years, Wynn Resorts Ltd. has withdrawn its application for a casino license in Philadelphia. The Las Vegas-based gaming company issued a statement Monday saying it would pursue business opportunities elsewhere.
"The Wynn Resorts board of directors recently met to carefully examine the feasibility and opportunities associated with the company's domestic development in Philadelphia," said Wynn Resorts. "At this time, the board has decided that the best course for the company is to pursue business opportunities elsewhere."
The company said its board "took a host of factors into consideration, including the Philadelphia market performance over the past year and the competition which will result from the recent approval of gaming in the State of New York."
Wynn Resorts spokesman Michael Weaver declined to comment beyond the company's statement.
Shares of Wynn Resorts gained $1.32, or 0.81 percent, to close Monday at $165.03 on modest trading of 722,100 shares on the Nasdaq. Wynn shares have traded within a 52-week range of $103.34 and $173.38, and posted an average daily volume of the past three months of 1.14 million shares.
Wynn Resorts proposed to build a 150,000-square-foot casino with 900 slot machines and 100 table games along with a 300-room hotel on about 60 acres of waterfront in the Fishtown neighborhood of Philadelphia. The estimated cost would have been $925 million.
The Wynn decision leaves five applicants competing for Philadelphia's second casino license. They are: Tower Entertainment LLC, Market East Associates, PHL Local Gaming, PA Gaming Ventures, and Stadium Casino LLC. The SugarHouse casino has been open in Philadelphia since 2010.
In April 2010, Wynn Resorts proposed partnering with local investors to rescue and build a $600 million Foxwood casino in Philadelphia before pulling out.
The Pennsylvania Gaming Control Board is still expected to select the winning applicant in March or early April. Richard McGarvey, a gaming control board spokesman, said regulators will proceed with their hearings in January.
"We have received notice from Wynn's counsel that the Wynn proposal for Philadelphia will be withdrawn," McGarvey said in an email Monday. "Wynn presented a competitive and substantial proposal which will not be among those for the boards consideration."
McGarvey said the gaming control board "will move forward with its hearings and "consideration of the remaining five proposals to determine the best overall proposal for the last casino in the city."
Gross revenue last month from slot machines at 12 casinos in Pennsylvania was $188.9 million, a 0.3 percent increase from the $188.3 million reported for October 2012. Tax revenue in October was $101.2 million, according to gaming regulators.
Wynn Resorts operates Wynn Las Vegas and Encore on the Strip, and Wynn and Encore properties in Macau. The company is also building Wynn Palace, a $4 billion resort-casino on the Cotai Strip in Macau, which it expects to open during Chinese New Year 2016.
Wynn Resorts has proposed a $1.5 billion hotel-casino on a former industrial site on the Mystic River in suburban Boston. Company Chairman and CEO Steve Wynn expressed his frustration on an Oct. 24 conference call with the licensing process after Massachusetts investigators recommended that Caesars Entertainment Corp. not be permitted to operate in the state.
Wynn said he was "flabbergasted that Caesars had withdrawn its bid" to build a casino at Suffolk Downs. Caesars abandoned its plan after regulators determined that an investor in a company partnering with Caesars has ties to organized crime in Russia.
Wynn told analysts that he wasn't entirely comfortable with the process. He said his company was being asked to invest billion of dollars, but it seems as "if they are doing us a favor."
He said if his company were in another industry regulators would roll out the red carpet.
Casino expansion in Massachusetts, Pennsylvania and New York raises the issue of saturation of casinos in the region. Atlantic City casinos have suffered through weak revenues, bankruptcy and recession for the past six years, in part because of competition from neighboring states.
Even Delaware's three casinos recently launched the first phase of the state's online gambling business. Pennsylvania, which posted $3.16 billion in consumer spending on gaming last year, has passed New Jersey ($3.05 billion) to become the second-largest casino market after Nevada.
Contact reporter Chris Sieroty at csieroty@reviewjournal.com or 702-477-3893. Follow @sierotyfeatures on Twitter.