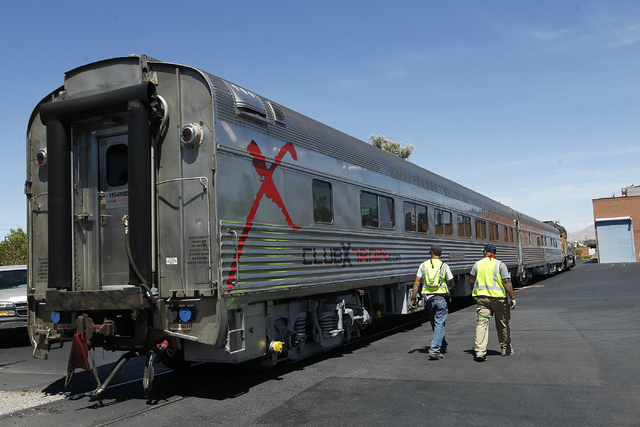 Maybe operators of the X Train are trying to become known as "the little engine that could."
The company that hopes to develop a low-speed "party train" from Southern California to Las Vegas is making another run at starting an operation, hoping to have trains running by New Year's Eve.
Executives with Las Vegas Railway Express are now collaborating with students of the University of Nevada, Las Vegas Howard R. Hughes College of Engineering to develop a route on existing tracks. Plans to use the downtown Plaza as a station are back in place, but the company doesn't yet have a lease with the property.
"Our plan is to have several runs before the end of the year to test things out and then the big one for New Year's Eve 2015," the company said in a post on its Facebook page.
The X Train is planned as a conventional rail line in luxury club cars. Las Vegas Railway Express acquired several passenger cars and refurbished them to provide a party atmosphere for passengers to take a leisurely trip from Los Angeles to Las Vegas.
Officials have estimated that it would take six to seven hours for the trip to Las Vegas.
Michael Barron, CEO of Las Vegas Railway Express, referred questions about building a train platform at the Plaza to Jonathan Jossel, chief executive officer of the Plaza.
"We've loved the idea about a train from Los Angeles since we first learned about in 2008," Jossel said. "We've tried to work with them (Las Vegas Railway Express) for six or seven years."
Jossel said any way to expand transportation between Los Angeles and Las Vegas would be a good thing for Las Vegas and he believes the Plaza would be the most logical place for a train stop.
"But," he added, "at this point we don't have a signed lease."
Past versions of the X Train proposal included stopping at a platform off Craig Road in North Las Vegas.
Barron also said his company's board of directors has added Hualiang "Harry" Teng, a UNLV associate professor who is director of the Railroad, High-Speed Rail and Transit Initiative at the Hughes college at UNLV.
Teng said a group of students and visiting scholars are working on the X Train project by developing train operation simulations with software that can forecast demand and travel times on existing rail lines.
"It's a great opportunity for students because this is all real and they're getting experience on a real-world project," Teng said.
Teng's students are finishing a report for Las Vegas Railway Express that analyzes a train route from Los Angeles that would use existing tracks through Palmdale, Lancaster, Mohave and Barstow, Calif.
"It is a fine piece of work and analyzes the option of a train from LA to Vegas using a western alignment via Mojave," the company said in its Facebook post.
Earlier versions of the X Train plans considered using tracks and routes that were used when Amtrak offered service between Los Angeles and Ogden, Utah, via Las Vegas and Salt Lake City. The Amtrak service, known as the Desert Wind, discontinued operations in 1998.
That route, which climbs from the Los Angeles Basin along steep Cajon Pass through Victorville, is owned by Union Pacific, which uses the line primarily for freight transport.
Las Vegas Railway Express has had no success negotiating a schedule with Union Pacific to use that route. The western route analyzed by the UNLV students would require negotiations with metropolitan Los Angeles commuter rail systems.
Teng said his students would do a similar analysis of the eastern route over Cajon Pass for the X Train.
Barron also said his company has applied with Amtrak to operate the train as a charter service. Barron said he's yet to hear from Amtrak on the request and that requests typically take two months to review.
Las Vegas Railway Express got some experience operating a train line last year when the company moved its rail assets to Santa Fe, N.M.
For several months, it ran the Santa Fe Southern Railway between Santa Fe and Lamy, N.M., an 18-mile tourist excursion.
The 3½-hour round trips began in July and abruptly ended at the end of September.
Barron said his company quit operations because he was selling the rights to it to an undisclosed company.
Follow @RickVelotta on Twitter. Contact reporter Richard N. Velotta at rvelotta@reviewjournal.com or 702-477-3893.