Xyience's hard-to-pronounce name becomes one of energy drink's best marketing tools
October 16, 2013 - 9:27 am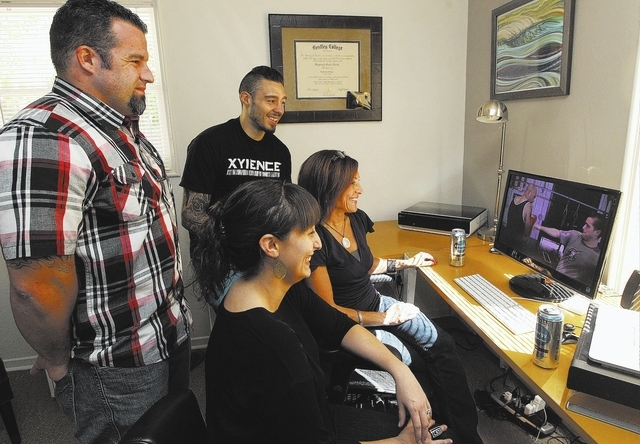 In the ultracompetitive energy drink category, Las Vegas-based Xyience is battling with the big boys for market share. The drinkmaker ranks sixth behind Red Bull, Monster Energy and Rock Star.
That's a feat for Xyience, the fastest-growing brand in the top 10 energy drink column.
And even with its growth in a market flooded with drinks, Xyience isn't above poking fun at itself — and its name's proper pronunciation — to draw attention to its brand.
Knowing that some people don't know how to say the company's name, Xyience's public relations consultants created a humorous video that shows UFC welterweight fighter Dan Hardy pounding the face of BMX star Mike Escamilla every time someone on the street botches the pronunciation. Xyience is the official energy drink of Ultimate Fighting Championship.
"Even with the growing distribution and getting publicity in the trades, people are still stumbling over the name," said Stephanie Forte, who does public relations for Xyience.
Instead of distancing itself from the pronunciation issue, the sugar-free, calorie-free energy drink embraces its name with the tongue-in-cheek, goofy video, portraying people not properly pronouncing the brand. It's pronounced like "science" but with a "z" sound.
There are many national well-known brands that have drawn attention for their peculiar pronunciations. Typical brands in the mispronunciation category are the Saucony running sneaker and fitness apparel; Cetaphil skin care; Porsche automobiles; and Zagat restaurant rating guide companies.
Forte said there are two schools of thought. On one hand, brands that are hard to pronounce could be interpreted as risky, especially with food products, she said. On the other hand, distinctive-sounding brands can sound exotic and make people ask twice about a brand or even ignite a conversation about the product, Forte said.
Xyience President John Lennon said the brand conducted research into the name's effect on consumers and discovered it was not a barrier to sales.
"(The video) was a bit of a departure of what we normally do," said Lennon, it president since 2010. "We thought we'd take a fun approach to it. We got a bit of (attention) in the YouTube world. It was a fun way to help our customers pronounce our name correctly."
Lennon has a long resume of working for brand names that were tricky to pronounce. He was a brand manager for Nestle and is a former vice president of marketing for All Brand Importers, which included Dos Equis.
Lennon recalled that customers would simply call Dos Equis, "Two X's," or "Double X's."
X is also part of Xyience. He noted the brand name was the result of fusing "extreme" with "science."
"We didn't pluck this name out of thin air," Lennon said.
Close to home in Las Vegas, one name that prompts people to ask, "How do you pronounce that?" is Hakkasan, the nightclub at MGM Grand.
UNLV professor Anjala Krishen, who teaches marketing and branding, said many brands are launched with strange-sounding names and pronunciations and go on to become successful businesses. The challenge for companies is to create unique brand names that can be marketed not only in their home nation but in countries around the world.
"We are now in a global marketplace. Because of the Internet and e-commerce, companies have to work even harder to find unique brand names that can represent them not only within one country but throughout the world," Krishen said.
"The more unique, the better, right? So what is wrong with picking a name that can carry them for years to come? What's wrong with challenging the customer to learn or invent a pronunciation? After all Xerox would have seemed ridiculous when it first came out and now it is household, or Samsung, Häagen Dazs, Nabisco or any other number of global brands," Krishen said.
In the business world, brand naming is a widely studied concept. Krishen cited a recent Journal of Marketing story in 2012 that discussed brand names dealing with country-of-origin effects such as French perfume makers or Chinese watch makers selling in the U.S.
Krishen said the journal reported a fascinating conclusion: People often view brand names based on whether the product is something desired for a want versus a product that is more utilitarian in nature that would be perceived as more of a need than a want. The publication reported that for consumers, in the case of products of want, the brand name should be consistent with the country where the product is produced.
Krishen likes Xyience for taking a chance with its brand name.
"Most people can infer the pronunciation and it will sound unique when they say it," she said. "No, it's not as easy to say as Red Bull or Monster. But is the (Xyience) brand unique because of its name? Yes."
Krishen also likes that Xyience pokes fun at itself in the pronunciation video.
"As far as pointing out the difficulty of their name in their advertisements, that is a very good technique. Years ago, VW used that approach to poke fun at how small their cars are in an ad with a tiny image of a VW bug in the corner of the ad," Krishen said.
"L'Occitane has a pronunciation video to tell consumers how to say their name. To this day, most consumers pronounce "Hermes" incorrectly. Again, as long as consumers are willing to remember the brand, and connect it to the product, the company will be fine."
Kurt Ouchida, managing partner of BRAINtrust, a Las Vegas-based marketing and communications company, said there can be tremendous value in a unique-sounding brand name — especially one that's challenging to pronounce.
"The mere act of experimenting with possible pronunciations and learning to pronounce the name correctly creates a certain level of memorability with the consumer, which can be a powerful brand equity builder," Ouchida said.
But he warned: "If the brand name and it's inherent meaning run counter to the brand experience, then you've got an identity problem. There should be some intuitive value with a name and the product, service or experience it is symbolizing. Being too cute, too trendy or too cool with a brand name can work against you and mean nothing to a potential consumer.
Ouchida also offered his list of funny-sounding brands that earned sizable followings — Smuckers, Stouffers, Eggo, Tang, Gatorade, Spam.
"They've become so strongly associated with food products that they've become a part of Americana," he said. "Ultimately, the marketplace will dictate the success of a particular brand name and the associative experience of the brand itself."
Alan Snel can be contacted at asnel@reviewjournal.com or 702-387-5273. Follow @BicycleManSnel on Twitter.
Xyience's YouTube video is called "XY-What?," and you can watch it here: http://bit.ly/12zisnA