You'll be able to race exotic cars at the Speedway soon — PHOTOS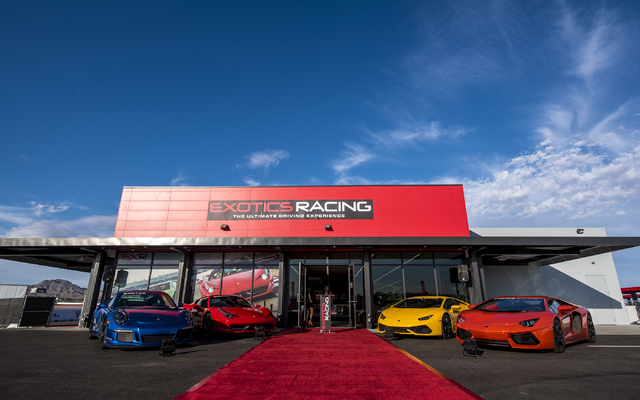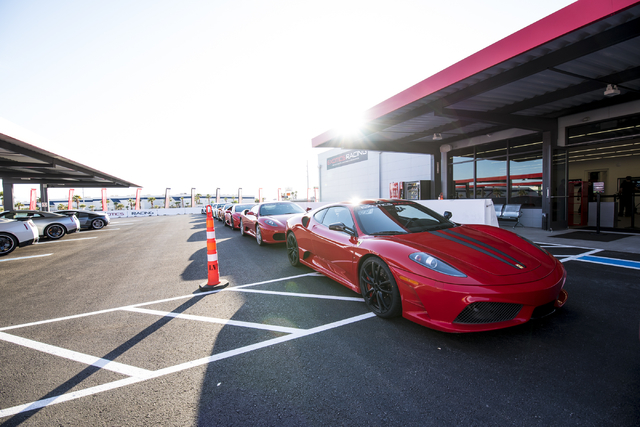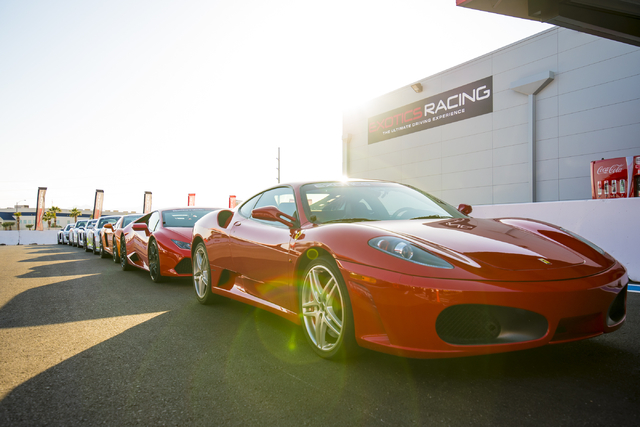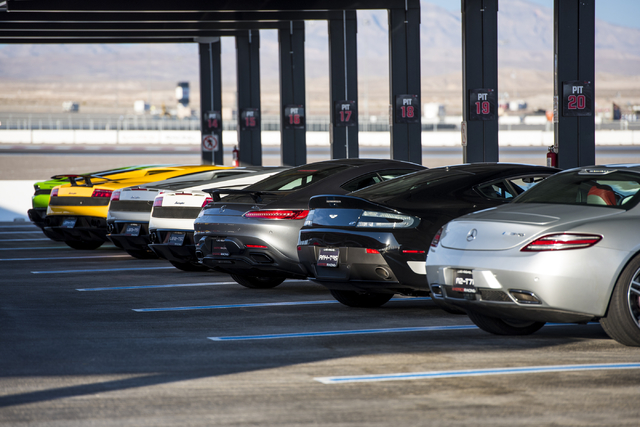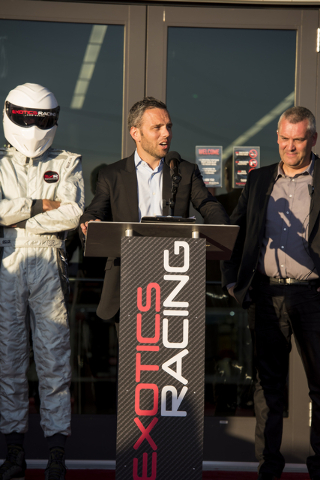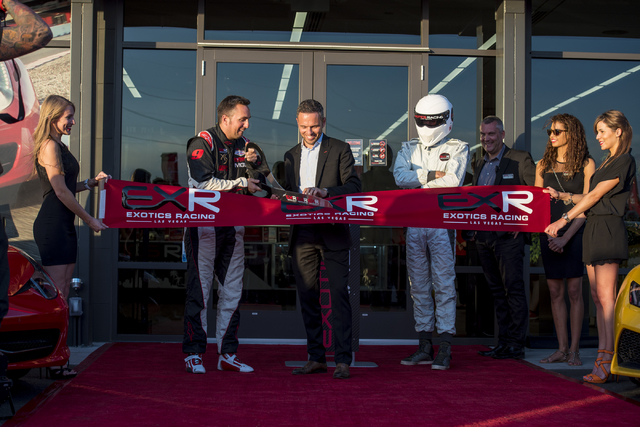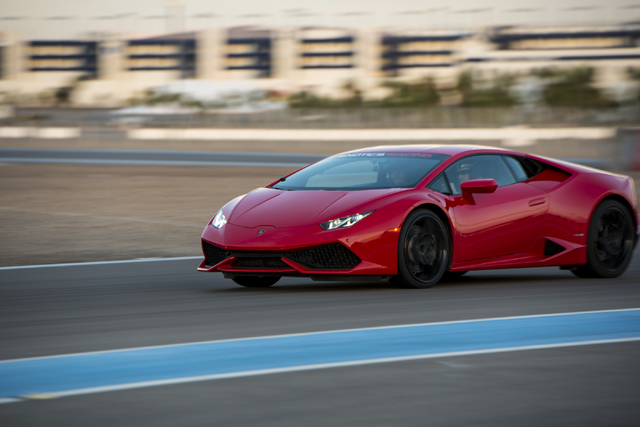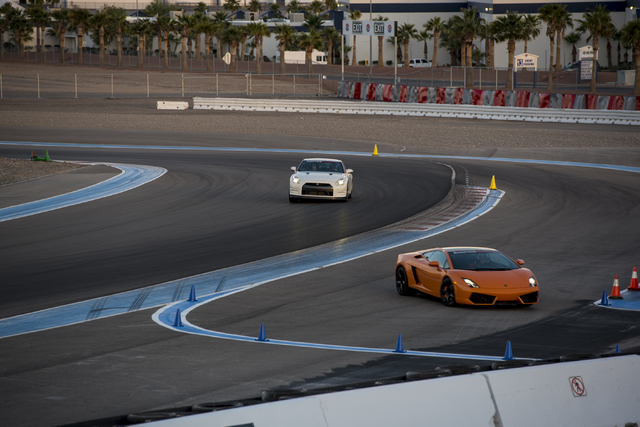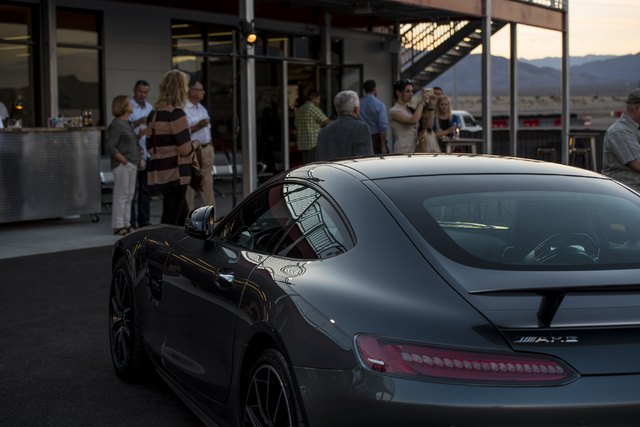 The only downside to taking an Exotics Racing ride with European race champion and veteran Hollywood stunt driver Romain Thievin is that it's all over too quickly.
But what else would you expect after hitting 120 mph on a 1.2-mile, banked Grand Prix course at the Las Vegas Motor Speedway?
Thievin and Exotics co-founder David Perisset, who swapped investment banking for banked curves when they opened the company in late 2009, welcomed guests and the media to their new welcome center at the track Thursday night.
Perisset also announced plans for the company's newest venture, a competitive racing series that will enable participants to go head-to-head with other drivers late this year.
"We're upping the ante even more, making racing accessible and affordable with the new EXR racing series and now people will actually get to race another driver," Perisset said.
Racers will be competing for a $100,000 prize and individuals will have to pay $5,000 for a weekend race experience.
"A lot of people said they thought we wouldn't be able to do it, that the cost of the insurance would be too high," Perisset said just before clipping the ribbon in front of the new 14,000-square-foot building. "We proved them wrong and we now have the safest and most successful car experience in the world."
The two partners opened the Las Vegas Exotics track with five cars and five employees operating from a tent facility.
They worked for a long-term lease at the speedway and invested $4.5 million on the building, which is on the north side of Speedway Boulevard when entering the complex from Interstate 15. They also sank $3.5 million into the track, which has a 1,800-foot straightaway with seven turns, including an 11 percent banked bowl. The course is marked with titanium-braced barriers.
Since opening, the fleet has grown to more than 50 cars and there are 150 on staff with 30 on site at a time most days.
The new building had a soft opening in March to work out bugs and it has a sign-in desk, an instructional briefing room, a VIP lounge, a driving center for accessories, a covered pit area and a second-story deck with views of the track.
The company has since built a smaller operation at the Los Angeles Auto Racing Club Speedway in Fontana that's open weekends and some weekdays.
The Las Vegas operation is open nearly every day — except during NASCAR's racing week in the spring and during Electric Daisy Carnival in June when the track surface is used for parking for those events.
Since 2009, 170,000 people have driven or ridden with Exotics, including Southern Nevada racer Kurt Busch and reigning Indianapolis 500 champion Juan Pablo Montoya.
"Las Vegas is really the best market in the world for what we do because people come here to do something different," Perisset said. "We have the best toys you can dream of."
Driving experiences run from $199 to $499, depending on what type of car is used, for five laps. There's also a $99 two-lap drifting ride-along in a Corvette Z06. Helmets are provided. Thievin was running guests on those high-horsepower rides Thursday.
Perisset said there also are package offers to allow drivers to experience multiple vehicles at a discount and some of the company's best business comes in gift certificates, corporate events, bachelor parties and VIP experiences.
He said about 85 percent of the drivers are men, but it's nearly an even split between men and women who arrive at the track spontaneously for rides.
"The emphasis is on safety and having fun," Perisset said. "We tell our guests that you can drive really fast for less than the cost of a speeding ticket."
Contact Richard N. Velotta at rvelotta@reviewjournal.com or 702-477-3893. Find him on Twitter: @RickVelotta
THE CARS: THE STARS OF THE EXOTICS SHOW
There are more than 50 cars available to drive at Exotics Racing. Here's a list of what's available, their horsepower and speed and how much they cost to drive five laps:
Ferrari 430 F1. 490hp, 198 mph, $299
Ferrari 430 Scuderia. 4510hp, 199 mph, $349
Ferrari 458 Italia. 560hp, 198 mph, $399
Porsche Cayman GTS. 340hp, 175 mph, $199
Porsche 991 GT3. 475hp, 195 mph, $299
Porsche 991 Turbo. 520hp, 195 mph, $299
Corvette C7 Z06. 650hp, 200 mph, $299
Lamborghini Gallardo. 550hp, 200 mph, $299
Lamborghini Huracan. 610hp, 202 mph, $399
Lamborghini Aventador. 700hp, 217 mph, $499
Audi R8V10. 550hp, 196 mph, $249
Nissan GTR. 545hp, 196 mph, $249
Aston Martin Vantage GT. 430hp, 190 mph, $249
Mercedes AMG GT S. 503hp, 193 mph, $249