Your good health may be ticket to lower health-care premiums
December 14, 2014 - 1:02 pm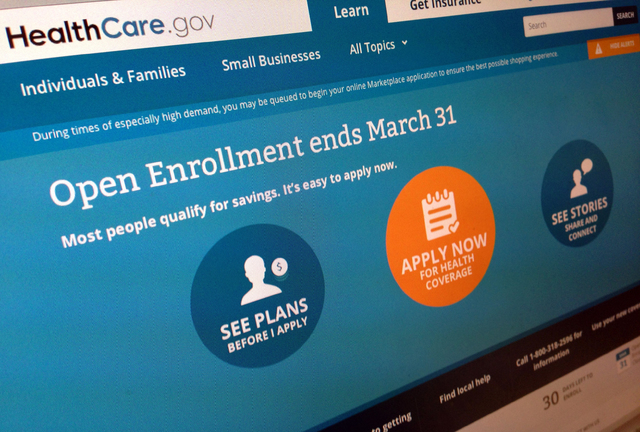 A two-tiered insurance system is emerging, but it's not divided between high and low incomes.
Rather, it's this: Can your employer still get your coverage underwritten based on your good health? If so, you'll probably enjoy lower premiums — something that individual buyers won't see.
The Affordable Care Act was designed partly to make insurance costs more uniform by prohibiting insurance companies from charging premiums based on members' health. It also caps the gap in premiums between young and old.
But increasing numbers of businesses are finding their way around those rules through self-insured plans, which are exempt from many of the federal law's new underwriting limits. Big businesses with 500 or more employees have long self-insured to save on administrative costs, but the practice can be risky for smaller companies. If your company is self-insured, it pays all claims itself out of the premiums it collects from employees. The expense of an unexpected catastrophic illness can devastate an employer's bottom line and wipe out its claims fund if it has just 20 or 30 workers.
Enter products designed to let small companies self-insure with lower risk.
As part of its effort to replace the group coverage it lost to the Affordable Care Act's benefits mandates, the Las Vegas Metro Chamber of Commerce rolled out in October two new insurance plans as part of its Chamber Health Options marketplace.
The chamber's captive insurance program pools together small businesses with as few as 20 workers into one self-insured group. The group will need at least 1,000 members in its first year to be viable, said Bill Wright, president of Chamber Insurance &Benefits. Early demand has been so strong that Wright said he expects to reach the milestone by the end of the first quarter.
Here's how it works: A company applies for coverage, and gets the nod to join if its workforce meets strict health criteria. For "collateral," it has to put up 1.5 percent to 2 percent of its fully insured premium, or $15,000 if its annual spending on premiums will be $1 million. If things go well for the group — and dozens of businesses belonging makes it unlikely the entire group will have a bad claims year — the business gets that collateral back at the end of the year.
There's also a stop-loss policy that caps an individual company's losses on an unexpected catastrophic claim. The cap can go as low as $10,000, though setting it higher means lower stop-loss premiums.
Because members are vetted for health status, overall premiums can be anywhere from 5 percent to 30 percent lower than comparable plans that aren't underwritten, Wright said.
But that health-underwriting angle means captive coverage isn't for everyone: The chamber's program, administered by Roundstone Management, has turned away roughly a third of applicants for their sicklier-than-average labor pool, Wright said.
"A group that had significant claims would be priced very highly and would likely not be competitive," Wright said.
For really small businesses — think companies with as few as 10 workers — the chamber is working with Anthem's new "balanced funding" product, through which companies' premiums can also go lower based on employees' overall health. The only difference is that members aren't part of a bigger group, so they don't get a premium rebate at year's end if they have too many claims.
Wright said the country is "absolutely" moving back toward a system that still rewards people for good health. So expect businesses to increasingly become accustomed to asking these kinds of questions and understanding alternative ways to provide insurance, he said.
■ A local broker wrote us with a reminder on an insurance resource for consumers that's new this year.
Lou Cila of Best Nevada Insurance Agency said he's done a few shifts inside the new Nevada Health Link store inside the Boulevard Mall, at 3528 Maryland Parkway.
The store is "active, but not nearly as busy as it could be," Cila said.
He added that there are typically at least 30 brokers and enrollment navigators on hand to help people review coverage options. So if you're having trouble connecting to healthcare.gov, or if you're nervous about making a big buying decision without advice or in-person contact, head to the Boulevard. You'll find the store next to Macy's near the children's play area.
You don't need an appointment. The store is open from 10 a.m. to 9 p.m. Mondays through Saturdays, and noon to 7 p.m. on Sundays. On the 15th of each month, the store has extended hours from 9 a.m. to 9 p.m. And the help is free.