YouTube's growing influence noted at Las Vegas convention — PHOTOS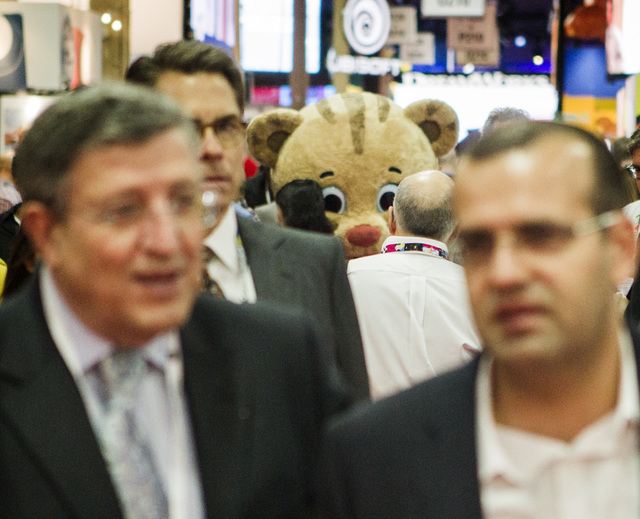 With more content uploaded to YouTube in one day than five years of combined broadcasting from ABC, NBC and CBS, online channels are the new prized target of international brands, speakers at this week's Licensing Expo in Las Vegas said.
"Nobody has more traffic, nobody has more eyeballs and nobody has the infrastructure," said Rich Raddon, co-founder of ZEFR, a consulting firm for YouTube content providers and brands associated with the site.
The annual trade-only show, taking place at the Mandalay Bay Convention Center, features nearly 600 exhibitors and 16,000 participants from more than 90 countries. The show concludes Thursday.
On Monday, for the first time in the expo's 36-year history, the show featured a Digital Licensing Summit, dedicated to the power of online licensing through popular mediums such as YouTube.
With more than a billion unique visitors per month, the world's largest video-sharing website reaches more 18- to 49-year-olds than any cable network in the United States, said Michelle Slavich, YouTube's communications manager. The number of people watching YouTube per day is up more than 40 percent since January 2014.
For YouTube channel owners, licensing opportunities are rolling in like never before.
Hannah Hart, 28, created her own channel in 2011 after her homemade cooking video titled "My Drunk Kitchen" received an unexpected viewer response.
"All these people I didn't even know were commenting on the video saying how much they liked it," Hart, a Los Angeles resident, told a crowd of nearly 500 at a digital licensing summit panel. "So I just kept going with it."
A SIX-FIGURE INCOME
Four years later, Hart boasts more than 2 million subscribers on her channel, which earns her up to $357,000 annually, according to SocialBlade.com, a site that estimates values of YouTube channels.
Now with advertising sponsorships, a New York Times best-selling cookbook and her own online merchandise store, Hart is reaping the benefits of her large follower base from all angles.
"It's just a product of being yourself," she told the Review-Journal on Monday. "People respond to that."
Hart's advertising partners include smaller companies such as Sanuk Shoes and fellow YouTube stars such as Tyler Oakley. In less than half of her videos, she pitches a 15-second ad for one of her sponsors, encouraging her audience to buy a product and share their experiences with her on Instagram.
Hart could have more sponsors, she said. But YouTube content creators are their own brands and must select carefully when choosing advertisers.
As more traditional brands flock to YouTube personalities for advertising, channels owners are siding with companies that most correspond with their own beliefs, Hart said.
"Being authentic and being organic is what connects us with our audience," Hart said. "Creators know if they lose authenticity, their audience is going to notice."
As a result, companies looking to "earn" advertising space must be more flexible to letting content creators deliver the message according to their demands, Hart said.
"You're never going to trump the relationship between the creator and the audience. Trust and mutual respect is something you have to maintain," Hart said. "You have to trust that we know what we're doing."
Hunter March, a personality on YouTube's AwesomenessTV channel, agrees.
With more than 2.2 million subscribers of his own, March pitches AT&T, Skype and MasterChef among other brands for his mostly teen and preteen audience.
But he said he routinely turns down brands he deems unnecessary for people of that age.
"For example, I don't partner with credit card companies," he said, "Because I don't want to be a reason for kids getting into debt."
TRADITIONAL BRANDS EMBRACE YOUTUBE
Traditional brands, such as Kohl's, said they're taking notice of the growing consumer preference for YouTube stars and fresh ideas. To meet demands of teenage customers, they're avoiding longer-term licensing agreements, which traditionally lasted from three to five years.
Modern Kohl's licensing agreements, which include YouTube personalities, could last less than a year — or even just include one line of clothing.
"We need that feedback, that correspondence on our product," said Amy Kocourek, executive vice president for Kohl's. "The expectation for new and innovative is just higher than we've ever seen."
The department store is also using social media, including Twitter and Instagram, more than ever to learn from and respond to teenage customers, Kocourek said.
And, she said, the strategy is working. Nearly half of all Kohl's sales over the past 12 months, both online and in store, were influenced by a "digital media experience," including social media, online advertising and YouTube.
Although the company's annual profit margin and revenue have remained relatively unchanged since 2013, Kohl's stock price reached an all-time high of $79.07 on April 2.
"When we use that digital mindset, we also see people in the store," Kocourek said. "Because teens want that experience. They want to take pictures with their friends, and they want to try things on in the dressing rooms."
"This whole mobile mindset is not going away," she added. "Everyone is online."
Contact Chris Kudialis at ckudialis@reviewjournal.com or 702-383-0283. Find him on Twitter: @kudialisrj