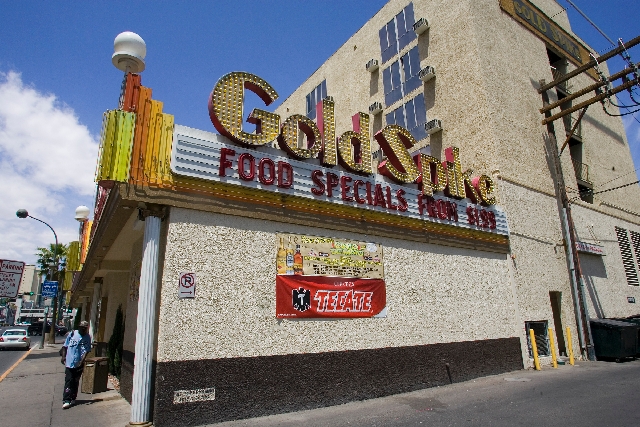 Zappos CEO Tony Hsieh is raising the real estate stakes in downtown Las Vegas with his latest batch of purchases, which includes a lending note on the Gold Spike.
With the addition of the Gold Spike note and a pending deal for the Mayan Plaza apartment complex at Alta Drive and Shadow Lane, the portfolio controlled by Hsieh's Downtown Project and RGG, an associated development company, includes about 61 properties valued at approximately $180 million.
Including the former City Hall building at Stewart Avenue and Las Vegas Boulevard, RGG, the Downtown Project and related entities encompass about 325,000 square feet of office space, 900 units of housing, 1,100 hotel or motel rooms, two properties entitled for unrestricted gambling and 215,000 square feet of space that is or could be used for retail.
Andrew Donner of RGG, who has done most of the deals on behalf of Hsieh's group, said the vision for a revived downtown has come into clearer focus since early last year when he brokered a deal to buy City Hall for $18 million.
"For awhile there, we were just all over the place," Donner said. "The thinking evolved into concentrating into a smaller area and focusing on a higher concentration of property."
Besides the Gold Spike note and Mayan Plaza, recent high-profile acquisitions include the former Western Hotel on Fremont Street and numerous apartment buildings, dilapidated motels and empty lots that characterize the blocks along Fremont Street east of Las Vegas Boulevard.
"That makes a lot of sense," said Terry Murphy, a lobbyist and consultant who works downtown. "If the goal is to create density of 100 people per acre, you would concentrate your acquisitions in a small area."
Hsieh has described his vision for downtown as the most community-focused large city in the United States. He and others associated with Downtown Projects want to cultivate a mix of small companies, restaurants, bars and cultural amenities they say will attract others who will create their own projects. A big part of the vision is to create a density of residents — at least 100 per acre — to ensure "serendipitous collisions" critical to innovation and an interesting urban life.
The Gold Spike note is unique among the deals because neither Hsieh's group nor RGG are lenders. Purchases up to now have been made with the intent of acquiring property for development.
But neither Donner nor the Gold Spike's current owner, the Siegel Group, would comment on whether the note purchase presages a takeover of the hotel-casino.
The property, with a restaurant, casino, more than 100 recently renovated hotel rooms and large bar, is in a prime location for the Downtown Project, Zappos and Hsieh.
There are Downtown Project properties to the north and east, and it's just a block from the former City Hall now being renovated as a headquarters for Zappos and across the intersection from The Ogden, the condominium tower where Hsieh lives.
The Mayan Plaza deal, which isn't scheduled to close until April 15, is also significant because it adds 316 apartments to Hsieh's portfolio.
Although the building is away from the epicenter of Fremont East, it is close to the freeway on the western edge of downtown, close to The Smith Center for the Performing Arts, Las Vegas Premium Outlets and World Market Center.
"I'm really seeing how fast things are starting to turn around with their effort and support," said Brandon Wiegand of Focus Commercial Group. "I don't think there is anybody downtown who thought it could happen this quickly."
Wiegand said he's intrigued by the acquisition of the commercial square footage, which ties in nicely with the Downtown Project's efforts to incubate startup technology companies and small businesses.
For successful startups to remain in downtown Las Vegas, they will need a place to work.
"If they start to pop and want to grow they are going to grow quickly," Wiegand said.
So far, the Downtown Project, which Hsieh founded using $350 million of private money that's divided among funds for real estate, technology startups, small-business investment and community building, is planning to develop properties on its own, instead of recruiting external investors, Hsieh said.
"Projects are being conceived of and being developed organically over time. And at this time we have all the funding we need for the projects that are in the pipeline," Hsieh said. "In the future, if there is a project that would require additional funding, we would be open to exploring the possibility at that point in time, but we are all set for right now."
Contact reporter Benjamin Spillman at
bspillman@reviewjournal.com or 702-383-0285 .