Zappos offering virtual reality tours of downtown Las Vegas call center
Updated May 26, 2017 - 3:17 pm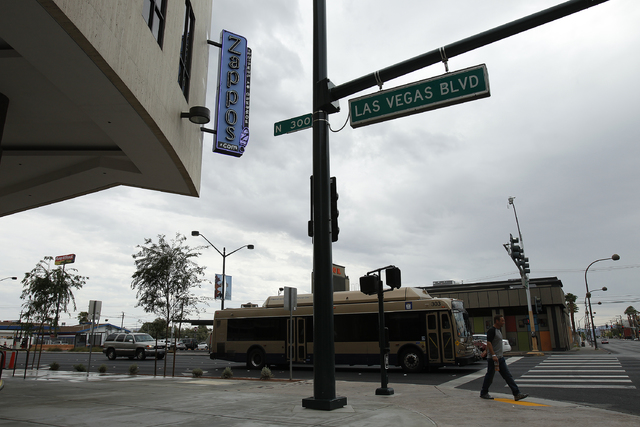 Online shoe retailer Zappos has replaced its tour through the company's downtown call center with headsets that let tourists play the role of call taker.
The new feature is part of a remodel of the site tour that now focuses on one main room on the campus' first floor.
The room houses the virtual reality experience, which opened about a month ago, and will have a studio where photos are shot to promote products on Zappos' website, Zappos culture guide Letha Myles said. A date for when that studio will open has not yet been set.
The tour will no longer take visitors through the working call center at the headquarters. Like any call center, call takers could be discussing private information with Zappos customers, though Myles said the company had been looking for ways to make its tour unique anyway.
Tourists will don headsets and receive a call from a virtual customers looking for shoes, said Myles, who's worked at Zappos for almost 10 years. Incorrect answers during the experience prompt an angry llama face.
"We definitely wanted guests interested in the call center experience," Myles said. "We wanted to find a fun way to do that that would be easy and cutting edge."
Zappos has been a subsidiary of Amazon since 2009, when Amazon bought Zappos for about $1.2 billion.
Zappos CEO Tony Hsieh is the financier behind Downtown Project, a group dedicated to revitalizing downtown Las Vegas. The group owns various properties downtown, including Container Park, which recently opened a 360-degree theater that shows movies and hosts a video game.
Contact Wade Tyler Millward at wmillward@reviewjournal.com or 702-383-4602. Follow @wademillward on Twitter.
Zappos tour packages
A 90-minute tour at the company's downtown Las Vegas headquarters costs as little as $10 a person for the basic package for a group of eight at the max.
The tour costs as much as $15,000 for groups of 51 and more and comes with a speech from a company culture expert plus a Q-and-A with the expert.