Zions fails bank stress test, says customers shouldn't worry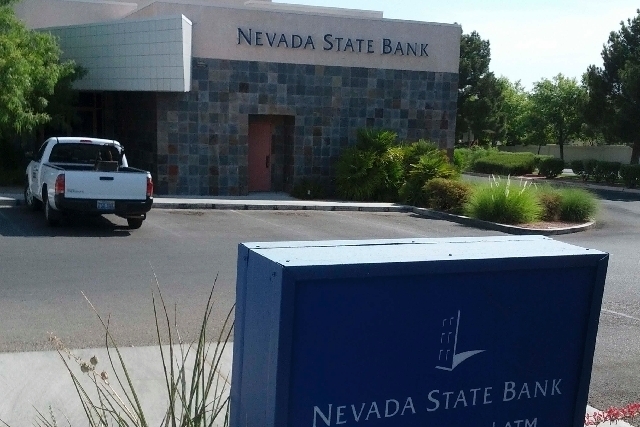 Zions Bancorp, parent company of Nevada State Bank, is alone among 30 major banks to fail a "stress test" by the Federal Reserve.
The government measured financial capital of Tier 1 institutions under a hypothetical economic collapse, which envisioned a deep recession, a steep rise in unemployment and home prices plummeting to 2001 levels. Results were announced late last week.
"The annual stress test is one of the Federal Reserve's most important tools to gauge the resiliency of the financial sector and to help ensure that the largest firms have strong capital positions," Federal Reserve board member Daniel K. Tarullo said in a statement. "Each year we are making substantial improvements, which have helped make the process even stronger than when we first conducted the stress tests in the midst of the financial crisis five years ago."
Zions plans to make changes to meet the standards, which are part of financial regulations set forth under the Dodd-Frank Wall Street Reform and Consumer Protection Act, said James Abbott, Zions director of investor relations.
"We need to take steps to strengthen our capital under a severe adverse economic scenario," he said. "And that will include reducing risk around the company, in particular segments that have caused a little extra risk. However, it will not effect depositors' money. In fact, we're actually really quite safe today. Our liquidity position, our ability to pay depositors, or make loans, is exceptional, by industry standards."
In that hypothetical recession, the Fed found that Zions' Tier 1 common ratio, which compares high-quality capital to risk-weighted assets, was 3.6 percent and fell below the minimum allowance of 5 percent.
Zions is expected to resubmit its plans in mid-April.
The company may sell higher risk assets or issue common equity to better equip itself for the capital threshold, Abbott said.
"I would not expect customers to see any effect from this," Abbott said, "but we do need to take steps to mitigate that, and we will do so imminently."
In January, Zions — with 50 Nevada State Bank branches statewide — reported a fourth-quarter loss of $59.4 million. For 2013, the company reported earnings of $294 million, or $1.58 per share, compared with $179 million, or 97 cents per share, in 2012.
Part of Zions portfolio — about $7 billion — includes administering small- business loans and using real estate as collateral. Abbott said that affected Zions' results from the stress test because it foresees a 35 percent drop in real estate prices.
"That was one of the things that differentiates Zions from the rest of the companies," he said.
Abbott said the company's capital level is strong, and its reserve for bad debt was among the leading reserves in the industry.
The stress test "has no impact on Zions customers," he said.
Contact reporter David Ferrara at dferrara@reviewjournal.com or 702-387-5290.