1 shot in officer-involved shooting in Henderson
December 12, 2019 - 5:23 pm
Updated December 12, 2019 - 8:39 pm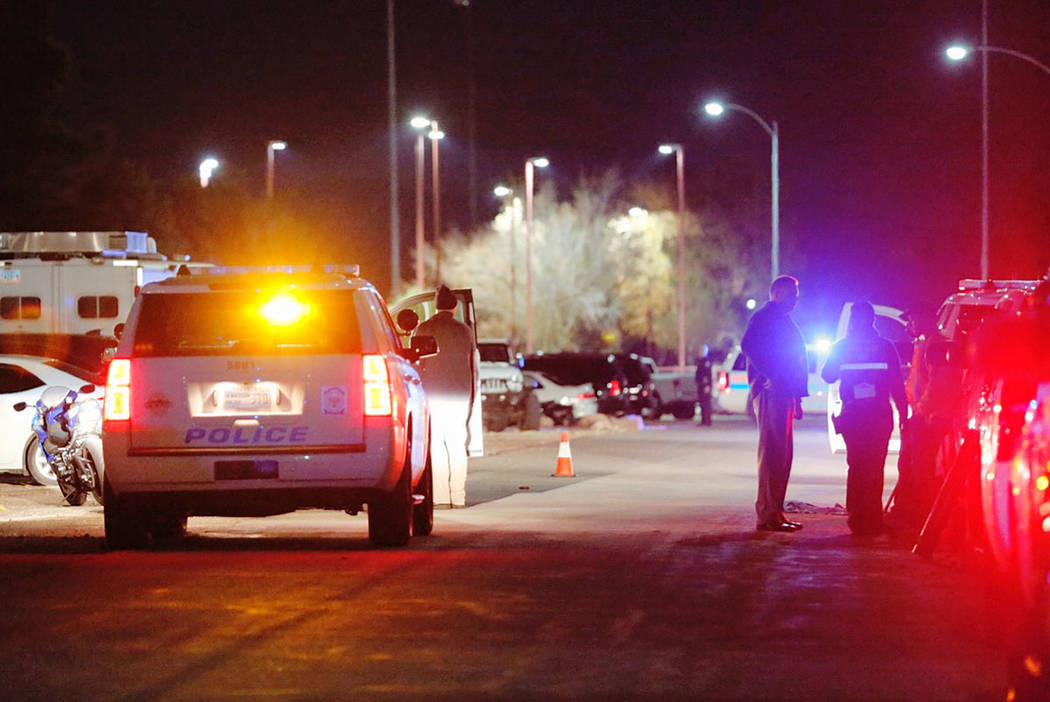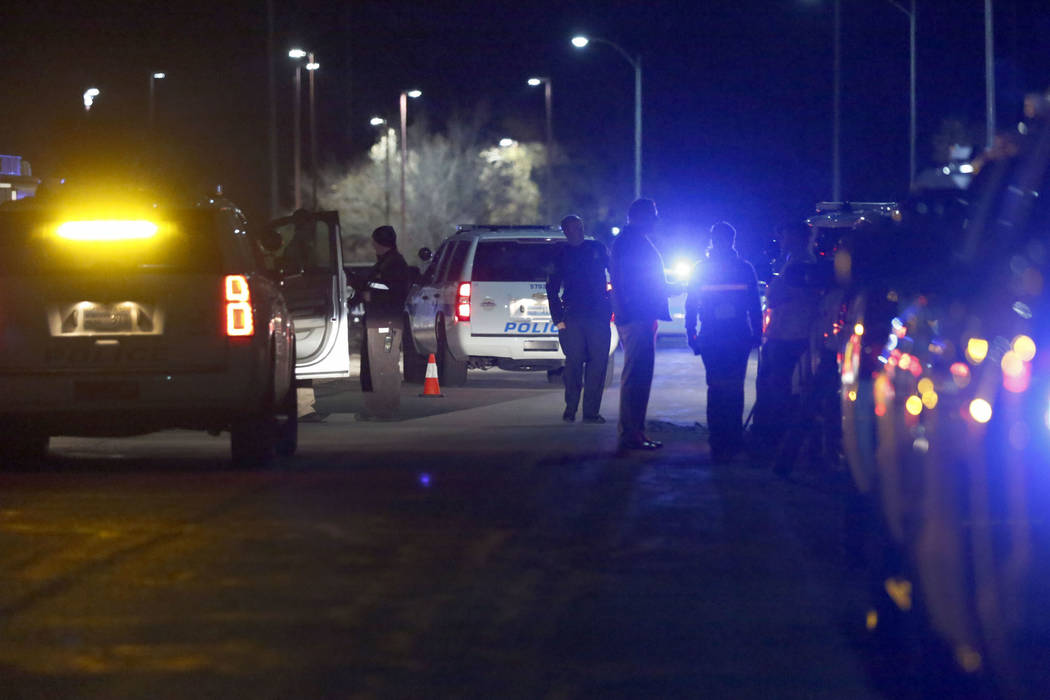 A man was shot during a gunfire exchange with officers Thursday night in a Henderson residential area across form a middle school, Henderson police said.
The shooting happened after police at about 4 p.m. stopped a man and a woman on a blue Suzuki motorcycle on the 300 block of Cannes Street, near Warm Springs Road and Major avenue, and across the street from Brown Junior High School. Police then determined that the motorcycle had been stolen, Henderson Police Department spokesman Rod Pena said during a media briefing at the scene.
The two on the motorcycle pointed to a home on the street and said "that was the owner of the motorcycle," Pena said. Police went to investigate, and officers and the man who reportedly owned the motorcycle fired at each other.
The man was shot during the gunfire, but no officers were injured, Pena said. The man was taken to a hospital but his condition was not immediately known.
Pena did not have additional details about what led up to the shooting Thursday evening.
Hours after the shooting parents and students poured out of the middle school, where a chorus concert had just wrapped up. Austin Bean, 18, said he heard the shooting and helped police tell parents to avoid the area before the concert started.
Bean said he and his mother were visiting his great-grandparents, who own the house where the shooting happened.
He said that as he was outside working on a truck, officers came up to talk to his mother and step-grandfather, and asked for permission to search their backyard.
"After they got everything handled with the motorcycle, they asked if they could actually go and search the premises, just do a quick scan and make sure he's not here," Bean said outside the school Thursday evening. "Two cops went back there, and the captain was still talking to us, and the second that they went back there is when everything broke loose."
Bean, who said he was shaken up Thursday night, said it felt like he heard up to 40 gunshots.
"We were right across the street, we heard a couple go off then we just heard retaliation," he said.
Bean said police hadn't told him anything about a stolen motorcycle, but from what he heard the man who was shot was standing on the roof when the gunfire rang out.
Thursday marked the seventh police shooting involving Henderson officers this year, and the second Henderson police shooting this week, according to records maintained by the Review-Journal.
On Tuesday morning, Henderson police shot 40-year-old Israel Valle-Lopez at the Bourbon Street Sports Bar and North Major Avenue and Boulder Highway. Before the shooting, Valle-Lopez attempted to stab one of the officers as he was being taken into custody after police responded to "a disturbance" at the bar, police said.
At this point last year Henderson police had only been involved in three shootings, according to Review-Journal records.
MEDIA : The media staging location for the Henderson Police Department Officer-Involved shooting is at the corner of Cannes St and London Ave.

PIO Rod Pena will be briefing the media at 6:30pm. pic.twitter.com/F3870LTWQl

— Henderson Police (@HendersonNVPD) December 13, 2019
Contact Alexis Egeland at aegeland@reviewjournal.com or 702-383-0335. Follow @alexis_egeland on Twitter. Contact Katelyn Newberg at knewberg@reviewjournal.com or 702-383-0240. Follow @k_newberg on Twitter.
Review-Journal staff writer Rio Lacanlale contributed to this report.