2 Las Vegas parents face new charges in college admissions scam
Updated October 22, 2019 - 2:12 pm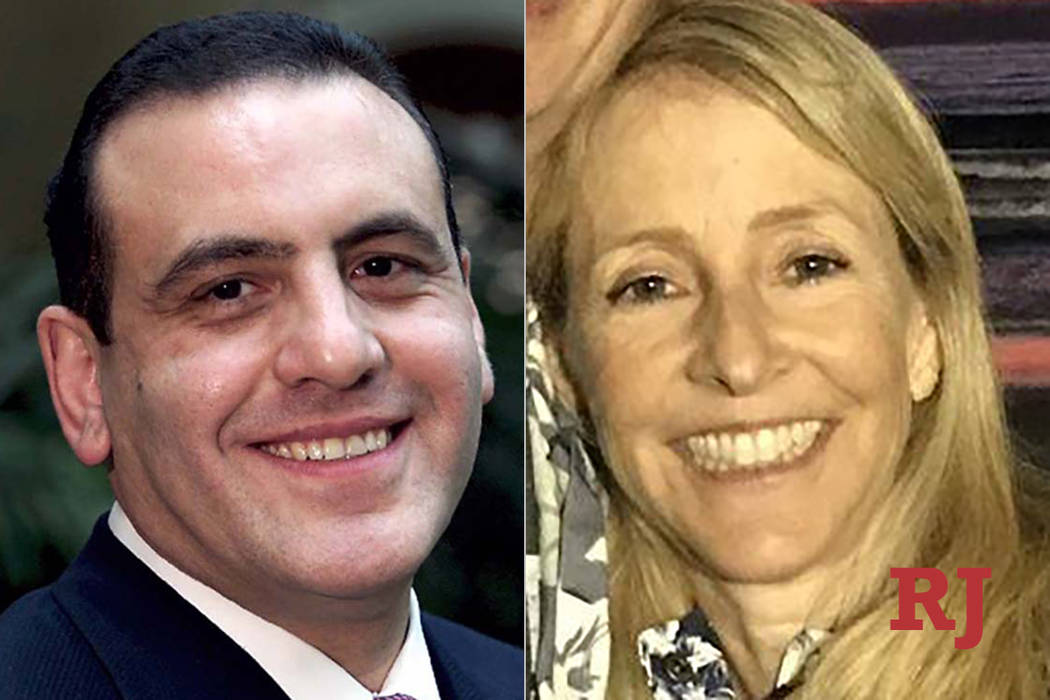 Two Las Vegas parents each face a new bribery charge in the national college admissions scandal, according to the Justice Department.
Gamal Abdelaziz and Elisabeth Kimmel were among 11 parents, including actress Lori Loughlin, indicted Tuesday by a Massachusetts grand jury on charges of conspiracy to commit federal program bribery. They are accused of paying hundreds of thousands of dollars in bribes to facilitate their children's admission into universities, according to a Tuesday release from the department.
Both Las Vegas parents had been charged with conspiracy to commit mail fraud and conspiracy to commit money laundering. They pleaded not guilty on April 29.
Abdelaziz, a former Strip casino executive who went by Gamal Aziz, is accused of paying $300,000 to get his daughter into the University of Southern California as a basketball recruit. She began attending the school in fall 2018, but is not on the basketball team.
Kimmel, a former San Diego media executive, is accused of paying $275,000 through a family foundation to get her daughter into Georgetown University as a tennis recruit in 2013, and at least $200,000 through the same foundation to get her son into USC as a track recruit. Her kids never played on the teams.
Both parents are accused of working with William "Rick" Singer, founder of the Edge College and Career Network in Newport Beach, California.
Prosecutors claimed that the parents would pay Singer, who then used the money to bribe coaches and administrators to falsely list the students as sports recruits to boost their chances of being accepted, hire people to take the students' college entrance exams and pay testing centers to improve the students' scores. Singer has pleaded guilty and agreed to work with investigators in hopes of receiving a more lenient sentence.
A Nevada judge previously released Abdelaziz on his own recognizance; a California judge ordered Kimmel to post $500,000 bail. A Massachusetts judge later allowed Abdelaziz to travel internationally for business, despite the pending case.
Nothing in court records indicates that the students knew about the arrangements.
Abdelaziz and Kimmel's next court dates are set for Jan. 17.
A total of 35 wealthy and celebrity parents have been charged since March in the scheme that showed how far some will go to get their children into top universities like Stanford and Yale. It is the largest college admissions scam ever prosecuted by the Justice Department, with parents accused of paying about $25 million in bribes.
The 11 parents charged Tuesday are among 15 who are fighting the charges against them. Four other parents changed their not-guilty pleas Monday and were set to be sentenced next year.
An additional 15 parents already have pleaded guilty in deals with prosecutors.
Of the 10 parents sentenced so far, nine have received prison sentences, ranging from 14 days to five months. "Desperate Housewives" star Felicity Huffman was the first parent to be sentenced and is now serving her 14-day prison sentence.
Prosecutors on Tuesday also announced new charges against several former sports coaches and others accused of accepting bribes. The seven defendants are now charged with mail and wire fraud and conspiring to commit that fraud on top of racketeering conspiracy.
Contact Alexis Egeland at aegeland@reviewjournal.com or 702-383-0335. Follow @alexis_egeland on Twitter. The Associated Press contributed to this report.