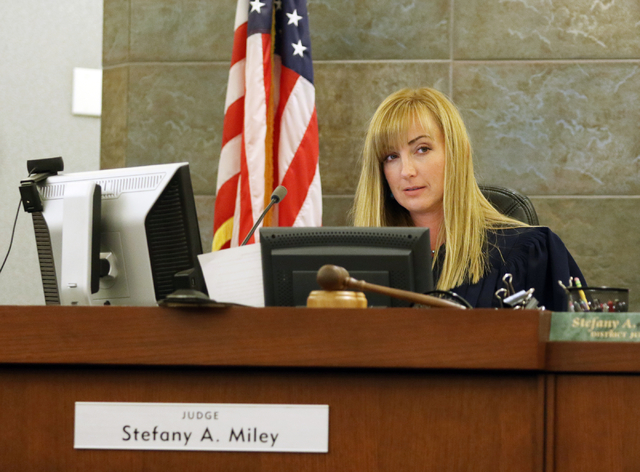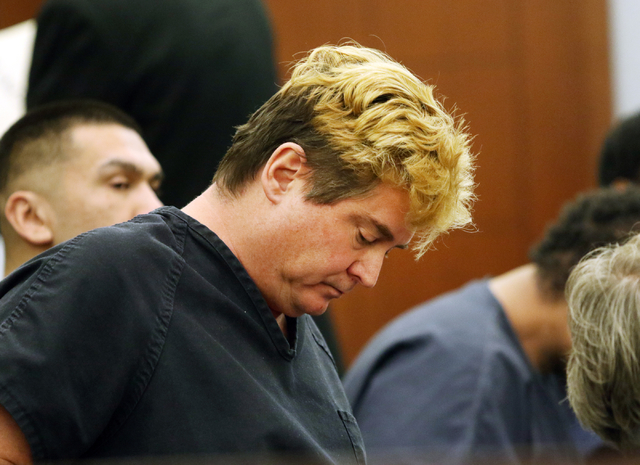 Three months on the lam ended for an alleged Las Vegas casino con man at Mr. Lucky's.
Mark Thomas Georgantas has a history of running from the law and people who lend him cash, a prosecutor said Monday, trying to keep the 53-year-old behind bars.
Two weeks ago, a Nevada attorney general's office investigator flashed his badge as he approached Georgantas at the 24-hour diner inside Hard Rock Hotel.
Georgantas, aka Mark Gigantis, aka Mark G, aka Mr. Smooth, jumped out of his booth and over a half wall, Deputy Attorney General Sam Kern told District Judge Stefany Miley.
Security officers stopped Georgantas in his tracks.
As authorities attempted to handcuff him, he faked a heart attack and tried to run again.
"He only made it a few steps before being corralled," Kern wrote in court papers.
On Monday, defense lawyer Gregory Knapp asked the judge to reduce Georgantas's bail from $500,000 to $50,000 on theft and securities fraud charges, which he called "weak."
Georgantas owns businesses in California and Colorado and has not been hiding from Nevada authorities, his attorney said.
The last time a judge set bail for Georgantas at $50,000, he walked away in the middle of a trial, the prosecutor argued.
Georgantas also escaped a Santa Ana, California, jail in 2003 by sliding down a drain pipe, according to the prosecutor. Georgantas had a friend meet him outside the jail, Kern said, and he stole her Nissan Altima before crashing and running away.
"That's not true," Georgantas said, while standing shackled in blue jail fatigues.
Miley called the $500,000 bail "reasonable" and ordered that it stand.
Most recently, Nevada prosecutors said Georgantas convinced at least two people to give him more than $350,000 in a promise to beat casino pit games.
A tip led investigators to the Hard Rock, where Georgantas was supposed to meet someone else, possibly another victim for his scam.
Knapp said prosecutors had leveled "spurious allegations" in a "very defensible case."
"Nothing criminal happened here," Knapp told a reporter after Monday's hearing. "You've only seen one side of the card right now. There are two sides to the story. Rest assured, he's got a strong defense."
Georgantas told two men that he could win regularly at baccarat, blackjack, craps and roulette in Las Vegas.
He said he was producing a documentary about his system and laid out elaborate paperwork to explain how he planned to build an empire off beating the house.
He name-dropped George Clooney and Matt Damon as clients. He said he had worked for the CIA.
He claimed he attended Princeton University, where he researched spectroscopy, the study of the interaction between matter and electromagnetic radiation.
He promised to always walk out of a casino with a profit.
He didn't explained exactly how he won, but he promised that selling his system could make $3.9 billion alone. He could pull in another $400 million with a reality TV show, a movie, books, merchandising and a player for hire.
Prosecutors said there's no system to beat the town built on lost bets and no evidence Georgantas even really intended to produce a documentary.
In an email correspondence with the Review-Journal in January, Georgantas said he never intended to cheat or steal and had evidence that would prove his innocence.
"Each of these individuals APPROACHED ME and THEY asked for MY ASSISTANCE to help them in gaming," he wrote. "They ALL know my name, stage name, hosts, and each had either witnessed my live play, and/or had prior hands on gaming experience playing with me, and/or each had been provided positive referral about me BY THEIR COLLEAGUES."
Contact David Ferrara at dferrara@reviewjournal.com or 702-380-1039. Find him on Twitter: @randompoker