Accused Las Vegas con artist says he's the one being swindled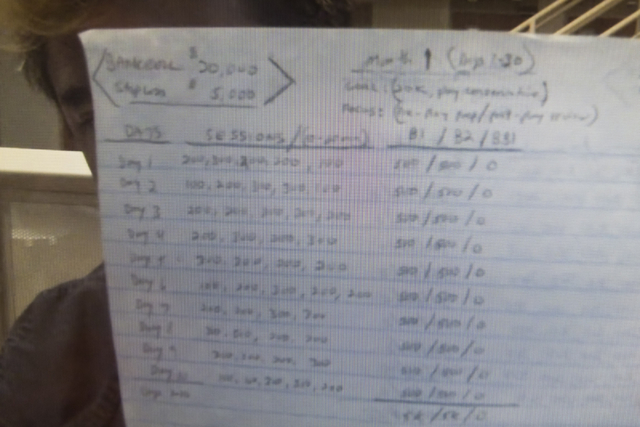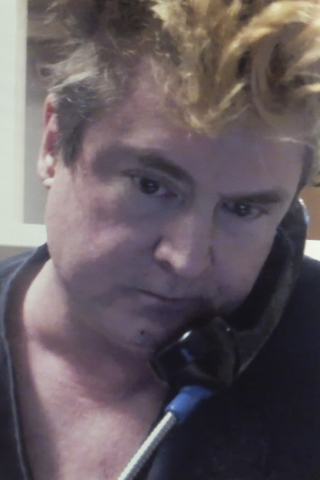 Mark Thomas Georgantas, aka Mr. Smooth, said he was doing just fine on his own at casino pit games around Las Vegas before two men approached him about getting a piece of his action.
But the Nevada attorney general's office charged Georgantas, a felon, with two counts each of theft and securities fraud based on an allegedly phony method to beat the houses built on lost bets.
Georgantas denied that he failed to pay back the men, who testified before a Clark County grand jury that they had signed contracts with Georgantas and lent him more than $350,000 in 2013. In fact, he turned the tables and said he was the one swindled.
"I'm being slammed as a con artist and a scam artist," he said, "when that's the furthest thing from the truth."
In more than two hours of jail interviews with the Las Vegas Review-Journal, Georgantas spoke of thousands of hours spent perfecting an elaborate system to win consistently at baccarat, blackjack, craps and roulette.
"There are fluctuations every day," he said. "I mean, you win, you lose, you win, you lose. But overall you've got to set a goal. And when you set that goal, you hit it. When you hit it, you quit. I do a responsible gaming program. I don't gamble."
HISTORY OF FLEEING
The 53-year-old Georgantas, who has a history of felony convictions and flight from the law, said he relies on "planning, discipline, money management and adequate bankroll" to ensure that he profits in the long run.
"If you want to win, you have to have the bullets. And you never want to endanger your bankroll because you don't want to chase" your losses, he said. "You don't want this one bet to be your last. You always want to make a decision from confidence."
Georgantas' record suggests he's as cunning as he is confident. In California, Georgantas once escaped jail through a storm drain. He told the Review-Journal he walked away from a minimum-security facility in an effort to protect his son, who had been threatened.
In 2001, a California jury convicted him of conspiracy to commit grand theft and grand theft charges. He was ordered to pay more than $30,000 in restitution, spend a year behind bars and serve a term of probation that included not leaving the state. In 2003, after failing to report to jail, Georgantas was arrested in North Las Vegas and extradited back to California.
He was arrested again in 2006 in a business fraud case after being found with a briefcase full of stolen credit card information, according to online court records. Authorities said he used a stolen credit card to make purchases for Fire On Ice Inc., a business he still lists on a LinkedIn profile.
Three years later, he walked away while on trial on credit card fraud charges. He was caught and served time in state prison, court records show.
GRAND JURY INDICTMENT
Earlier this year, prosecutors presented Georgantas' elaborate casino scheme to the grand jury. He spent three months on the lam after being indicted.
"If I was hiding out, I'd have been gone. OK? I was gathering information and earning money," he said of that time. "Quite frankly, I had been playing at the casinos. Low profile. Not using my card. Playing and winning."
Late last month, as plainclothes investigators approached him at Mr. Lucky's, a 24-hour diner in the Hard Rock Hotel, Georgantas jumped over a half wall, faked a heart attack and tried to run, according to Deputy Attorney General Sam Kern.
Georgantas said he initially thought someone was attacking him for his cash. He said he spent the next three days hospitalized with symptoms of adult-onset diabetes.
To hoodwink victims, prosecutors said, Georgantas developed a slideshow presentation that projected he would earn tons of cash through various companies. He told them he would hire a camera crew to film a documentary about his system.
His presentation suggested Monster Gaming Entertainment LLC would earn $250 million on a $700,000 investment, Monster Intellectual Holdings LLC would earn $400 million on a $50,000 investment, and Monster Gaming Products LLC would earn $4 billion on a $250,000 investment.
LEARNING FROM LOSING
Georgantas said he first grew interested in casino games after reading Ben Mezrich's book "Bringing Down the House," about a group of Massachusetts Institute of Technology students who won millions of dollars playing blackjack in Las Vegas.
"I wanted to show that you don't have to be an MIT scholar to win," he said. He played more than 250,000 hands of blackjack and "learned from losing."
He said he turned to craps after casino pit bosses grew curious about his blackjack earnings.
Georgantas said he took money from Marcelo Caraveo and Evan Rodich only after they insisted on investing in his play.
"I never approached either of these guys," he said.
ATTRACTING ATTENTION
Caraveo said he learned of Georgantas through a friend. Rodich spotted Georgantas playing craps "extravagantly" at the Strip hotel then known as The Quad.
Georgantas attracted attention even on the Strip with a checkered fedora, a flashy red sport coat or a white jacket and a gold phone handset and cord around his neck.
In "The Confidence Game: Why We Fall for It … Every Time," a recent book about all sorts of cons, Maria Konnikova wrote that not all con artists are flashy, and anyone is susceptible to victimization.
"Long cons, the kind that take weeks, months, or even years to unfold, manipulate reality at a higher level, playing with our most basic beliefs about humanity and the world," she wrote. "When we're falling for a con, we aren't actively seeking deception — or at least we don't think we are. As long as the desire for magic, for a reality that is somehow greater than our everyday existence, remains, the confidence game will thrive."
A DEAL FOR THE RJ
Georgantas declined to say what happened to the cash Caraveo and Rodich lent him, but he insisted that he has documentation that would show his innocence.
But, he said, he needs to get out of jail to prove it.
To do that, he offered the Review-Journal a deal: Pay his $500,000 bail, and he would pay it back while demonstrating how his system works.
"Make sure you make that public," he said. "Anybody who posts, I'll be accountable. I'll play five days a week. We'll post the earnings every day. … And the Journal can keep the earnings."
The newspaper declined the offer.
To show he's good for it, Georgantas said he paid at least $70,000 to Caraveo.
Caraveo told the Review-Journal he received about $15,000 from a $300,000 investment before Georgantas left town.
Rodich said Georgantas repaid him maybe $200 off a $50,000 investment, then disappeared. Georgantas insisted that Rodich disappeared on him.
Contact David Ferrara at dferrara@reviewjournal.com or 702-380-1039. Follow @randompoker on Twitter.
RELATED
Accused Las Vegas casino con man's run ends at Mr. Lucky's
Alleged casino conman arrested in Las Vegas
'Pure cash' promise to beat Las Vegas casinos leads to indictment