Another student arrested for threats against Clark County school
Clark County School District police continued to deal with a surge of menacing behavior by students on Friday with the arrest of a 17-year-old for allegedly making threats against Sunrise Mountain High School in northeast Las Vegas. The arrest came a day after teenagers at two other district high schools were arrested for bringing guns to school.
Police provided little detail about the threats directed at Sunrise Mountain High School, but said they had arrested a 17-year-old student believed to be behind them.
"Recently, we received information about threats made against our students and staff," read a letter from the school's principal, Julia Llapur, sent to parents on Friday. "We immediately shared this information with the Clark County School District Police Department, which investigated the threats and arrested an individual for making terroristic threats."
The letter urged parents to have discussions with their children regarding making threatening statements and their consequences — the same message that district police have been repeating since the Parkland shooting.
The problem is not confined to Clark County. Deputies in Nye County on Friday arrested a 12-year-old female student for making terroristic threats after threatening to bring a gun to school. The sheriff's office is also investigating a threat written on the bathroom wall at Pahrump Valley High School that states, "I'm gonna kill everyone March 5."
Clark County schools officials have dealt with multiple threats, at least two incidents in which students brought guns to school and rumors of school shootings since the Parkland, Florida, school shooting on Feb. 14 that killed 17 people.
School district police Lt. Roberto Morales spoke directly to students Friday, appealing for them to report any threats or suspicions immediately.
"Go to an adult," he said. "Let an adult or the person or persons that are trained to deal with certain situations be the ones to step in and handle those."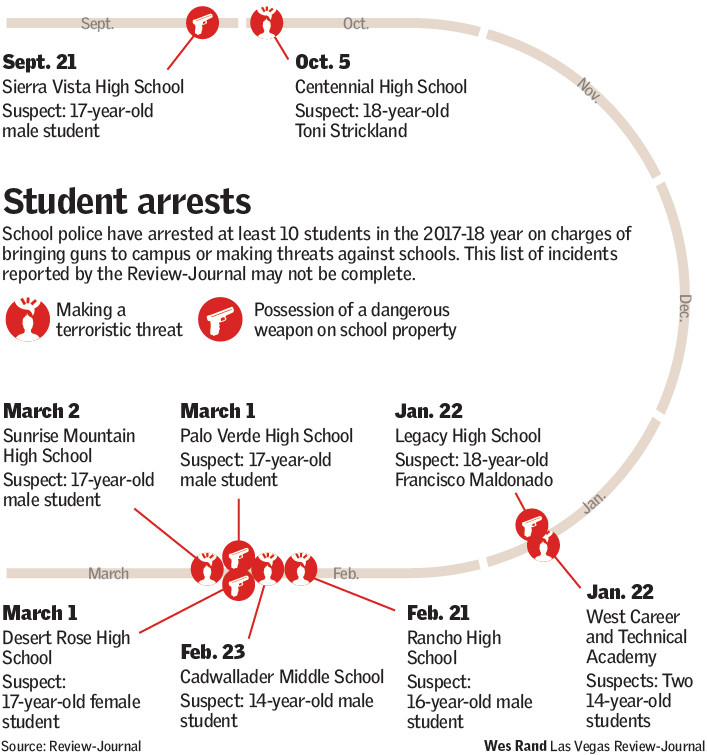 Two 17-year-old students were arrested Thursday after bringing guns to Palo Verde and Desert Rose high schools, police said.
At Palo Verde, an administrator noticed an unattended bag and found an unloaded 9 mm handgun and ammunition inside, according to police. At Desert Rose, students saw a fellow student holding and manipulating a firearm and reported it to staff.
Police are still investigating how the students got the guns. As of Friday, they could not provide the reasons that the students brought them to school.
In addition to the incidents resulting in arrests, police have investigated a number of unfounded rumors about potential violence against schools, including one Friday about a student with a gun at Sierra Vista High School.
Police Capt. Ken Young said a student reported hearing that a kid wearing a particular type of shirt had brought a gun to school. Police investigated, but found there was no validity to the claim.
In addition to examining potential threats, district police also have been dispelling rumors arising from purported threats against schools elsewhere in the country that share names with Clark County schools.
Contact Amelia Pak-Harvey at apak-harvey@reviewjournal.com or 702-383-4630. Follow @AmeliaPakHarvey on Twitter.