Bill Walters wants leak inquiry to gain information from prosecutors
October 26, 2016 - 9:31 pm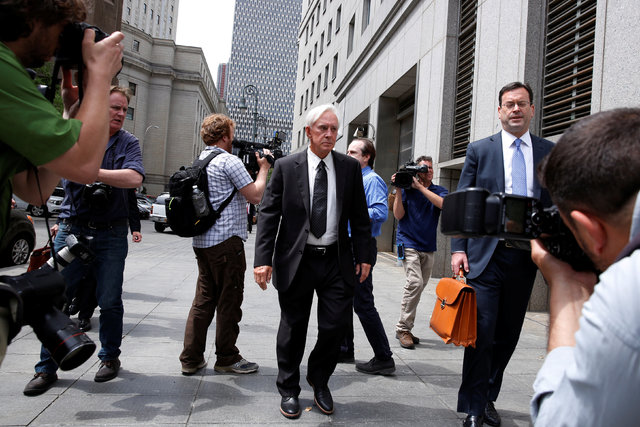 Bill Walters, who built a Las Vegas-based sports-betting empire, wants to force prosecutors to show more of their hand before his insider-trading trial.
Walters is accused of orchestrating an insider scheme that also entangled golfer Phil Mickelson and Dean Foods Co.'s former chairman Tom C. Davis, a golfing buddy and business partner. The case came two years after newspapers reported details of the government's confidential investigation.
In a court filing, Walters's lawyer, Barry Berke, asked a judge to hold a hearing to determine if the government illegally leaked secret information "to breathe life into a flagging investigation."
Berke wants U.S. District Judge Kevin Castel to determine whether prosecutors or FBI agents were behind the leaks and should be punished. There might also be another reason for his request. Even if the hearing fails to persuade the judge to sanction the government, it would put prosecutors and investigators on the witness stand to answer questions about their probe, and that could lead to evidence that helps the defense at the March trial.
Peter Henning, a law professor at Wayne State University Law School in Detroit, said a defense request for a hearing into prosecutors' actions isn't unusual, but winning one is, because judges want proof to support specific allegations of wrongdoing.
"When you have a deep-pocket defendant, you can press every button available," Henning said. "It's not a bluff. It's pushing for the government to show all of its cards, so, if there are other missteps that come up in the case, the defense can say, 'Your Honor, look, there's a pattern here.'"
Six years ago, lawyers for billionaire fund manager Raj Rajaratnam persuaded a judge to hold a four-day hearing into prosecutors' actions after claiming the government misled a court into authorizing wiretaps of his phone. While they lost their bid to keep the recordings out of the trial, the defense was able to use some of what they learned in Rajaratnam's defense — but to no avail. He was convicted of insider trading and sentenced to 11 years in prison.
Walters, who is alleged to have made $43 million by trading on tips from Davis, faces another obstacle in his bid for a hearing. Not only are such hearings rare, but Assistant U.S. Attorney Telemachus Kasulis denied that he or the FBI agent responsible for the case leaked information.
Alerted in May 2014 that two newspapers were about to publish information about a still "covert" probe, prosecutors scrambled to prevent the disclosures from hindering the investigation, Kasulis said in an Oct. 21 court filing. The FBI immediately dispatched agents to approach Davis at his home and Mickelson at an Ohio golf course. Both men denied wrongdoing, he said.
Berke claims the government improperly leaked information to prod the targets of the probe to incriminate themselves after a wiretap on Walters' phone failed to turn up evidence against him. Kasulis said Walters is on a "fishing expedition" to get a "windfall" of evidence he isn't entitled to have.
According to prosecutors, Walters and Davis forged a friendship over "sports, golf, gambling and business" before Davis passed tips about Dean Foods's financial outlook and performance, earnings and the spinoff of an organic food distributor in 2012.
In return, Walters offered business opportunities, investment capital and loans totaling almost $1 million to Davis, they said. No requests were made for repayment of the loans until the newspaper reports surfaced, and Walters began to pay his debt, they said.
News of the probe spilled out in May 2014 when the Wall Street Journal and The New York Times published articles saying the FBI, the Securities and Exchange Commission and Manhattan U.S. Attorney were investigating suspiciously timed trades by billionaire investor Carl Icahn as well as trades in Dean Foods Co. by Walters and Mickelson.
The charges against Walters and Dean came two years later. Dean pleaded guilty and is cooperating with the government. Mickelson and Icahn weren't charged. Mickelson paid almost $1 million to resolve an SEC claim that he profited on tips passed by Walters. In their Oct. 21 filing, prosecutors said for the first time that they were investigating Icahn in 2013 and 2014.
"Mr. Icahn has never been accused of any wrongdoing, and any suggestion that he engaged in improper trading is false," Jesse Lynn, general counsel for Icahn Enterprises, said.
Steven Molo, a New York lawyer who isn't involved in the case, said Walters, who faces years in prison if convicted, is entitled to a hearing.
"There are rules, which when they're compromised, then fairness is also compromised," Molo said. "This motion is perfectly reasonable, given the facts that the defense is presenting to the court."