Bodycam footage shows aftermath of deadly Henry Ruggs crash
Updated May 19, 2023 - 7:11 am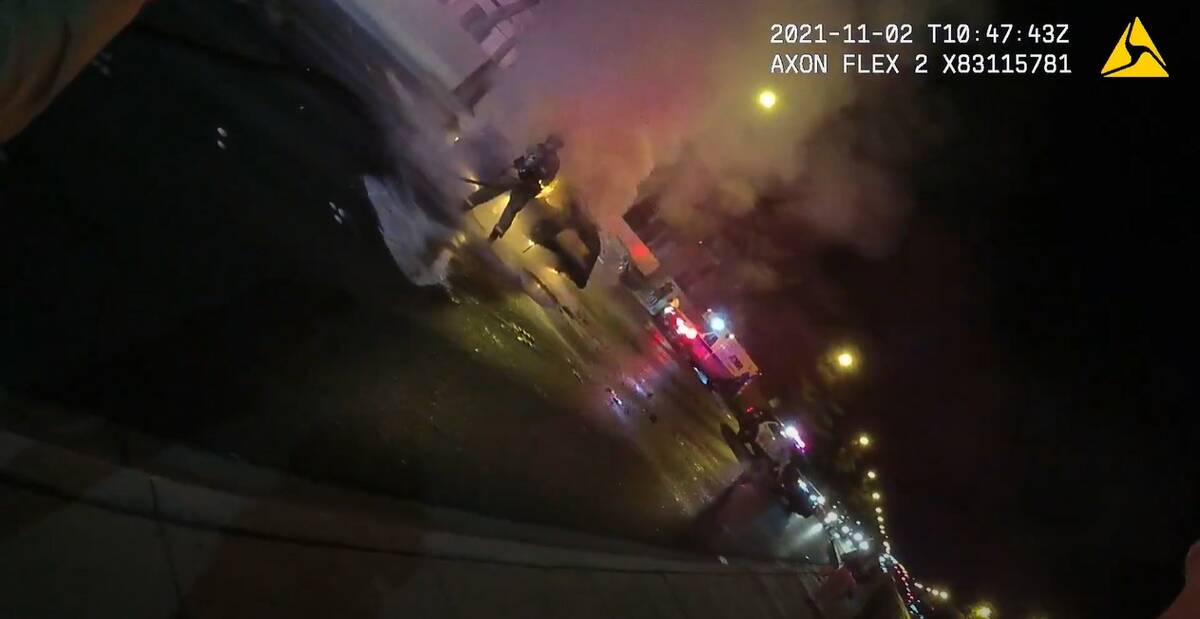 Body-camera footage released Thursday showed the moments after ex-Raider Henry Ruggs' fatal DUI crash.
The November 2021 fiery crash left 23-year-old Tina Tintor and her dog dead.
In the body-camera footage, Tintor's car can be seen engulfed in flames as officers arrived at the scene.
"Was there somebody inside?" one officer asked another. "We don't know," the other officer replied.
Police released 10 videos that totaled about three hours of video. The videos ranged from 40 seconds to about one hour in length.
As officers coordinated road closures, loud pops and bangs could be heard coming from Tintor's car. Shortly after officers arrived, firefighters began putting out the fire.
"Absolutely obliterated, I mean this thing was an inferno when we got here," an officer said about Tintor's vehicle to another officer. "Like you could feel the heat from here."
Last week, Ruggs pleaded guilty to a felony count of DUI resulting in death and a misdemeanor charge of vehicular manslaughter.
"God knows how fast this guy was going," an officer said in one of the body-camera videos released Thursday.
Ruggs' arrest report said that he was driving 156 mph seconds before the crash. He was in the vehicle with his girlfriend Kiara Kilgo-Washington.
Tintor was driving her Toyota RAV4 toward her family's neighborhood with her dog Max in the back seat when Ruggs' car slammed into the back of her SUV.
At a vigil following her death, Tintor was described by a friend as not being afraid to be herself and a force to be reckoned with.
"Tina's tragic loss has devastated her family beyond a grief they could ever comprehend," Tintor's family said in a statement released through an attorney. "Family was everything to Tina, and she was the light of her parents' life."
In one video released Thursday, after police had been on scene for about half an hour, one officer came up to another officer and said that a dispatcher had called to say that one of the drivers in the crash, "might be a Raiders player."
Officers and firefighters on scene later received the confirmation that it was Ruggs who was the driver of the car that caused the crash.
"He's done. Career's over," one officer can be heard saying.
An officer was told to stand by Ruggs' mangled car because a gun had been found in the floorboard of the car.
A woman sitting on the side of the road near the crash could be heard pleading for help.
In one video released Thursday, a civilian at the scene could be heard on the phone talking to someone saying, "They said Henry going to be OK."
Contact David Wilson at dwilson@reviewjournal.com. Follow @davidwilson_RJ on Twitter.