Bodycam video shows driver being stopped weeks before crash that killed 9
Updated February 2, 2022 - 11:06 am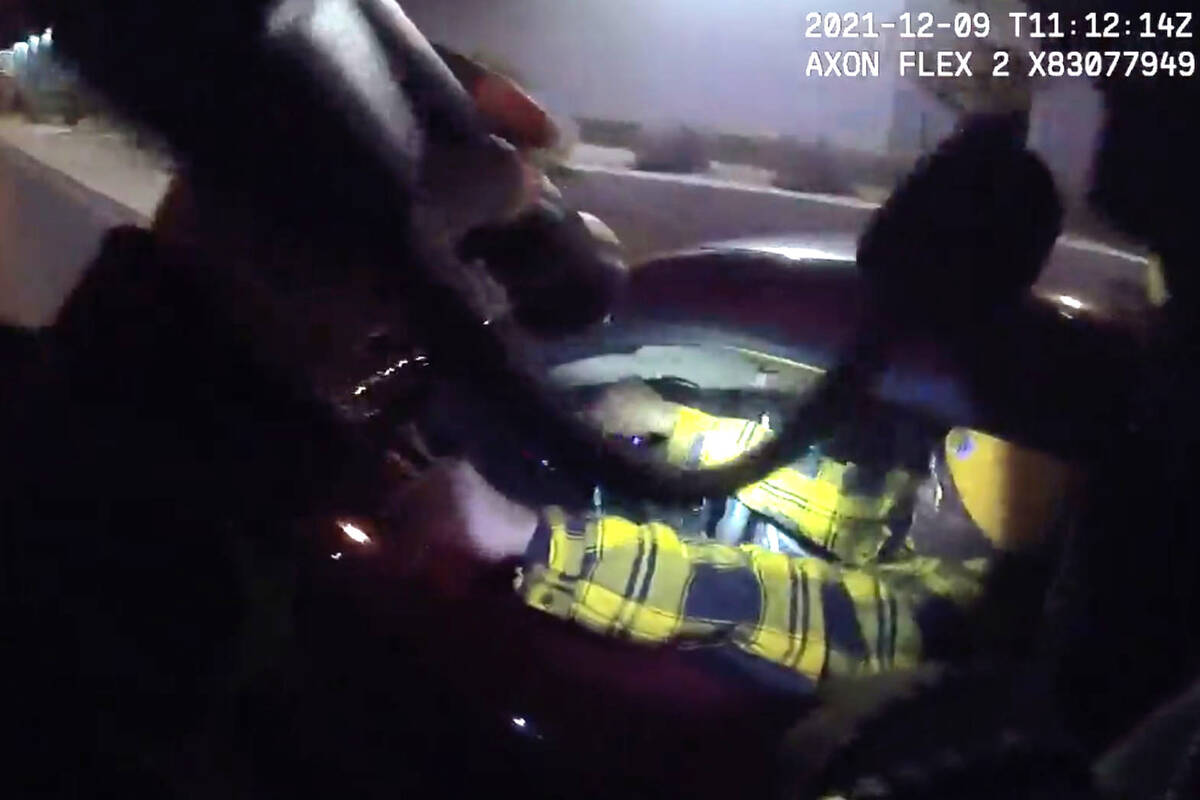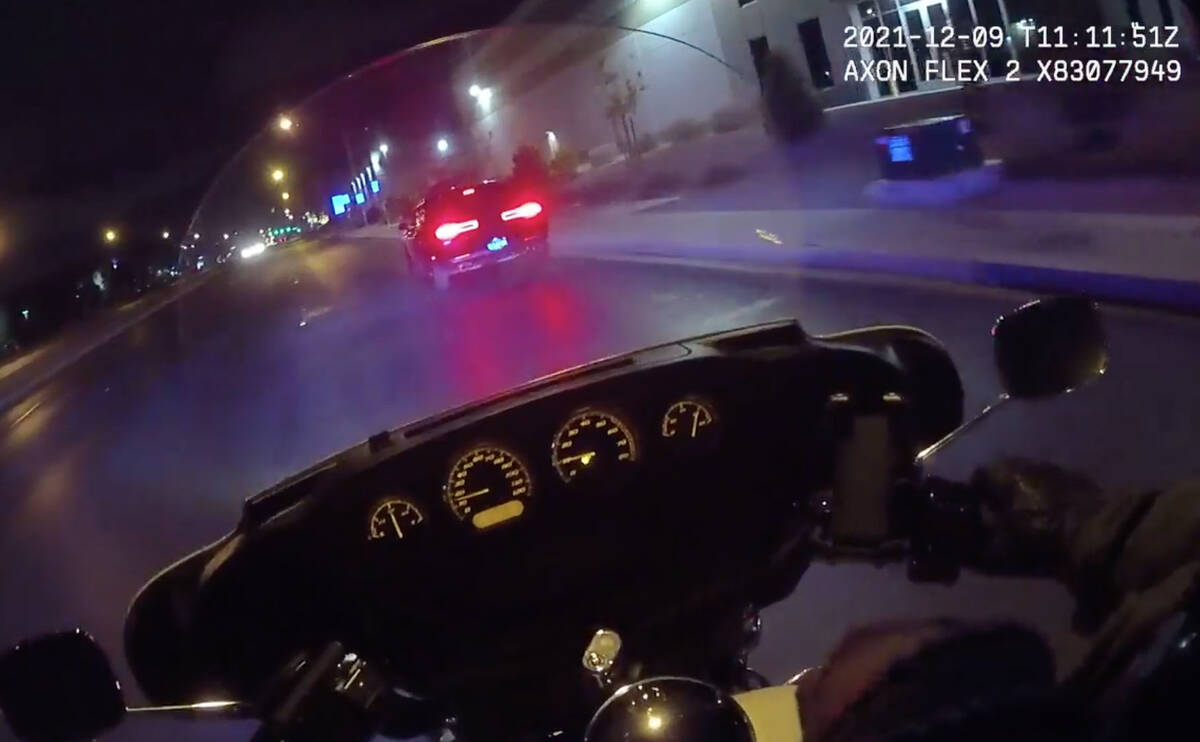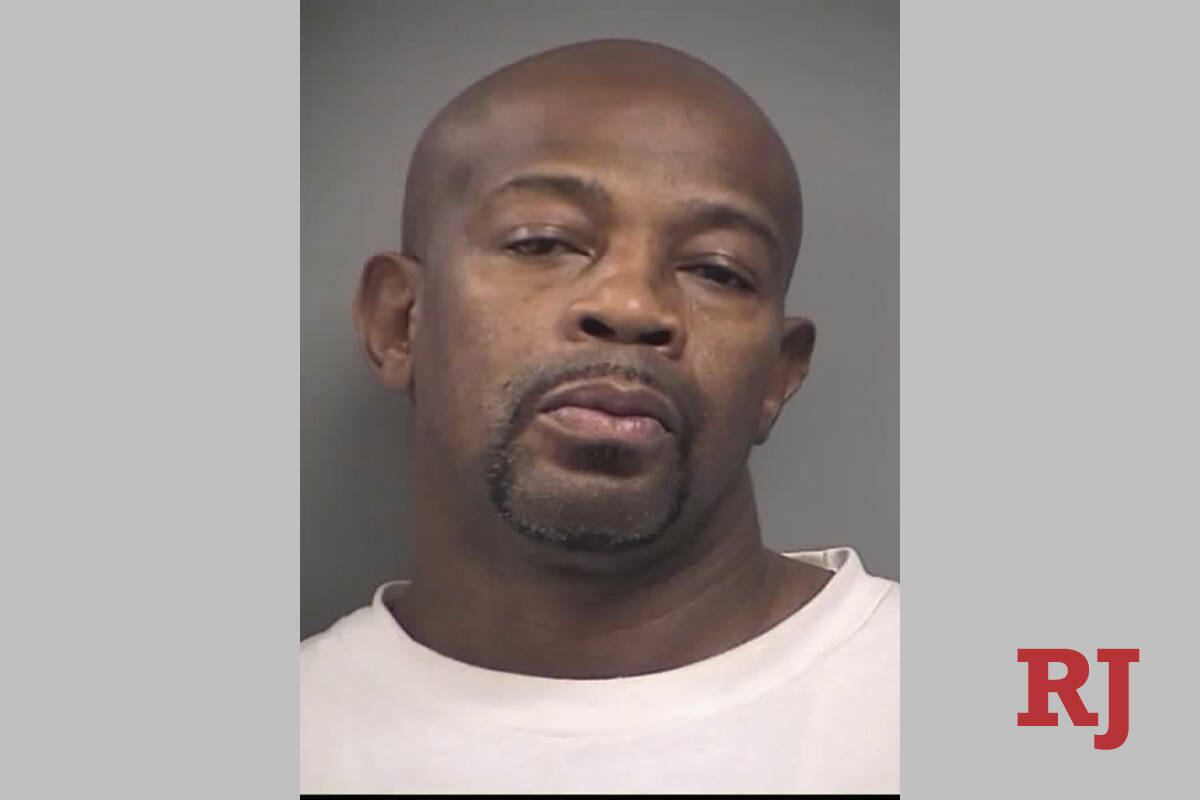 Las Vegas police body camera video released Wednesday morning shows a motorist being pulled over and cited for speeding weeks before causing a crash that killed nine people, including himself.
Gary Dean Robinson, 59, is shown during the Dec. 9 traffic stop sitting in the front seat of a Dodge Challenger on East Craig Road at 3:15 a.m.
"Good morning. Where are you going in this fancy car?" a traffic officer can be heard saying to Robinson during the stop.
Robinson tells the officer he was leaving work.
"And you were 64 in a 45?" the officer asks Robinson. "This is a beautiful car, though. Why are you driving this thing so fast?"
Robinson tells the officer he is trying to get back home and that he does not have his license on him.
"This is your vehicle? Are you Mr. Robinson? Gary Dean?" the officer asks.
"Yes," Robinson responds.
The officer returns to the vehicle and issues Robinson a ticket for driving 10 mph over the speed limit.
"All right Mr. Robinson. I wrote you 10 over," the officer says. "Everything else is good. You were doing 64. You were doing 19 over."
Robinson then remarks, "You wrote me a ticket. Yeah but — "
"Yeah but it could have been twice as bad," the officer responds.
Robinson asks how to take care of the ticket and learns he can do so at a court facility in downtown Las Vegas. During the conversation, the Las Vegas Municipal Court facility is also mentioned.
"I've got a ticket there," Robinson says.
"You've got a ticket there, too?" the officer asks.
Robinson makes some inaudible comments, and the officer responds, "I only gave you half price."
The officer then tells him: "Take care of this thing. Drive careful."
Robinson entered a guilty plea on Jan. 20 to driving 1 to 10 mph over the speed limit and was fined $150. He entered the plea nine days before he caused the deadly crash in North Las Vegas.
Police said he was driving the Challenger when he ran a red light at more than 100 mph Saturday at the intersection of Cheyenne Avenue and Commerce Street. The Dodge struck a Toyota minivan, killing seven people from a single household.
The van occupants were identified as Fernando Yeshua Mejia, 5; Adrian Zacarias, 10; Lluvia Daylenn Zacarias, 13; Bryan Axel Zacarias, 15; Gabriel Mejia-Barrera, 23; David Mejia-Barrera, 25; and Jose Zacarias-Caldera, 35. A passenger in Robinson's car, Tanaga Ravel Miller, 46, of North Las Vegas, also was killed.
Court records show that Robinson had an extensive history of traffic infractions.
In August 2021, Las Vegas police cited Robinson for traveling 55 mph in a 35 mph zone of Durango Drive near its intersection with Alta Drive, records show.
He was cited three other times for speeding between November 2020 and February 2021, according to North Las Vegas Municipal Court records. Those citations included driving 80 mph in a 65 mph zone on Interstate 15, and driving 67 mph in a 45 mph zone near the intersection of Centennial Parkway and Walnut Road.
While the February ticket from the Nevada Highway Patrol stated that "radar showed vehicle traveling 91 mph" on the interstate, Robinson was cited for traveling 11 to 20 mph over the posted speed limit.
Henderson Municipal Court records also indicate that Robinson was cited by Henderson police in 2017 for speeding. Robinson was ticketed for driving 86 mph in a 65 mph zone at U.S. Highway 95 and Lake Mead Boulevard on May 17, 2017.
In that case, he also received a citation for driving 11 to 20 mph over the posted speed limit. The case was resolved in April 2019 when Robinson agreed to pay a $198 fine for a parking violation.
Robinson also has a lengthy criminal record in the Las Vegas Valley, although his most recent felony arrest in Las Vegas dates to 2008. He has prior convictions in Clark County District Court for battery on an officer and drug charges.
Contact Glenn Puit by email at gpuit@reviewjournal.com. Follow @GlennatRJ on Twitter.