Brief investigation led to gang arrests near Las Vegas Strip
Updated August 21, 2018 - 10:06 am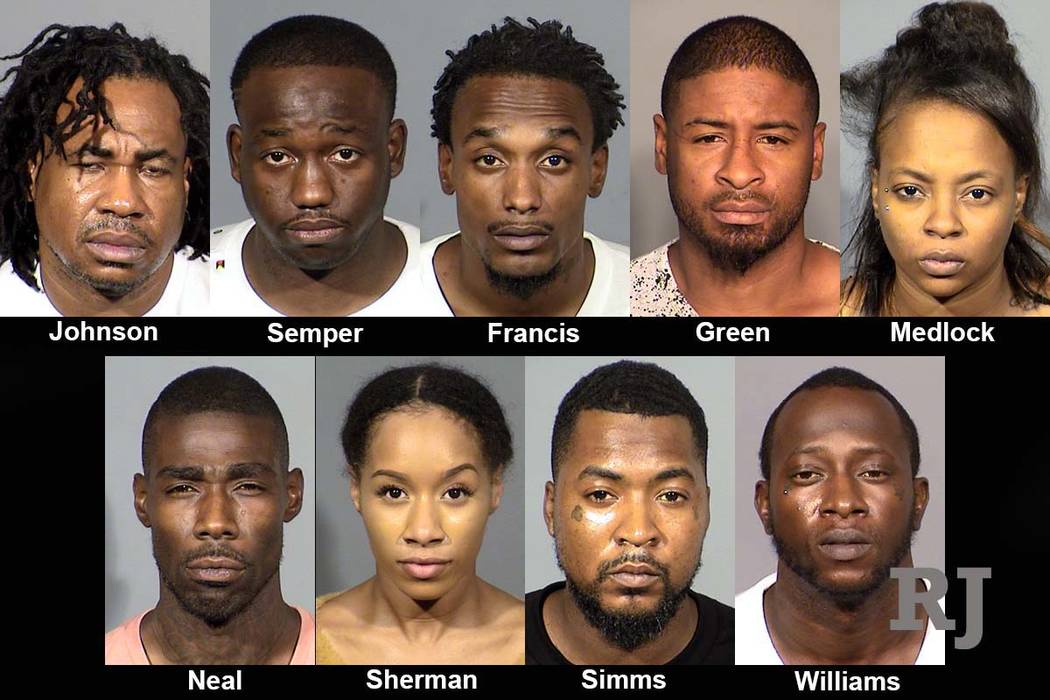 Las Vegas police said officers arrested a dozen gang members and gang associates early Sunday near the Strip after a brief investigation that began that night.
"This was just some proactive police work where the pieces fell into place," Metropolitan Police Department gang unit Capt. John Leon said.
Officers were following up on the investigation at the Rio shortly after 2 a.m. Sunday when they broke up a party. Police later tweeted that officers had made the arrests and recovered five guns. Leon confirmed that 12 people were arrested.
Leon said several gangs were represented at the party, which 40 to 50 people attended.
Officers from Convention Center Area Command broke up a large gang party at a major resort casino. Over a dozen documented gang members were arrested and 5 firearms were recovered.
Our officers strive to keep our locals and tourists safe! #FiveLessGuns #CCACFlex pic.twitter.com/RHfkqYisG9

— LVMPDCCAC (@LVMPDCCAC) August 19, 2018
Among those arrested were Corey Johnson, 41; Phillip Semper, 24; Jerome Francis, 26; Michael Green, 35; Ashley Medlock, 33; Steven Neal, 35; Lexus Sherman, 26; Antron Simms, 27; and Antonio Williams, 31.
Johnson and Semper were booked into the Clark County Detention Center on one count each of carrying a concealed weapon without a permit. The others were arrested on outstanding warrants, Leon said. They face counts including soliciting or engaging in prostitution, as well as domestic battery and contempt of court.
Two unidentified people were booked on warrants from North Las Vegas, Leon said. One person booked into the county jail was not identified Monday.
Gang parties are not common in the resort corridor because security typically stops them, Leon said.
Las Vegas police have made multiple arrests of suspected gang members in the past year. In October, 19 people were indicted on charges including murder and racketeering after a monthslong crackdown on a North Las Vegas gang.
Metro announced in March that it had arrested five MS-13 members in a string of killings that left 10 people dead over the course of a year.
There were more than 400 gangs and 10,000 gang members in the valley last year, Las Vegas police said.
Contact Blake Apgar at bapgar@reviewjournal.com or 702-387-5298.
Follow @blakeapgar on Twitter.