British man pleads not guilty in Trump threat in Las Vegas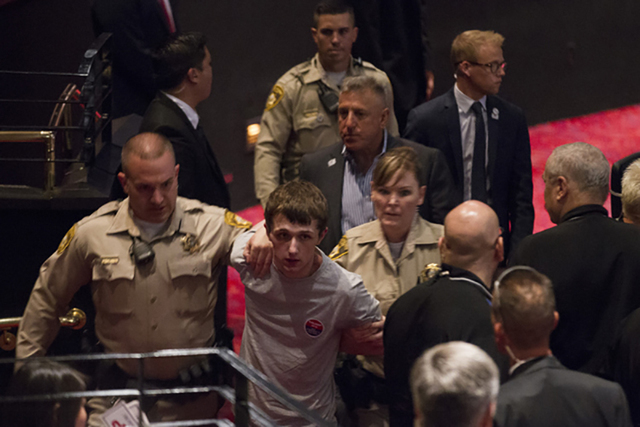 A British man pleaded not guilty in federal court Wednesday in connection with an alleged threat against Donald Trump at a Las Vegas rally.
Michael Steven Sandford, 20, who came to the United States from England 18 months ago, was indicted last week on two counts of being an illegal alien in possession of a firearm, and one count of impeding and disrupting the orderly conduct of government business and official functions.
U.S. Magistrate Judge Cam Ferenbach ordered Sandford to remain in federal custody while he awaits an Aug. 22 trial on all three charges.
Sandford, who authorities said had been living out of his car with an expired visa, was ordered held without bail last week as a danger to the community and a flight risk.
Federal prosecutors contend Sandford has had mental health issues and suffers from Asperger's syndrome, an autism disorder.
Shackled and dressed in a yellow jail jumpsuit, Sandford politely answered questions from Ferenbach and said he understood the charges against him.
Sandford was arrested June 18 at TI, the site of the Trump rally, after he tried to grab a police officer's gun in an attempt to shoot the Republican presidential candidate, according to a federal complaint.
The defendant told a U.S. Secret Service agent that he drove to Las Vegas from California in his black 2007 BMW to kill Trump, the complaint alleges.
According to the complaint, Sandford said he thought he saw the officer's 9 mm Glock pistol in an unlocked position and figured that would be the easiest way to acquire a gun and shoot Trump.
Sandford said he thought he could fire one to two rounds at the candidate before being killed by law enforcement, the complaint alleges.
Contact Jeff German at jgerman@reviewjournal.com or 702-380-8135. Find @JGermanRJ on Twitter.
RELATED
British man indicted in alleged threat against Donald Trump in Las Vegas
Man arrested at Trump rally tried to disarm Metro officer
Complaint says man planned to kill Donald Trump at Las Vegas rally