Bundy defendants want separate trials in Bunkerville standoff case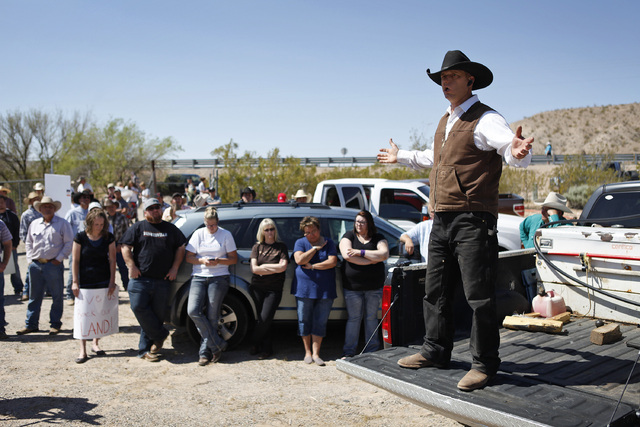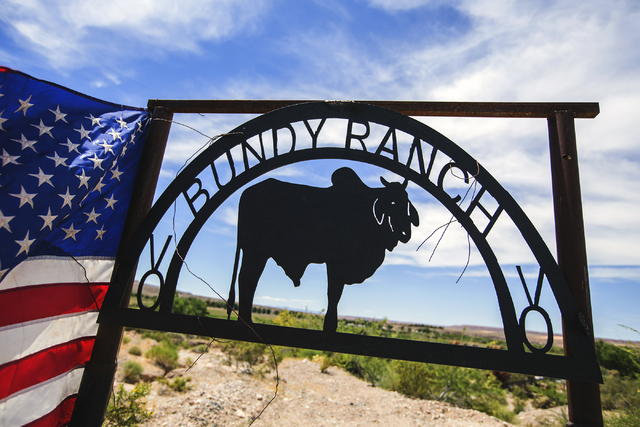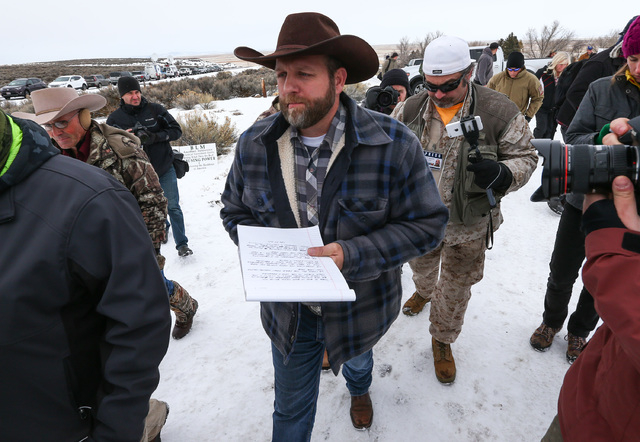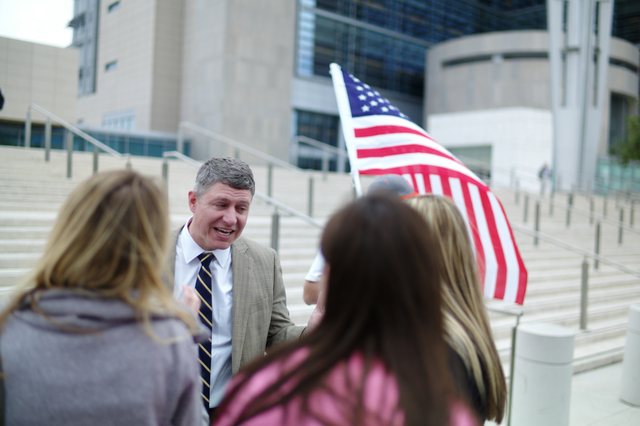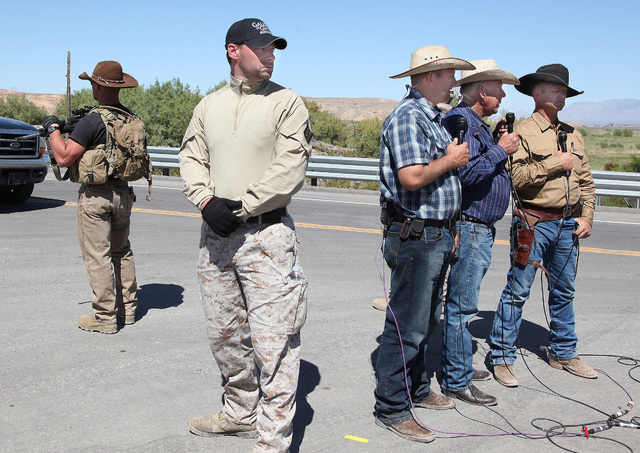 A dozen of the 19 defendants charged in the 2014 armed Bunkerville standoff, including Nevada rancher Cliven Bundy and four of his sons, say they don't want to be tried as a large group.
Bundy and eight other defendants want separate trials, and three of his sons, Ammon, Ryan and Dave, want to be tried together. They are trying to persuade their brother Mel Bundy, who seeks a separate trial, to join them, according to court papers filed over the last two weeks.
Defense lawyers argue in their papers that a large group trial would violate the constitutional rights of their clients and deny them a fair shake before a jury.
"The government wants to bring all of the defendants together so the prosecution can convict them all in a guilt-by-association trial," Cliven Bundy's lawyer, Joel Hansen, argues.
Cliven Bundy is in a "far different" position from most of the other defendants because he never carried a gun or personally threatened a law enforcement official and wasn't even at the scene of the April 12, 2014, confrontation a few miles from his ranch near Bunkerville, Hansen says.
The 19 defendants are charged with an array of felonies, including conspiring to assault the federal officers who had rounded up the Bundy cattle to force them to release the animals. The indictment alleges Bundy was the leader of the conspiracy and his sons were key organizers and part of the leadership group.
Defense lawyer Dan Hill says his client, Ammon Bundy, was merely participating in a public protest and did not brandish a firearm.
He argues that the government's evidence against Ammon and his brothers is basically the same and that their defenses could be undermined if forced to stand trial with militia members who displayed weapons during the standoff.
Hill and other defense attorneys say they also fear that they won't be able to call some co-defendants to the witness stand in a group trial to solicit favorable testimony about their clients. Those co-defendants likely will assert their Fifth Amendment rights against self-incrimination and refuse to testify, the lawyers say.
Attorney Chris Rasmussen, who represents conservative Internet talk show host Peter Santilli, contends in court papers that Santilli's First Amendment defense as a member of the media will be harmed if tried with the other defendants.
Rasmussen and Dave Bundy's lawyer, Cal Potter III, both are concerned that Hansen's tactics of attacking and trying to disqualify the presiding judge in the case, Gloria Navarro, are hurting their defense efforts.
Potter argues that Dave Bundy was merely a peacemaker during the Bunkerville confrontation, and he supports trying all four brothers together.
"None of the brothers were armed," he said. "In addition, none of the brothers have a financial interest in the Bundy Ranch and were not parties with the protracted litigation instituted by the BLM when they were children and young adults."
Contact Jeff German at jgerman@reviewjournal.com or 702-380-8135. Find @JGermanRJ on Twitter.
RELATED
Federal judge refuses to get off Bundy case
Bundy brothers, three others refuse to enter pleas in Bunkerville standoff
Cliven Bundy refuses to enter plea in 2014 armed standoff near Bunkerville
Bundys, other defendants oppose long trial delay in Bunkerville standoff
RJ fights government secrecy in Bunkerville standoff case
Previous coverage
See a timeline of events leading up Cliven Bundy's conflict with the Bureau of Land Management in 2014. Also, see the most recent reports involving Bundy and his family.