Bundys, other defendants oppose long trial delay in Bunkerville standoff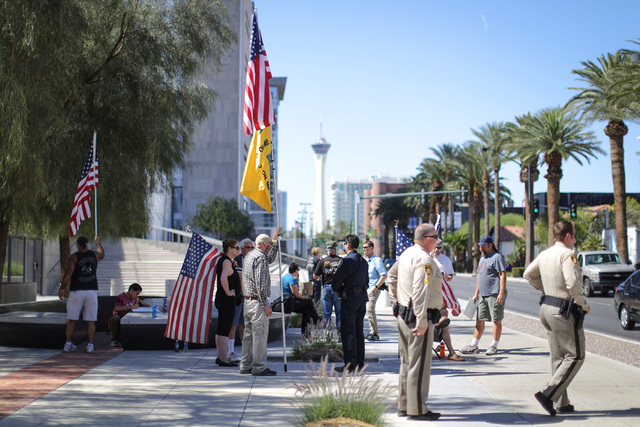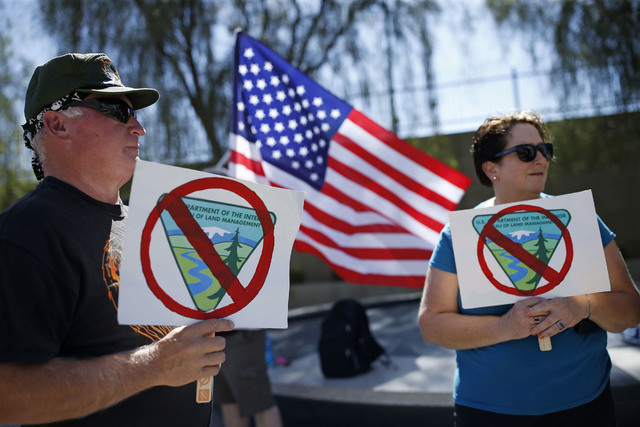 The majority of the 19 defendants charged in the 2014 Bunkerville standoff — including rancher Cliven Bundy and four of his sons — indicated Friday they want to exercise their constitutional rights and go to trial as soon as possible.
The move appeared to surprise prosecutors, who told a federal judge that they had previously obtained the support of most of the defendants for an eight-month trial delay until February.
Many of the defendants and their lawyers announced in court that they had changed their minds, prompting the lead prosecutor in the case, Steven Myhre, to suggest some were "playing games" with the "extremely serious charges" they are facing.
All 19 defendants, who are in federal custody, appeared together for the first time. They were dressed in jail garb and chains and, with their lawyers, filled up the courtroom, including the jury box. A dozen deputy U.S. marshals were on hand for extra security.
Myhre said the trial delay was needed to give prosecutors more time to turn over to the defendants the massive amount of evidence authorities have collected since the April 12, 2014, armed confrontation with law enforcement near Bunkerville.
Most of the defendants are facing conspiracy, extortion, firearms and assault charges that could land them in prison for the rest of their lives if convicted.
Defense lawyers argued they needed to see the government's evidence to make an informed decision about giving up their clients' constitutional speedy-trial rights. The defendants have a right to go to trial within 70 days of being charged.
The defense arguments prompted U.S. Magistrate Judge Peggy Leen to order prosecutors to turn over a large portion of the evidence within two weeks.
Leen promised a written decision later on whether to declare the case complex and delay the trial into next year. She issued an order in the meantime putting off the scheduled May 2 trial without setting a new date.
She also ordered defense lawyers to let her know by next Friday their position on the government's proposed protective order barring the lawyers from giving copies of key trial evidence, including government investigative reports, to the public and media. Prosecutors contend the order is needed to protect the safety of witnesses.
But many of the defense lawyers believe the proposed order is too broad.
Las Vegas Review-Journal Editor J. Keith Moyer said Friday the newspaper would join the opposition.
"The Review-Journal, as always, is committed to fighting attempts to seal what clearly should be public records," Moyer said. "That's exactly what we will do by vigorously opposing this requested protective order."
Maggie McLetchie, the newspaper's lawyer, added: "The public is very interested in this case and the government should not be able to place all the documents it produces in the litigation under an automatic blanket of secrecy. Unless the government can demonstrate actual harm that outweighs the public's right to know, documents should not be kept from public view and defendants should not be barred from sharing them. Transparency matters."
Meanwhile, the speedy-trial rights of seven of the defendants, including Bundy brothers Ammon and Ryan, have been complicated by criminal charges they face simultaneously in Oregon over an armed occupation of a government wildlife refuge there earlier this year. They are to stand trial in Oregon in September.
Some of those defendants are seeking dismissal of the Nevada case, arguing the simultaneous prosecutions are affecting their constitutional rights.
Joel Hansen, who is defending Cliven Bundy, told Leen that his client's rights to a speedy trial and counsel of his choice are being violated.
Bundy is not charged in Oregon, but the presiding district judge in the Nevada case, Gloria Navarro, will not allow Washington, D.C., lawyer Larry Klayman to join Bundy's defense team, Hansen said. Hansen suggested Navarro was doing the bidding of U.S. Sen. Harry Reid, D-Nev., who, according to Hansen, called Bundy a domestic terrorist who should be in jail for the rest of his life.
Navarro, whom Reid recommended for the federal bench, has refused to let Klayman into the case until he can provide her with proof that he has been cleared in professional disciplinary proceedings in Washington.
Klayman, a nationally known conservative lawyer, was in the courtroom gallery Friday and spoke to Bundy briefly after the two-hour hearing.
Contact Jeff German at jgerman@revewjournal.com or 702-380-8135. Find @JGermanRJ on Twitter.
Previous coverage
Full coverage of the feud between the Bundy family and the BLM