Clark County School District police officer charged with using excessive force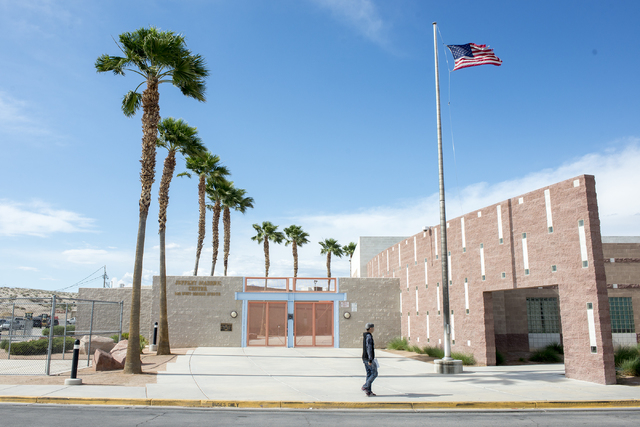 A Clark County School District police officer was indicted by a federal grand jury Tuesday on charges of using excessive force against two people, including a student, at a North Las Vegas disciplinary school and then trying to cover it up.
James Lescinsky, 45, was charged in a five-count indictment stemming from a May 21 confrontation at the Jeffrey Behavior Junior/Senior High School. The felony charges include two counts of deprivation of rights under color of law.
Lescinsky violated the constitutional rights of a school staff member identified only as T.R. and a student identified as A.N. during the alleged assaults, according to the indictment.
The indictment alleges that Lescinsky assaulted both the staff member and the student with his police-issued baton. He also allegedly slammed the student into a hallway wall and threw her to the floor.
The offenses "resulted in bodily injury" to both victims and "involved the use and attempted use of a dangerous weapon," the indictment states.
Lescinsky also is charged with witness tampering in connection with an allegation that he made false representations to a supervisor and with falsifying official reports.
The officer falsely told his supervisor after the incident that the assault occurred because the staffer and the student were wrestling with each other and the student was being combative, the indictment alleges.
Lescinsky, who has been summoned to answer the charges in federal court on May 26, tried to obstruct and influence an FBI investigation by putting together phony incident and use of force reports of the altercation, according to the indictment.
He is alleged to have falsely accused the student of yelling obscenities before she was struck and of being "aggressive, threatening and non-compliant" with him.
Lescinsky, who joined the police force in August 2012, is currently "reassigned pending investigation," a school district spokeswoman said. He is not assigned to any police or school district duties.
The criminal case against Lescinsky is being prosecuted by trial attorneys with the Justice Department's Civil Rights Division in Washington, D.C.
Jeffrey behavior school, 602 W. Brooks Ave., offers short-term programs for junior and senior high school students with disciplinary problems. Students typically attend Jeffrey for four to nine weeks before being returned to their home campuses.
Enrollment at Jeffrey surged from 53 students in October to 100 students in January, according to school district records.
The Clark County School Board last month voted to close two other behavior schools, Morris and Southwest, because of declining enrollment. A total of three behavior schools, including Jeffrey, remain open.
Review-Journal writer Neal Morton contributed to this report. Contact Jeff German at jgerman@reviewjournal.com or 702-380-8135. Find @JGermanRJ on Twitter.