Conflict of interest allegations surface in divorce case involving disbarred lawyer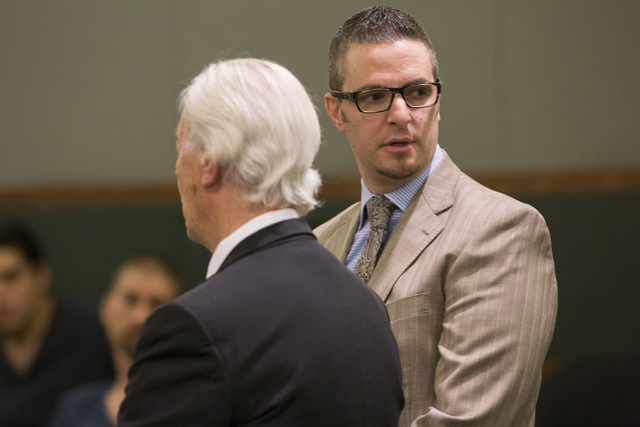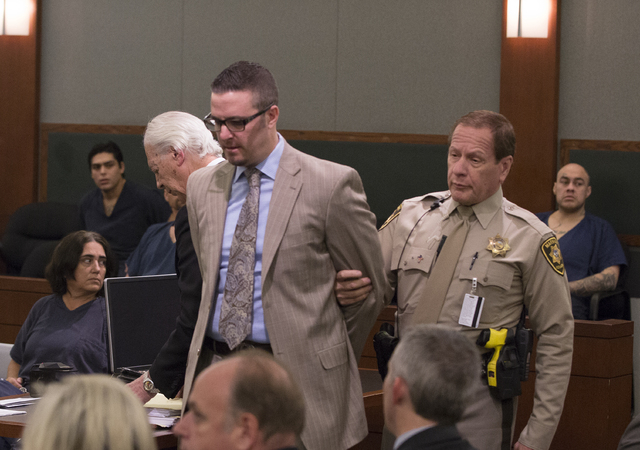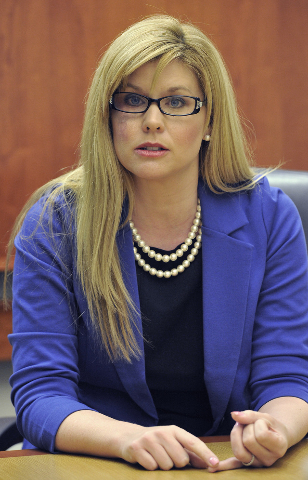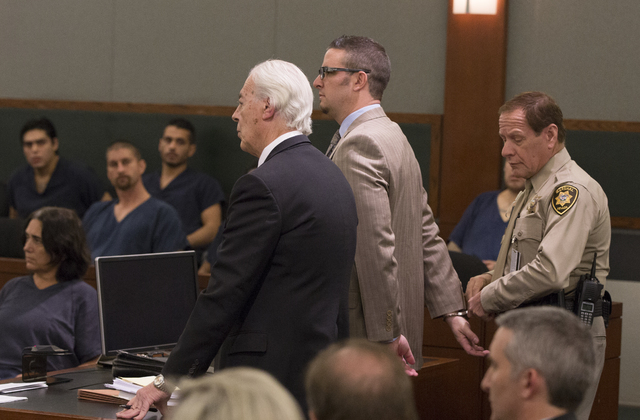 Potential conflicts of interest have surfaced in secret, highly charged divorce proceedings between disbarred defense lawyer Brian Bloomfield and his wife, Amber Bloomfield.
Attorney Aaron Grigsby, who represents Brian Bloomfield, handled a previous divorce case for his estranged wife in 2009 and, according to Amber Bloomfield, used confidential information from those proceedings against her in the current case, which has been marked by inflammatory allegations on both sides.
Grigsby, a member of the State Bar of Nevada since October 2004, also represented Amber in 2011 when she had her last name legally changed to Bloomfield before she married her husband.
At the time, the couple was under investigation in a scheme that provided Brian Bloomfield's clients with phony certificates of completion for court-ordered counseling and community service to resolve misdemeanor cases.
Both ended up pleading guilty in the courthouse fraud, and Brian Bloomfield's plea to felony forgery charges led to his disbarment last month by the Nevada Supreme Court. He was sentenced to 90 days at the Clark County Detention Center, but served only three days before he was released to house arrest.
He has retained temporary custody of the couple's three young children while under house arrest and with Grigsby's help has managed to best his wife at every turn in the divorce proceedings. Amber Bloomfield can't afford a lawyer.
"It's not fair," she said. "He (Grigsby) should not be representing Brian. It's an obvious conflict."
To help her husband gain temporary custody of the children, Amber Bloomfield alleges, Grigsby used — without her consent — information she gave him in 2009 about the couple's recreational drug use and her personal mental health issues.
Professional rules of conduct for lawyers in Nevada prohibit them from revealing confidential information from clients without their consent.
The rules also prohibit an attorney who has represented a client in a matter from representing someone else in a "substantially related matter" whose interests are adverse to those of the former client without the former client's consent in writing.
Former State Bar Counsel David Clark said he thinks Amber Bloomfield has a "good argument" to get Grigsby disqualified from representing her husband in the divorce case.
Marshal Willick, who has been practicing family law for decades, agrees.
"We probably wouldn't touch this case with a 10-foot pole," said Willick, who once chaired the State Bar's ethics committee. "It's not a good idea to find yourself in an adversarial position with a former client. It's just too rife with the possibility of conflicts of interest."
Grigsby, who testified as a character witness for Brian Bloomfield at his State Bar disciplinary hearing, did not return phone calls.
He persuaded Family Court Judge Linda Marquis to seal the divorce case about a week after he filed it in late November. Since then, he has consistently portrayed Amber Bloomfield behind closed doors as a mentally unstable drug addict — a charge she strongly denies.
Marquis, a longtime former law partner of William Terry, who defended Brian Bloomfield in both the criminal and State Bar cases, has refused to get off the divorce case. She declined comment because the case is ongoing.
Terry provided Grigsby with a sworn affidavit, saying Marquis left his office on Aug. 31, 2010, long before Brian Bloomfield was charged in the courthouse fraud on Dec. 21, 2011.
In the affidavit, Terry said he had talked to Bloomfield about the investigation before he was arrested, but those conversations occurred "well after" Marquis had left.
"Judge Marquis had absolutely nothing to do with the Bloomfield matter," Terry wrote.
Both sides in the divorce case have accused the other of violating a "mutual behavior order" in which they agreed not to publicly disparage each other during the secret proceedings.
Grigsby filed court papers under seal alleging Amber Bloomfield broke her promise when, in an interview with the Las Vegas Review-Journal, she accused her husband of lying under oath at his bar hearing. The story was published on Dec. 12, after Marquis had sealed the case, but the interview was conducted while the case was still public.
Chief Deputy District Attorney Marc DiGiacomo, who had sought a four-year prison term for Bloomfield, also accused him in court of lying at the bar hearing.
Amber Bloomfield alleges her husband violated the order at his sentencing last month when he and Terry viciously attacked her character and referred to a series of nine court-ordered drug tests she allegedly failed as part of the child custody battle.
She denied failing nine drug tests and said the results were to be kept under wraps in the sealed case.
"I can't even get my drug tests," she said. "They're only sent to the court."
Contact Jeff German at jgerman@reviewjournal.com or 702-380-8135. Find @JGermanRJ on Twitter.