Convicted pimp dies after he's found unresponsive at Nevada prison
Updated May 24, 2017 - 1:31 am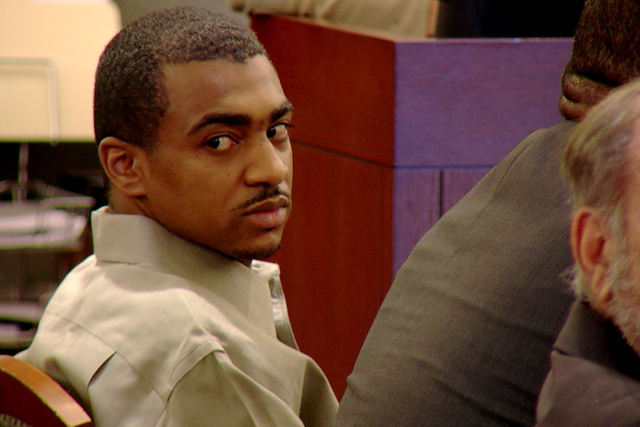 Robert Sharpe III, a notorious pimp who kidnapped and forced a teenager into prostitution, died this weekend at High Desert State Prison, according to the Nevada Department of Corrections.
Sharpe, 31, was sentenced a year ago to life without parole for what authorities called one of the most violent cases of torture in recent memory. One judge called the months of abuse he inflicted on the woman "horrific torture," while Sharpe's sentencing judge said that his life behind bars was "appropriate" for what amounted to physical and psychological "torment and slavery."
Sharpe was found unresponsive in his cell at 6 p.m. Thursday. He was taken to Valley Hospital Medical Center, where he was pronounced dead at 5 p.m. Saturday.
There was no indication of foul play, according to Nevada Department of Corrections spokeswoman Brooke Keast. The coroner has not yet determined a cause of death.
Sharpe was convicted last year of kidnapping with substantial bodily harm, sex trafficking, mayhem and several other felonies.
The victim testified at his trial in March 2016, describing for a jury the excruciating abuse she endured.
Sharpe kidnapped the 18-year-old from a bus station and threatened to kill her and her family — he knew where they lived — if she ever spoke to the police. He beat her for hours with a metal pole, his fists, twisted hanger wire and a sock stuffed with oranges.
If she cried out, he would beat her further. He would turn up the volume on his stereo, replaying the same song over and over, singing along, laughing, in order to drown out the sound of her voice, she testified.
He took her cellphone, would not let her leave his North Las Vegas home without him, and ultimately forced her to sleep in the garage because of the stench of infection.
Sharpe was arrested in September 2014, three months after the teen wandered into University Medical Center with broken bones, bruises and wounds all over her body. She had escaped only after Sharpe tried to sell her to another pimp. But the woman was nearly dead, so Sharpe left her at a Wendy's restaurant across from the hospital.
Dana Rutkin contributed to this report. Contact Dana Rutkin at drutkin@reviewjournal.com or 702-383-0381. Follow @danadrutkin on Twitter. Contact David Ferrara at dferrara@reviewjournal.com or 702-380-1039. Follow @randompoker on Twitter.
RELATED
Woman testifies against alleged pimp accused of torturing her: 'I was just trying to keep alive'