$3M exchange in Las Vegas poker game at center of lawsuit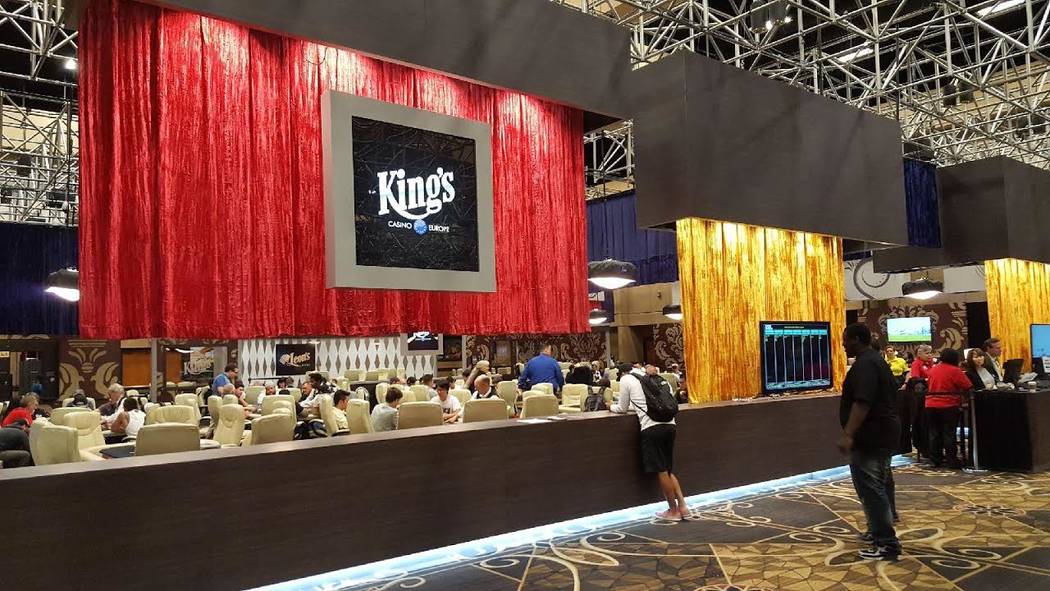 A $3 million exchange at an Aria poker table is now the center of a lawsuit filed in Clark County court.
In late May, Australian poker pro Matthew Kirk, known for his unorthodox play, scooted increments of $500,000 and $1 million in chips across the felt to Czech casino owner and entrepreneur Leon Tsoukernik.
At least two other people were at the table in the high-stakes Ivey Room while the exchange occurred, according to video surveillance obtained by Kirk's lawyers Richard Schonfeld and David Chesnoff.
Within 12 minutes after confirming that he received the last million, Tsoukernik appeared to indicate he wouldn't pay the money back, according to an early morning text message exchange documented in court papers filed Friday, the day before the start of the World Series of Poker Main Event.
"The defendant has committed a fraud upon the plaintiff," Kirk's lawyers wrote. "Those text messages indicate that defendant never intended to pay his loans."
"Gave you 500k," Kirk wrote in a May 27 text message time stamped 4:34 a.m.
"Gave you 1million," he wrote about 30 minutes later.
"OK," Tsoukernik replied, as the two documented the transactions.
At 5:46 a.m., Kirk wrote that he had sent the total of $3 million, and Tsoukernik replied "OK."
At 5:58, Tsoukernik wrote: "Not valid." Two minutes later, he typed: "0 now."
Video of the exchange has not been released to the public, though Chesnoff and Schonfeld documented the recordings.
A day earlier, Kirk had lost a poker match to Tsoukernik and paid him $1.5 million, the lawsuit states.
Tsoukernik went on to win $1.8 million in the Aria's Super High Roller Bowl tournament later that month, and he paid Kirk $1 million. But he now says he doesn't have to return the rest because it was an unenforceable gambling debt.
Tsoukernik's lawyer, Peter Bernhard, asked a judge to throw out the lawsuit, saying the chips were used in a one-on-one poker game.
"Since plaintiff seeks to enforce gaming debts arising under the contract, if the contract is void and not enforceable as a matter of law, then none of the contract, good faith and fair dealing, fraudulent inducement, and unjust enrichment claims can be maintained," Bernhard wrote. "Since the gaming debts that plaintiff seeks to enforce are not evidenced by a 'credit instrument' at the time the debts were created in the early morning hours of May 27, 2017, then the alleged gaming debts 'are void and unenforceable and do not give rise to any administrative or civil action.'"
Bernhard declined to comment on the text messages, but said in an email to the Las Vegas Review-Journal that he planned to respond within the court system.
Kirk's lawyers say the money was a loan, or a business deal, not a gambling debt.
If the chips were intended as gambling debt, as Bernhard argued, "then all of the lenders engaged in businesses with casinos are at risk of having their loans deemed unenforceable 'gambling debts,'" Chesnoff and Schonfeld wrote.
Tsoukernik, who has more than $2.6 million in tournament earnings, has since played in the World Series of Poker's $50,000 buy-in Poker Players Championship event at the Rio, which started July 2, and the $10,000 buy-in Main Event, which started on Saturday. He did not earn money in either event.
But he's also tied to the tournament series itself.
New this year inside the Pavilion Room at the Rio is the King's Cash Game Lounge, a section of poker tables cordoned off for high-stakes games and named after Tsoukernik's casino overseas.
It includes Leon's Table, which according to wsop.com, is "set atop an expansive, slightly raised stage, in easy view of railbirds."
Such exposure allows Tsoukernik to recruit players for the World Series of Poker Europe event in October at his casino in Rozvadov, Czech Republic, the site states.
"The King's Cash Game Lounge also contains its own miniaturized version of a travel agency, staffed by King's Casino customer support," poker write Haley Hintze wrote on the WSOP site. "Prospective WSOP Europe participants can put down deposits on tourney entries and begin exploring travel opportunities and other highlights of the Rozvadov region."
Contact David Ferrara at dferrara@reviewjournal.com or 702-380-1039. Follow @randompoker on Twitter.
A high stakes exchange
In the early morning hours of May 27, Matthew Kirk handed $3 million in Aria poker chips to Leon Tsoukernik, who has failed to pay back $2 million. In a lawsuit demanding the money, Kirk said it was loan. Tsoukernik argued that the chips were an unenforceable gambling debt.
Video surveillance not released to the public captured the exchange, and lawyers for Kirk recently documented it in court papers.
— At 4:29 a.m.: Four people are seated at the poker table, with casino chips at three spots on the table. Kirk starts to count out $500,000 in chips and hands them to Tsoukernik.
— At 5:07 a.m.: Kirk slides another $500,000 to Tsoukernik, and both have their phones in hand to document the transaction.
at 5:22 a.m.: Kirk counts out $1 million and slides the chips to Tsoukernik before any cards are dealt.
— At 5:45 a.m.: Kirk sends another $1 million to Tsoukernik. At this point, at least six players, including Kirk and Tsoukernik, and a dealer are at the table.
— At 5:46 a.m.: they shake hands.