4 reputed MS-13 members charged in Las Vegas murder
Updated March 28, 2018 - 7:21 pm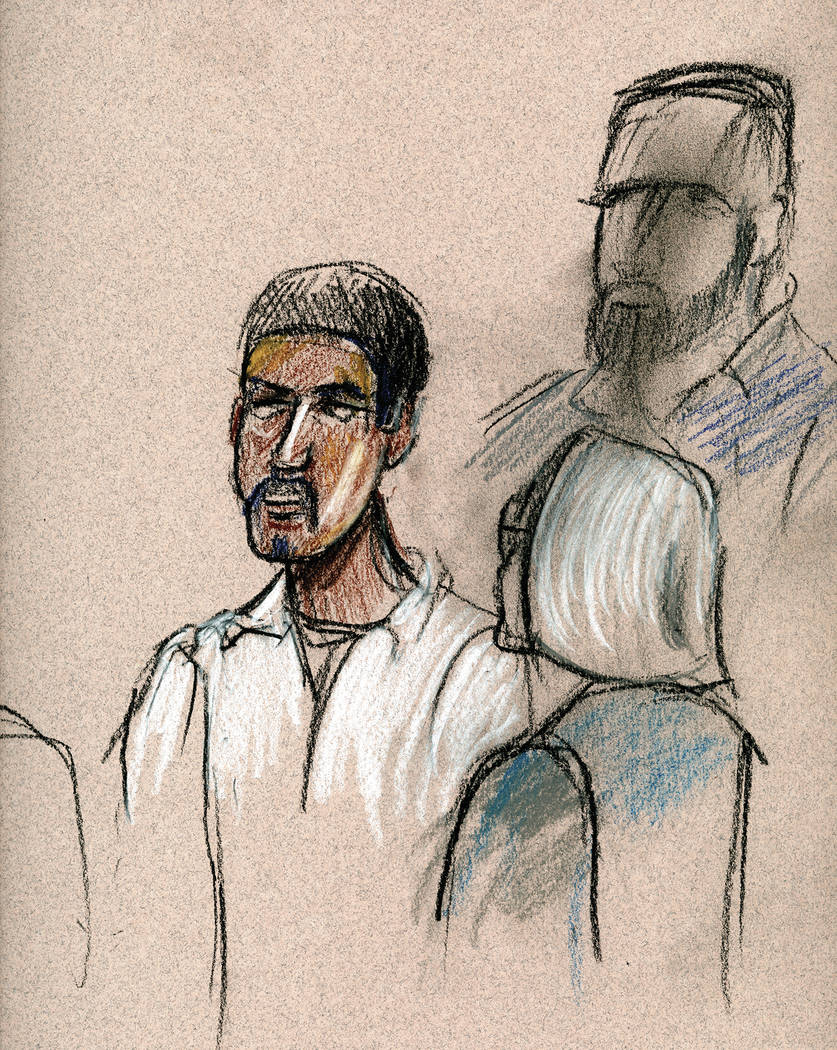 Three alleged MS-13 gang members appeared Wednesday in a Las Vegas courtroom to face charges in the kidnapping and murder of a rival gang member whose body was found mutilated on federal property in Southern Nevada.
A fourth man also has been charged in the case, but his court date has not been set.
Salvadoran nationals Josue Diaz-Orellana, 22; Luis Reyes-Castillo, also known as "Molesto," 24; David Perez-Manchame, also known as "Herbi" and "Walter Melendez," 19; and Miguel Torres-Escobar, 20, are charged with assault with intent to commit murder, kidnapping and discharging a firearm during a crime of violence.
Diaz-Orellana did not appear with the others in court.
The charges, announced Wednesday by federal officials, stem from the death of Arquimidez Sandoval-Martinez, whose body was found in early February in a desert area east of Las Vegas, two weeks after he disappeared. Though a criminal complaint states the body was discovered Feb. 2, the Las Vegas Review-Journal reported the discovery Feb. 1.
Shackled, wearing white paper jumpsuits and speaking through interpreters, the three defendants who appeared in court told U.S. Magistrate Judge Cam Ferenbach they understood the charges against them. They did not enter pleas.
Violent details
The complaint states that Sandoval-Martinez, last seen by friends Jan. 21 at Club 2100, 2100 Fremont St., was shot and repeatedly stabbed. All four defendants are accused of stabbing the victim with knives and a machete.
"Examination of the crime scene indicated that Sandoval-Martinez had been bound and had made some effort to escape his captors before being shot and stabbed to death," the complaint states.
Diaz-Orellana and Torres-Escobar provided investigators with details of the night Sandoval-Martinez was killed, according to the complaint.
Inside the club, Perez-Manchame and Sandoval-Martinez were "mad-dogging" each other, or exchanging angry looks, because of a possible relationship between the victim and Perez-Manchame's girlfriend, Torres-Escobar told investigators.
While using drugs outside the club, the men persuaded Sandoval-Martinez to ride in a truck with them to a spot in the desert to view the city lights, according to the complaint. While on the ride, the men bound Sandoval-Martin with his shoelaces.
"After arriving at a remote area in the desert, the men removed Sandoval-Martinez from the vehicle and walked him away from the roadway," the complaint states. "Reyes-Castillo forced Sandoval-Martinez to kneel and take off his shirt. After he removed his shirt, the men noticed a tattoo on his shoulder that they believed signified his association with their rival gang, 18th Street."
According to the complaint, Reyes-Castillo held a 9 mm handgun to the victim's head, told him not to move and then stabbed him in his side. As Sandoval-Martinez tried to run, Reyes-Castillo fired. After the victim fell, he was stabbed, and his body was chopped up.
Officials said the defendants are in the United States illegally and are in federal custody.
Ties to other homicides
MS-13, which is short for "La Mara Salvatrucha," is a transnational gang made up primarily of immigrants or descendants of immigrants from El Salvador. MS-13 has been in the U.S. since at least the 1980s.
The Metropolitan Police Department announced Monday that the gang has been tied to 10 homicides that occurred in Clark County in the past year.
For nine months, MS-13 operated quietly under Metro's radar, killing two in 2017, police said.
The case was opened after detectives linked two January homicides that happened "in close proximity with many similarities," homicide Capt. Robert Plummer said at a Monday news conference.
On Jan. 18, officers with Metro's search and rescue team were looking for hikers on Frenchman Mountain. They instead found the body of 21-year-old Carlos Anton Pashaca-Rodriguez, a former member of MS-13. He died of multiple gunshot wounds to his head and multiple stab wounds.
Sandoval-Martinez, who knew Pashaca-Rodriguez, was interviewed by homicide detectives in connection with his death. A few days later, police said, Sandoval-Martinez went missing.
Investigators tracked down Diaz-Orellana using cellphone records, and he was arrested March 2 while riding in a 2012 Ford Fusion with Perez-Manchame and Torres-Escobar, who was driving the vehicle.
Inside the car, authorities found a large butcher knife, a blood-stained baseball hat and three 9 mm handguns. Police said they suspected another homicide was imminent.
U.S. District Court complaint against 3 alleged members of MS-13 by Las Vegas Review-Journal on Scribd
Contact David Ferrara at dferrara@reviewjournal.com or 702-380-1039. Follow @randompoker on Twitter.
RELATED
MS-13 violence 'is almost never random,' gang expert says