4 suspects in 17-year-old's fatal beating appear in adult court
Updated November 18, 2023 - 11:02 am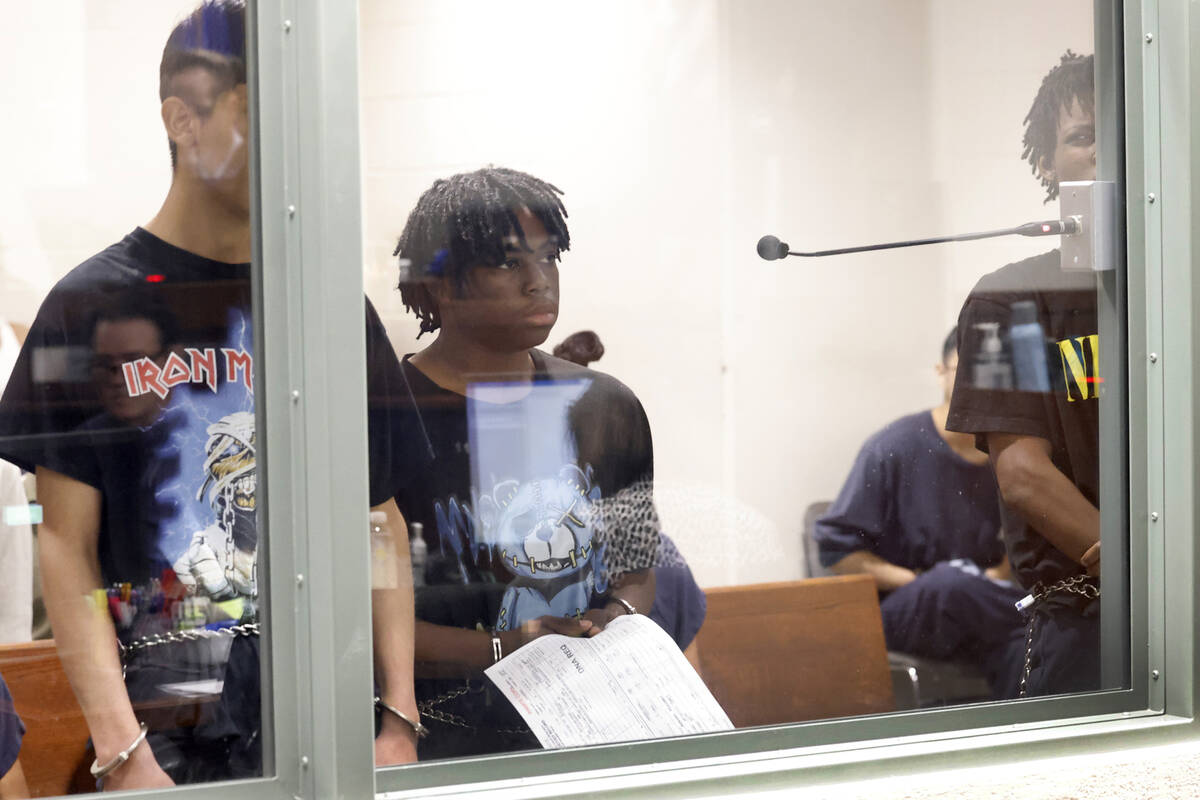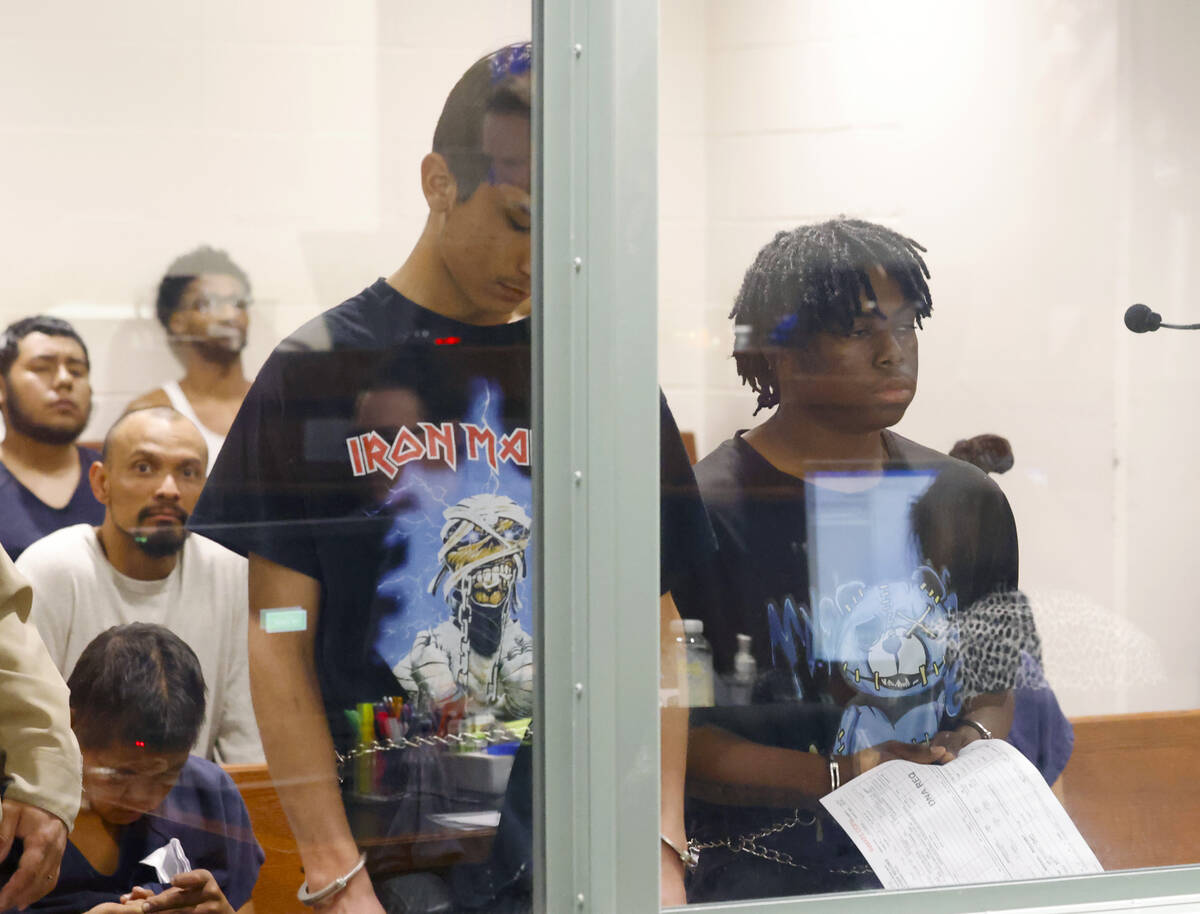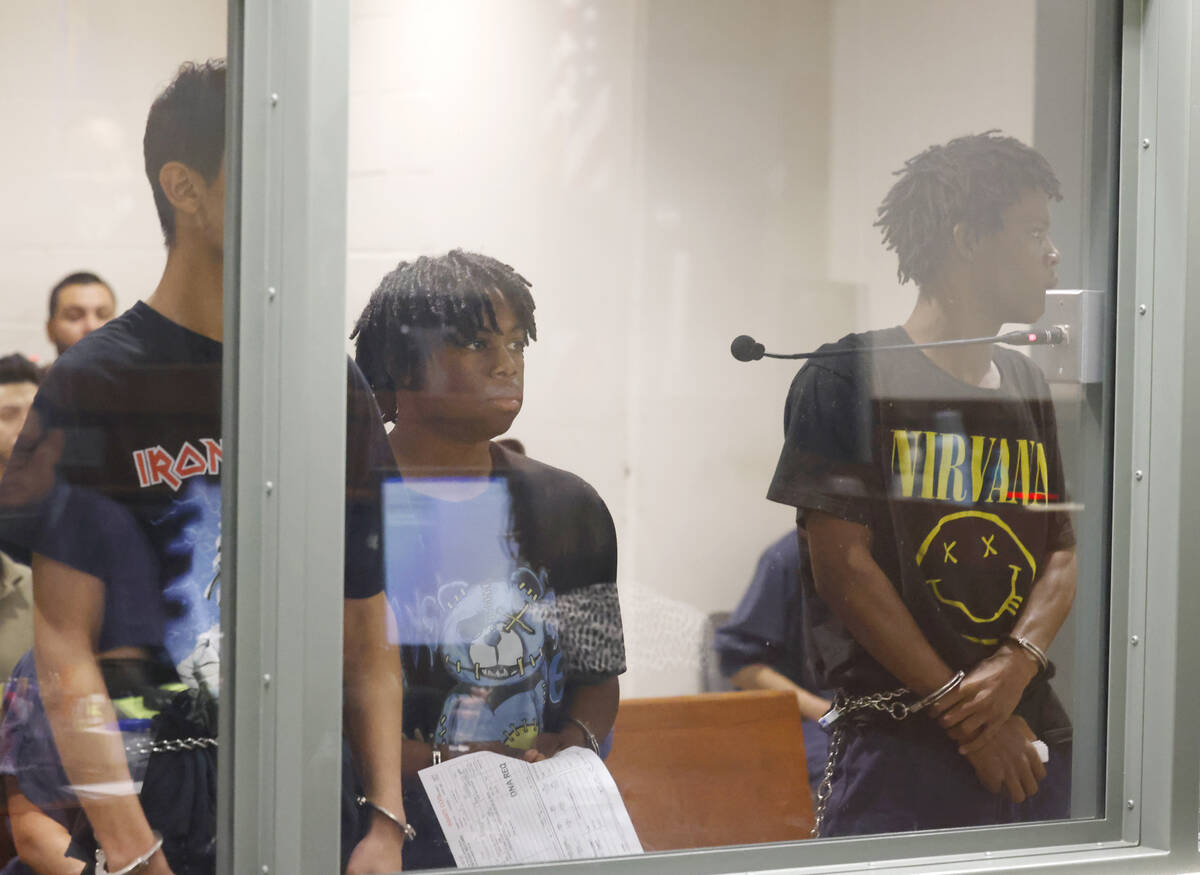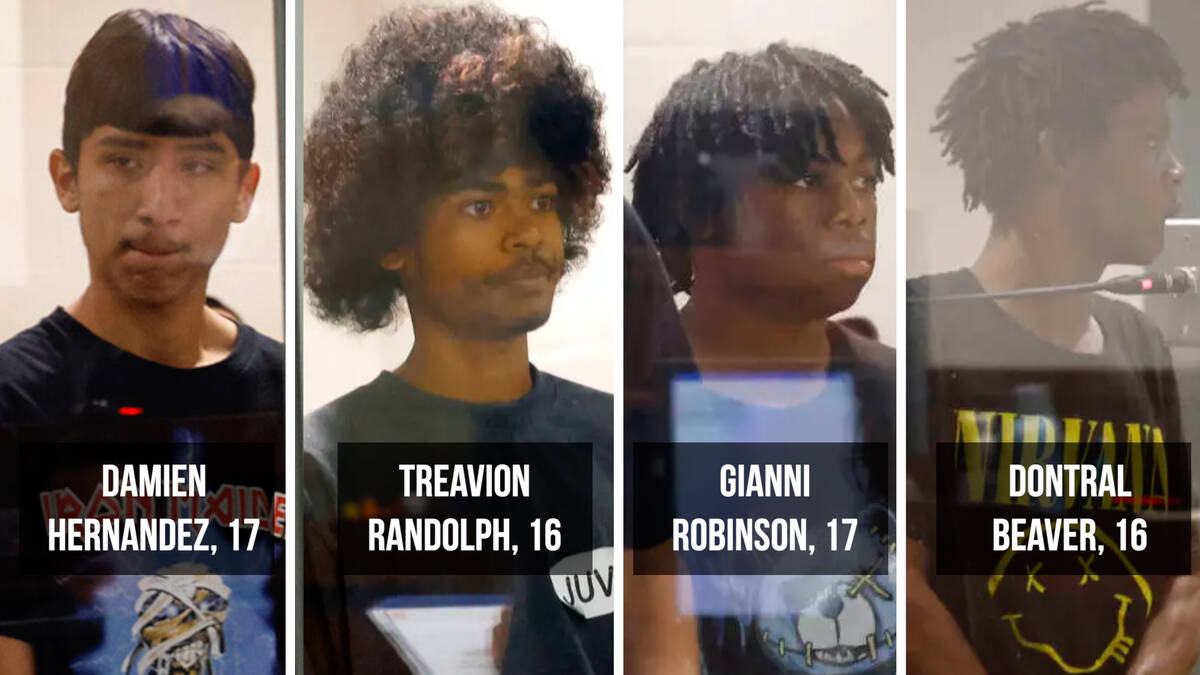 Four of the juveniles arrested in connection with the fatal group beating of a Rancho High School student made their initial appearance in Las Vegas Justice Court on Friday.
Dontral Beaver, 16; Damien Hernandez, 17; and Gianni Robinson, 17, all had initial appearances in front of Hearing Master Daniel Westmeyer on Friday morning.
Treavion Randolph, a fourth teenager whose case has been sent to the adult court system and who turned 16 on the day of the fatal beating, appeared in court Friday afternoon.
Four other juveniles have been arrested on suspicion of murder in connection with the death of 17-year-old Jonathan Lewis Jr. Because the other four teenagers are under the age of 16, they will need to go through a certification hearing in Family Court for a judge to determine if they will be tried as adults.
The judge ordered Beaver, Hernandez, Robinson and Randolph to continue to be held without bail at the Clark County Detention Center although attorneys will have the opportunity to present bail arguments at later hearings. They are set to appear in court again on Tuesday.
Family members of the suspects attended court Friday, but declined to speak with reporters after the hearing.
Daniel Martinez, a special public defender representing Randolph, said following the afternoon session that he expects his client to plead not guilty on Tuesday.
"In all likelihood, we'll address bail at that time and the case will be set for a preliminary hearing," Martinez said.
Since the case will be consolidated and involves co-defendants, the Clark County Public Defender's office has a conflict of interest and cannot represent the other three defendants. But the county will refer them to its list of local lawyers hired to represent indigent clients, he said.
The fatal beating happened off of Rancho High's campus on Nov. 1 and was captured on a video that a top police official called "very void of humanity." The video showed about 10 people kicking, stomping and punching Lewis until he fell unconscious.
Metropolitan Police Department officers are still searching for two potential suspects seen in the video.
Police have said a group of teens set up the fight after school after a pair of wireless headphones and possibly a marijuana vape pen were taken from either Lewis or his friends earlier in the week.
Clark County District Attorney Steve Wolfson has said that prosecutors are still determining the "varying degrees of culpability" in the case, and if all of the teens will be formally charged with murder.
The certification hearings for the four younger teens are scheduled for Dec. 6 in Family Court.
'An easy culprit'
Amid the national discussion about Lewis' fatal beating, some people have speculated that it amounted to a racial hate crime, since Lewis was white and some of the teens who allegedly took part in the beating are not.
However, Las Vegas police have stated consistently that they have found nothing to indicate that race was a factor.
"There is NO evidence of that in this case," the department's public information office said in an email Friday.
Dr. Katherine Lee, an associate professor with UNLV's School of Psychology, said in the desire to find a reason for such a horrible act, the challenge for society is to punish the perpetrators while also avoiding being reactionary.
"Race is an easy culprit in modern society," Lee said, adding that not all acts of violence or hatred are racially driven.
"Hate and violence are driven by poor emotional regulation, belief systems that uphold power, dominance and aggression as virtues, personal experiences that foster suspicion, mistrust and indignation, and yes, at times, bona fide mental illness," she said.
Associate Professor Tyler Parry, with UNLV's African American and African Diaspora Studies, said that in his view, those seeing the beating as an example of a racist attack tend to have a political agenda to perpetuate.
"I find it interesting, just another point that I think about whenever I see these debates online, as to what is or is not paid attention to, I never see these same people posting videos of white kids and black kids getting along," Perry said.
"The vast majority of interactions between white and nonwhite people are perfectly fine," he said. "I imagine there are more instances at Rancho High School of white and black kids getting along and having a certain sense of camaraderie than there are of black kids attacking white kids and vice versa."
Contact Katelyn Newberg at knewberg@reviewjournal.com or 702-383-0240. Contact Jeff Burbank at jburbank@reviewjournal.com or 702-383-0382. Follow him @JeffBurbank2 on X.