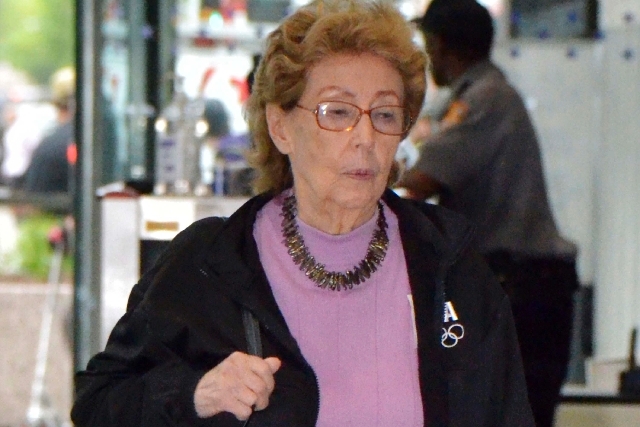 CHICAGO — An 87-year-old grandmother took on billionaire Donald Trump. And on Thursday — she lost.
Jurors sided with the real estate mogul-turned-TV showman in a weeklong civil trial focused on Jacqueline Goldberg's claim that Trump cheated her in a condo bait-and-switch scheme.
The federal jury in Chicago returned with a finding in Trump's favor. Goldberg, of Evanston, had sought various damages totaling around $6 million.
Goldberg herself showed little emotion but her attorney, Shelly Kulwin, slumped over and buried his head on a courtroom table. Trump's attorney Stephen Novack smiled and nodded his head in gratitude at the jury.
The case pitted the suburban Chicago woman against a New Yorker who revels in his image as a big talker with big ideas. Many know him best for his catchphrase on his "Apprentice" TV show: "You're fired!"
In sarcasm-filled closings, Kulwin described Trump in stark, extreme terms — as villainous and greedy. Trump wasn't in court, but Kulwin displayed a giant photograph of Trump.
"The thought of my grandma being in the same room with that guy. Yuck!" Kulwin boomed.
The dispute centered on the glitzy Trump International in Chicago, one of several showcase towers Trump has named after himself elsewhere, including New York, Las Vegas and Hawaii. In Las Vegas, Trump International is at 2000 Fashion Show Drive and overlooks the Strip.
Goldberg accused Trump of wooing her into buying two condos at $1 million apiece in the mid-2000s by dangling a promise of share in building profits — then reneging on the promise after she committed to buying.
At trial, Novack grappled with the portrayal of Goldberg as a former waitress and hat-check girl who learned her values living through the Depression and working her way through college.
He told jurors in his closing he also loved grandmothers, saying, "I happen to be married to one."
But, he added, Goldberg was also a sophisticated, detail-oriented investor who signed a contract stipulating Trump could do what he did: cancel the profit-sharing plan anytime he saw fit.
An often-scowling Trump spent two days testifying himself, bragging about the quality of his developments, verbally sparring with an opposing attorney and drawing rebukes from the judge.
On the stand, Trump denied he ever cheated anyone. Off it, he blasted the woman who brought him there, telling reporters he was the victim, not her. He declared, "She's trying to rip me off."
Goldberg isn't the first to complain about a Trump development.
Dozens of investors in the Las Vegas' five-year-old Trump International sued Trump, alleging he manufactured "a purchasing frenzy" to get them to buy in before the property market collapsed.
An arbiter, though, sided with Trump in 2011, and U.S. District Judge Gloria M. Navarro in Las Vegas later refused the disgruntled investors' request to nullify the arbitration finding.