Accused 'sovereign citizen' squatter to go to trial in Las Vegas
Updated January 5, 2018 - 10:13 pm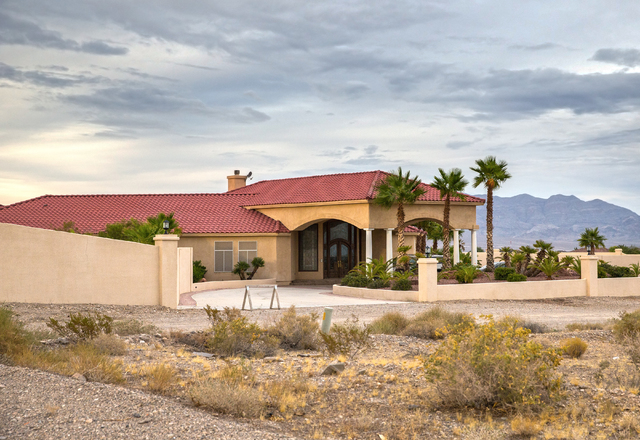 Thomas Benson, who authorities allege is a squatter who follows anti-government "sovereign citizen" ideology, is going to trial.
Benson, 56, is scheduled to appear Monday afternoon before District Judge Kathleen Delaney for the first day of a jury trial, court records show.
He was arrested last year on charges stemming from what authorities call a takeover of a bank-owned home on La Mancha Avenue in northwest Las Vegas. He sued for the 2-acre home and filed a lease for it on the same day in 2016. His associate Nana I Am, a mysterious figure who apparently lives in the Los Angeles area, was named as the landlord in the lease.
In their lawsuit for the home, the pair sought $15 million and said Nana was suing on behalf of former owner Myles Catania, who told the Las Vegas Review-Journal in 2016 that he had never heard of Benson, Nana or the lawsuit.
The Catanias were evicted from the home months after losing it to foreclosure. The family told the Review-Journal that a man named Tom called to say they could come back for their stuff, but when they arrived, strangers were tossing the place.
Prosecutors allege the group included Benson. He was indicted in March on charges including theft, burglary and offering a false instrument for filing or recording.
In court papers, Benson has said that he's "not a person" and showed his "proof of life" with blue footprints. He also has issued orders from a nonexistent court, including that he be released from jail.
The RJ reported in November 2016 on Benson's history of strange court filings, as well as some of his associates and homes linked to him. He sued the paper, this reporter and several others in U.S. District Court in Las Vegas in February 2017.
The case remains open. The most recent filing, on Nov. 13, was by U.S. District Judge Richard Boulware, who ordered that Benson be declared a "vexatious litigant." This subjects Benson to pre-screening of future lawsuits and restricted his ability to file court papers in the February case.
Contact Eli Segall at esegall@reviewjournal.com or 702-383-0342. Follow @eli_segall on Twitter.