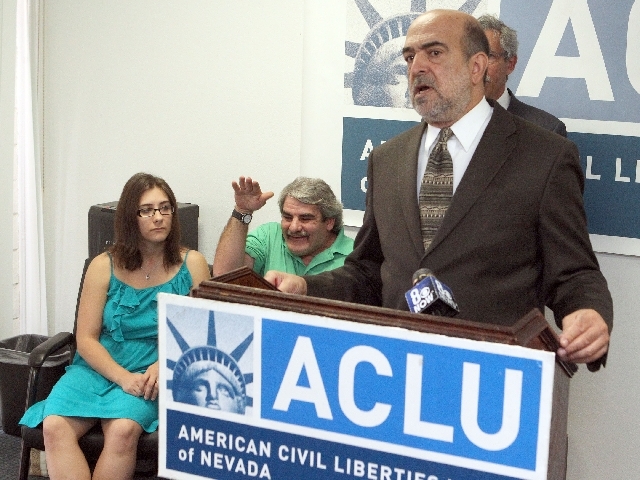 A lawsuit over allegations of patient dumping at Rawson-Neal Psychiatric Hospital in Las Vegas drew in the American Civil Liberties Union of Nevada because it's "a major civil rights issue."
Tod Story, executive director of the ACLU of Nevada, said Wednesday his organization believes more than 100 patients were inappropriately and illegally discharged from the hospital.
The state's characterization of what transpired also appears to be inaccurate, said Allen Lichtenstein, general counsel for the ACLU of Nevada.
"It appears that this is more systematic and more horrific than one can imagine," he said at a news conference at the ACLU's office Wednesday morning.
The lawsuit was submitted to U.S. District Court in Las Vegas late Tuesday afternoon by the ACLU of Nevada and Sacramento, Calif.-based civil rights attorney Mark Merin.
Rawson-Neal came under scrutiny after James F. Brown, who when discharged from the hospital this year was bused to Sacramento, where he had no family or support waiting for him.
Merin, Brown, the plaintiff and his daughter, Shotzy Brown Harrison, were also present at the news conference. Other plaintiffs could join the lawsuit as the case develops, officials said.
The ACLU got involved to ensure these type of incidents don't happen again, Lichtenstein said. "This is the only way the state will take notice."
When Brown was on a Greyhound bus to Sacramento, three other patients who had been discharged from Rawson-Neal were on the same bus, Merin said. They were all going to different cities in the Golden State, such as Anaheim and Los Angeles.
"We believe this is the pattern that we are going to find," Merin said.
There also is a woman who was sent to Michigan under similar circumstances as Brown and a man who was sent to Maine, Merin said. Rawson-Neal violated patients' civil rights by discharging them out of state with no plan for continued care and contacts. Their Fourth, Eighth and 14th amendment rights were violated, Merin said.
"What we are facing (now) is locating other people — finding out the whole scope of this," Merin said.
Lichtenstein said state government is not taking this issue seriously. He said the changes the hospital and the state have made with their practices and the firing of employees might only be good enough as a show of public relations.
"To deal with the problem, that's not nearly enough," he said.
The state's Department of Health and Human Services sent a statement Wednesday saying the hospital continues to be licensed by the state of Nevada, certified by the federal Centers for Medicare and Medicaid Services and sustains accreditation from the Joint Commission, an independent agency that accredits hospitals.
The hospital has made changes to improve its transportation policy, now requiring chaperones to travel with out-of-state patients. It also fired employees involved with improper patient discharge and disciplined others.
The state also hired two national experts to review the hospital's practices.
During the past five years, the hospital provided transportation assistance to 5 percent of its discharged patients, according to the statement.
"As with all of our state-run health facilities, we will continue to monitor and evaluate how they are operated to ensure quality and caring services are provided to our patients," the statement said.
Mental health programs in the state will receive an additional $16 million in funding.
Specific questions regarding the litigation were directed to the Nevada attorney general's office. Jennifer Lopez, spokeswoman for the attorney general's office, said staff will work with its clients to file an official response on their behalf.
Contact Yesenia Amaro at yamaro@reviewjournal.com or 702-383-0440.