Alleged boogaloo member called extreme threat; bail reduction denied
Updated June 9, 2020 - 4:58 pm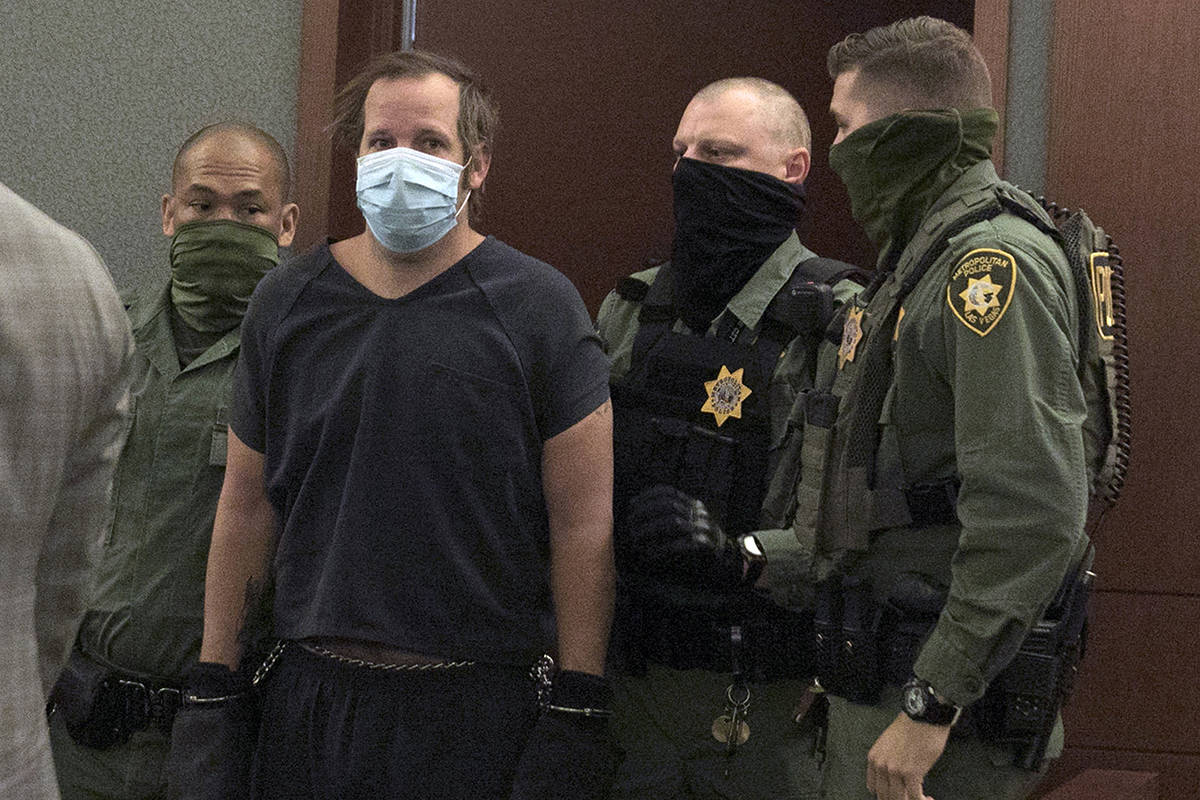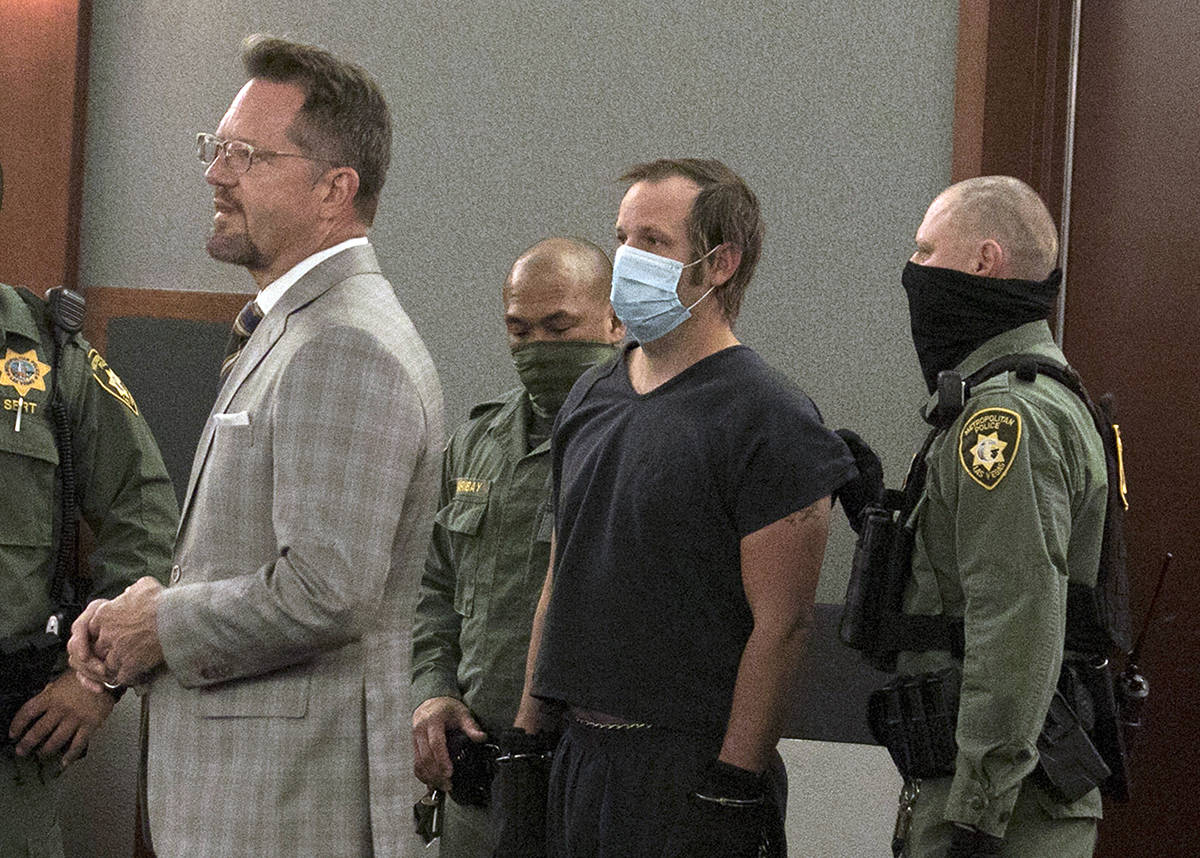 A Las Vegas judge Tuesday refused to reduce the $1 million bail for Stephen Parshall, one of three suspected members of the extremist boogaloo movement charged with conspiring to firebomb a power station and cause violence at Black Lives Matter protests.
"At this stage, the evidence against him is overwhelming," said Justice of the Peace Diana Sullivan, who found Parshall to be a threat and a flight risk.
During the 45-minute hearing, Deputy District Attorney Michael Dickerson called Parshall, 35, an "extreme danger" to the community who deserves to remain in custody.
The hearing came as an arrest report obtained by the Review-Journal shows the men also had plans to "destroy" federal buildings, including a Lake Mead Recreational Area fee station.
Group members "engaged in physical training, firearms tactics and reconnaissance of various target locations," according to the report.
During a search of one defendant's home, investigators found handwritten notes of military tactics and possible scouting routes and locations, along with "kill boxes," survival tactics, fireworks, a bomb and booby traps, the report says.
The three men are expected to "face additional criminal charges" as the investigation proceeds and digital evidence is reviewed, the report states.
Dickerson declined to discuss the case outside the courtroom Tuesday, and Sullivan would not allow livestreaming of the court proceeding.
Parshall's co-defendants — Andrew Lynam, 23, and William L. Loomis, 40 — are also facing terrorism and explosives charges and separate federal felonies stemming from the conspiracy uncovered by FBI agents who had infiltrated the right-wing extremist group.
All three men, who have military backgrounds, caught the attention of authorities during rallies in April and May against the state's COVID-19 business shutdown. Lynam and Loomis also are behind bars on $1 million bail.
Their arrests are the first in the country of far-right extremists accused of planning to cause harm at the Black Lives Matter protests, according to Joanna Mendelson, associate director of the Center on Extremism for the Anti-Defamation League.
"The alleged plot of this trio illustrates our concerns about extremists using the momentum and societal turmoil to bring their agendas to fruition," Mendelson told the Review-Journal last week.
The boogaloo movement, which believes in an impending civil war and ultimate societal collapse, is decentralized with no national leaders and largely organizes and recruits on social media.
In court Tuesday, Parshall was dressed in black jail garb and chains and was wearing thick black mitts as a safety measure to further inhibit his movements. Two uniformed police officers stood next to him throughout the hearing, as his lawyer Robert Draskovich argued for his release to house arrest.
Parshall looked straight ahead and showed no emotion, as his mother watched from the gallery.
Draskovich contended Parshall has no previous criminal record and was a student majoring in geology at the College of Southern Nevada when he and his two co-defendants were arrested by FBI agents on May 30. Draskovich said last week that his client has no affiliation with any right-wing groups.
The lawyer questioned the credibility of the information provided by a confidential FBI informant during the undercover investigation.
But Dickerson argued that there was little doubt Parshall had been actively recruiting people to commit acts of terrorism in Las Vegas.
"He is such an extreme danger to this community that there is nothing else that can protect this community other than detention, other than bail that is that high," Dickerson said.
The prosecutor told Sullivan that Parshall also is a danger to his children, saying his four daughters had to be removed from his home by child protective services when investigators searched the home. Dickerson would not discuss a separate investigation into that matter. But he said, "The house was in disarray, garbage on the floor. It wasn't appropriate for the kids to be living there."
Undercover FBI agents learned that Parshall and his co-defendants were planning to firebomb an NV Energy substation on May 28 to create unrest in Las Vegas, according to the federal complaint.
But the men instead sought to disrupt the Black Lives Matter protests. Agents arrested the trio before a May 30 demonstration downtown after they learned the men were prepared to toss Molotov cocktails at police, the complaint alleges.
FBI agents had the men under surveillance at the time and swooped in "to preserve life and property" at the protest, the arrest report says. The confidential informant and an undercover FBI agent were both with the defendants when they were taken into custody.
A preliminary hearing is set for all three defendants on June 17 before Sullivan to determine whether to send the case to Clark County District Court for trial.
Contact Jeff German at jgerman@reviewjournal.com or 702-380-4564. Follow @JGermanRJ on Twitter. German is a member of the Review-Journal's investigative team, focusing on reporting that holds leaders and agencies accountable and exposes wrongdoing. Support our journalism.