Alleged cult leader pleads not guilty to sex assault charges
Updated March 1, 2023 - 3:53 pm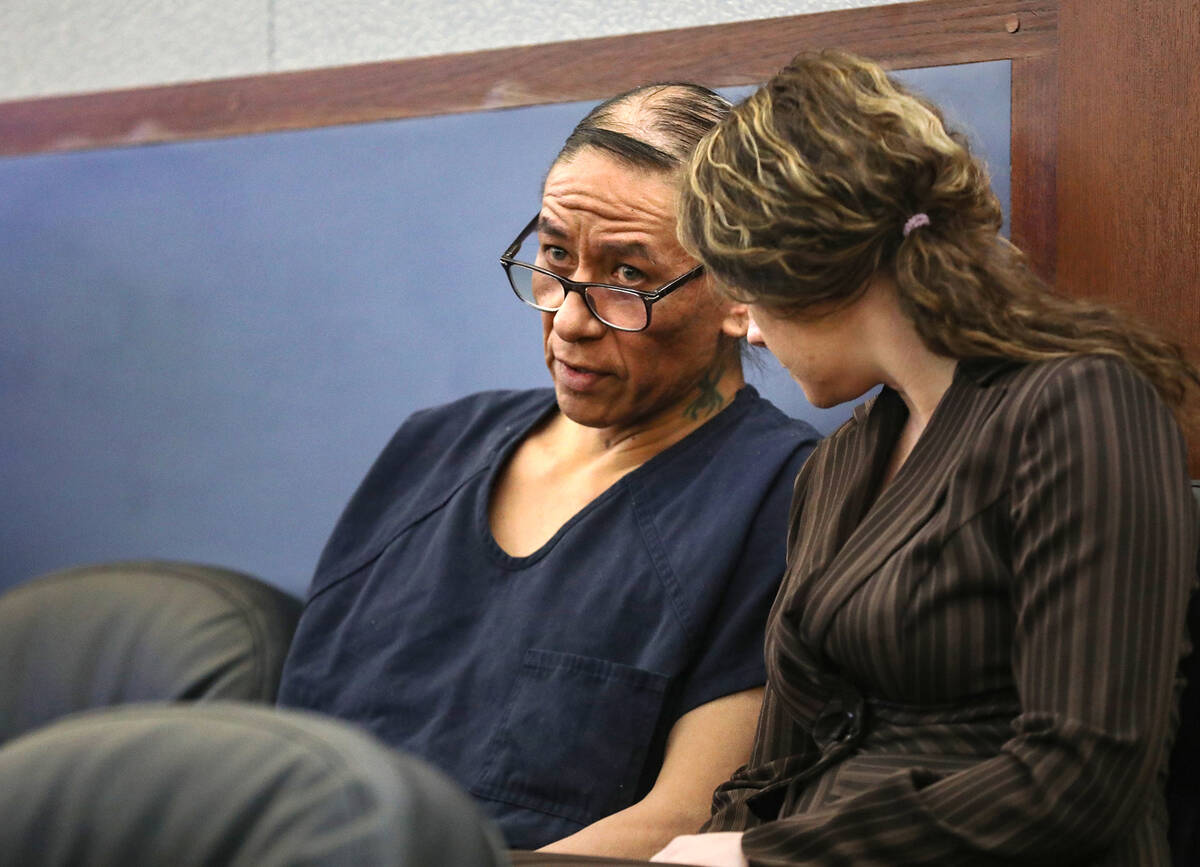 Alleged cult leader Nathan Chasing Horse pleaded not guilty on Wednesday to charges that he sexually assaulted two women.
Prosecutors have accused Chasing Horse of committing crimes across the United States and Canada, grooming and sexually assaulting Native American women and girls while operating a cult known as The Circle. Chasing Horse was indicted last week on 19 felony charges, including sexual assault of a minor under 16, sexual assault, kidnapping, open and gross lewdness and drug trafficking.
Chasing Horse is also known for playing Smiles A Lot in the 1990 Kevin Costner film "Dances With Wolves."
He pleaded not guilty during his first appearance in District Court on Wednesday and asked for a speedy trial.
"I invoke my right to a speedy trial and also to a 60-day trial under Nevada law," he told District Judge Carli Kierny.
Kierny scheduled a jury trial for April 17 and ordered Chasing Horse to appear in court again on April 10.
Chief Deputy Public Defender Kristy Holston declined to comment after Wednesday's court hearing.
Chasing Horse was arrested Jan. 31 after police raided his North Las Vegas home, where he lived with up to six women he viewed as wives, according to an arrest report. Two women in Clark County told police they met Chasing Horse as girls at Native American ceremonies.
One of the women said she was first raped by him when she was 14 and lived as his wife for multiple years until she left the group, according to transcripts of a grand jury hearing posted this week. The other woman said she was raped by Chasing Horse when she was 19.
He is also facing charges in U.S. federal court, and warrants charging him with sexual assault have been issued by the Fort Peck Indian Reservation in Montana and by Canadian authorities.
Grand jury hearing
The bulk of the charges against Chasing Horse stem from allegations made by one of his former wives, who is now 25. She testified to a grand jury that she met Chasing Horse as a girl and traveled to ceremonies across the U.S. with him and her mother for up to a year, while being home-schooled by Chasing Horse's wives, according to the transcripts.
She testified that she was ceremoniously adopted as Chasing Horse's granddaughter and was appointed to be a "pipe carrier" during ceremonies. She said she believed Chasing Horse had healed her mother of a spider bite and healed problems she had breathing.
"I never questioned him growing up," the woman testified. "I remember thinking like he was like our Jesus I suppose."
She testified that at the height of his influence, there was up to 300 people who attended ceremonies with Chasing Horse.
When she was 14, she traveled to Las Vegas to visit Chasing Horse to ask him to heal her mother, who had been diagnosed with cancer. Chasing Horse raped her during the visit, she testified, and told her that she needed to continue having sex with him to heal her mother.
The woman told the grand jury that Chasing Horse took her to ceremonies in other states and continued assaulting her. He took her to get tattoos on her wrists when she was still 14 as a reminder not to tell anyone about the assaults, she testified.
"What did you think would happen if you didn't continue these sexual interactions with him?" Chief Deputy District Attorney Stacy Kollins asked during the grand jury hearing.
"I thought my mom's health would be taken and that she would die," the woman testified.
The woman said Chasing Horse continued to assault her throughout her teenage years. After she turned 18, she moved into Chasing Horse's home as one of his wives.
By 2019, the woman testified, she had been physically abused by Chasing Horse and watched him physically abuse the other wives. Chasing Horse found out that she wanted to leave, the woman testified, and arranged for other men to assault her at the home or in various Las Vegas' casinos.
She testified that she left the group in 2020 after she became pregnant.
Another woman testified that she met Chasing Horse as a girl, and he made her a "pipe carrier" during ceremonies. When she was 19, she visited Chasing Horse in Las Vegas, and he raped her, she testified.
The woman testified that growing up, she was taught that Chasing Horse had the ability to communicate with spirits, who he called "grandfathers." She said that when Chasing Horse assaulted her, he said "he has to do this because the grandfathers told him."
She testified that she felt like she couldn't say no to Chasing Horse.
"I was upset with the grandfathers that this happened, and I didn't understand why," she said.
Contact Katelyn Newberg at knewberg@reviewjournal.com or 702-383-0240. Follow @k_newberg on Twitter.