Anti-Semitism claims not first made by Las Vegas attorney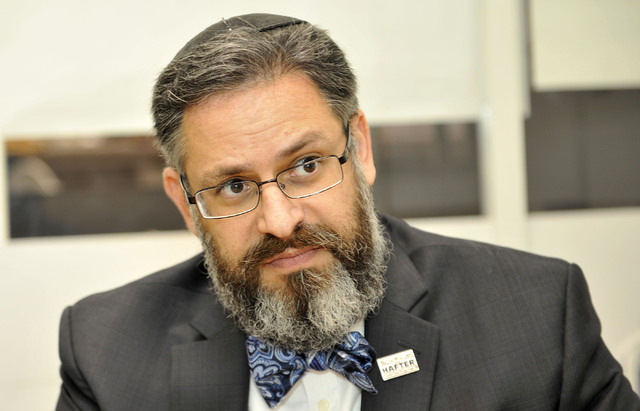 Lawyer and Clark County judicial candidate Jacob Hafter, who accused a sitting Las Vegas judge of anti-Semitism on Facebook last week, has lobbed similar allegations in court.
And in a strange mix of family drama and politics, Hafter's mother said his actions are no surprise — and that she's supporting an opponent in her son's judicial race.
Hafter, an orthodox Jew, filed a motion in federal court last year requesting that U.S. District Judge Robert Clive Jones, a Mormon, be removed from a case in which Hafter's client, a Jewish doctor, filed a lawsuit against University Medical Center.
A few days before the June 2013 filing, his firm created a post on Facebook under the title "HafterLaw is Not Afraid of Judges."
In the court papers, Hafter wrote that Jones had denied "even simple, routine procedural motions," and the attorney perceived an unwarranted bias.
The request continued: "We don't have any evidence that Judge Jones is anti-Semitic in light of the fact that both counsel for plaintiff and plaintiff are Jewish, or, in the alternative, that Judge Jones favors those of the Mormon religion. We do not have any evidence that Judge Jones doesn't like doctors. We do not have any evidence that Judge Jones has been bought or paid for by any of the defendants. However, that doesn't mean that such may not be true."
Hafter underscored and italicized the word "may."
Jones, who graduated from Brigham Young University, has served as a bishop with The Church of Jesus Christ of Latter-day Saints. A clerk who answered the phone in his chambers Wednesday said the judge "would not be inclined to do any sort of interview or make any comments."
Jones is still presiding over the case.
Hafter is one of two lawyers trying to unseat District Court Judge Susan Johnson, who is running for re-election in Department 22.
Meanwhile, Hafter hasn't backed down from comments he made on Facebook late last month about Judge Valorie Vega, even after being informed that the judge is married to a Jewish man, Las Vegas Review-Journal business writer Howard Stutz.
Hafter resorted to social media after Vega denied his May 23 motion to "go dark" for two days this week during a medical malpractice and wrongful death trial, calling her a "racist judge" and accusing her of "anti-Semitism."
Hafter, who is defending Las Vegas doctor Gautham Reddy in the malpractice lawsuit filed by Eden Davis and the estate of her late husband, Christopher Davis, said his religion prohibits him from working on Wednesday and Thursday during Shavuot.
He told the Review-Journal he did not anticipate the conflict in August, when the trial date was set.
Hafter initially tried to have the trial moved in March, when he wrote that he first realized the scheduling conflict. But attorneys for the plaintiffs in the case said the days of the holiday, which varies from year to year, were known when the trial date was set.
Hafter, who unsuccessfully petitioned the Nevada Supreme Court in his request, continued to insist Tuesday after giving opening statements in the case that Vega was biased against him.
"There are people who are Jewish who are not observant or practicing who are anti-Semitic," Hafter told the Review-Journal outside of Vega's courtroom. "It's unfortunate."
He did not appear in court Wednesday.
Both Johnson and Bruce Gale, another attorney vying for a seat on the bench, declined to comment on Hafter's accusations.
Last month, Johnson filed a complaint with the secretary of state's office, alleging that Hafter accepted a campaign contribution that exceeded limits allowed under Nevada law.
The primary in the race is Tuesday.
Former Congresswoman Shelley Berkley read Hafter's Facebook comments, which she called "preposterous" and defended Vega, whom she called a friend of four decades. Berkley said she knows Hafter "in passing" but has no relationship with him.
"A charge of anti-Semitism is a very serious accusation," Berkley said. "I knew it had no place in a discussion of Judge Vega. Consequently, I felt it was my responsibility and my duty as a Jew and a citizen to speak up."
She said she has not made direct contact with Vega or her family about Hafter's remarks.
David Clark, bar counsel for the State Bar of Nevada, said he was aware of Hafter's Facebook post regarding Vega but had not received complaints from attorneys in the case.
Meanwhile, Hafter's mother, Hedda Abbott, said she's supporting his opponent in the judicial race.
The mother and son had a falling out about three years ago, she said, after a quarrel over money. In an email to her son in August 2011, she asked him to "hear me out."
He responded, "Say what you want … I don't negotiate with terrorists."
Asked about the exchange, Hafter called his mother "insane" and said that he has a pending restraining order against her.
"If you really want to go and report this, shame on you," he told the Review-Journal. "This is a private matter."
In light of Hafter's comments about Vega, Abbott questioned her son's religion, though she considers him an "exceptionally good" lawyer.
"He's not the person he professes to be, and what he did to Judge Vega is typical of him," she said. "I don't hate him. I feel sorry for him because he's delusional. What I'm doing has nothing to do with animosity. I can't see him being an impartial judge."