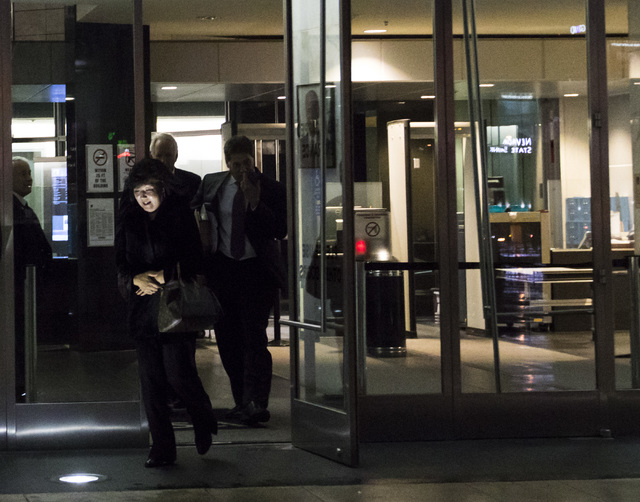 Two casino titans on the Strip are waging a battle in federal court that offers a window into the competitive world of luring high rollers to play in casinos.
The case hinges on whether a former Aria executive took and used trade secrets and if she's violating the non-compete clause of the contract she had before leaving the Aria to work at The Cosmopolitan of Las Vegas.
Aria is suing the former executive, Mi Morse, and The Cosmopolitan, alleging Morse took Aria's confidential information before leaving in late 2016 and is now using it to solicit Aria's most well-heeled customers to gamble at The Cosmopolitan, which is connected by a pedestrian bridge to Aria. The lawsuit was filed Dec. 29, and a hearing unfolded Thursday before U.S. District Judge Richard Boulware.
The case will require another hearing on Jan. 20 to hear testimony that will be used to determine if she's violating the contract by working at The Cosmopolitan within a year of leaving Aria, or if it's unenforceable. The judge also is requiring both sides to work with a special master who will gather and analyze information, including customer lists and emails, in the months ahead and send a report to the court.
"It seems like we don't really know what she has at this time," the judge said.
Both sides offer starkly different versions of what unfolded before Morse departed from Aria, where she rose through the ranks and became vice president of customer development in 2013. Her job entailed working with customers who generate tens of millions of dollars and becoming familiar with their likes, dislikes, credit lines and history.
"We don't want her using the information she has," Patrick Hicks, an attorney representing Aria, said during the hearing. He said that "within the last 24 hours" his clients have received information that Morse has been soliciting Aria's "high-level customers."
Aria alleges that one day in November before she resigned, Morse accessed more than 30 work files that contain information about the casino's customer lists, marketing practices and business plans. Her former employer also alleges she forwarded dozens of emails from her work account to her personal account and changed the contact information of "several valuable Aria customers" by replacing their personal email addresses with her personal email address.
The lawsuit also alleges Morse is violating her contract by working in a similar position at The Cosmopolitan.
Morse's attorney, Adam Levine, said his client has offered to turn over everything she has to her former employer and have her computer wiped clean.
"It's much ado about nothing," he said after the hearing.
In her affidavit, Morse lays out her side of the story.
She came to the United States from Korea in 1980 and began her career working in a parking lot booth at a Reno hotel. She eventually worked as a slot host for Cosmopolitan CEO William McBeath while he was at Treasure Island, The Mirage, Bellagio and Aria.
Morse denies allegations that she provided trade secrets to The Cosmopolitan. The forwarded emails were not confidential, she says in court papers, adding that McBeath specifically requested she not provide anything from Aria.
The files she accessed were personal photographs of herself and coworkers, along with fliers and advertisements she kept for sentimental reasons that weren't secret because they already went out to the public, Morse says.
The email addresses of high rollers were changed, her affidavit says, because those six customers didn't want their family members and co-workers to know they were gambling in Las Vegas from the promotional emails sent out.
Contact Ben Botkin at bbotkin@reviewjournal.com or 702-384-8710. Follow @BenBotkin1 on Twitter.