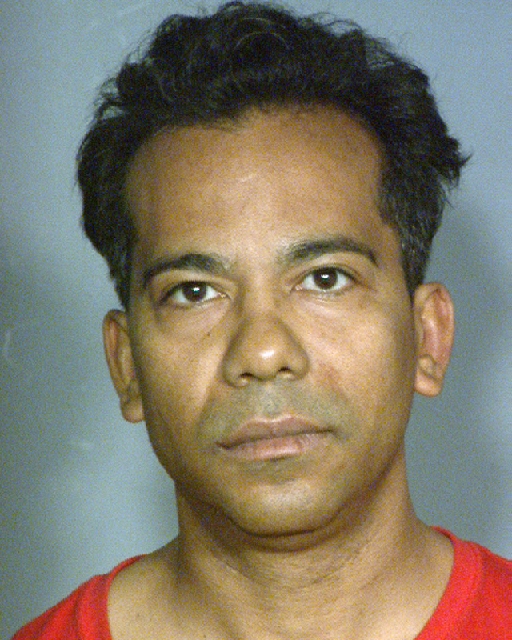 Nevada Assemblyman Steven Brooks, already facing possible charges for threatening to harm a legislative leader, was arrested for the second time in less than a month early Sunday, this time on charges of domestic battery and obstructing an officer.
Las Vegas police said they arrested Brooks after arriving at a home on Turtle River Avenue at 12:18 a.m. to investigate reports of a domestic battery.
"Brooks was agitated and refused to obey officers' commands. When officers attempted to take Brooks into custody he fought with them, and at one point attempted to secure one of the officers weapons," police stated in a press release.
The statement continued: "Brooks was subdued, and arrested for obstructing a police officer. When the investigation determined Brooks had physically attacked a family member he was additionally arrested for battery; domestic violence."
The charges Brooks was arrested on are both misdemeanors.
As of 8:45 p.m. Sunday, Brooks was no longer listed as an inmate on the county jail's website. His bail was $4,000.
Brooks' troubles began Jan. 19 after North Las Vegas police arrested him and accused him of threatening to harm Assembly Speaker Marilyn Kirkpatrick, D-North Las Vegas. The attorney general has not yet filed a criminal complaint in that case.
Brooks easily won his second Assembly term by securing nearly 69 percent of the vote against his Republican opponent Len Marciano.
After the incident Sunday morning Brooks' attorney Mitchell Posin had little to say.
"I'd heard he was in custody," Posin said. "I don't know anything about it yet so I can't really comment."
Kirkpatrick is the top leader in the Assembly, which has convened a committee to investigate whether Brooks should be allowed to continue to serve.
The creation of a seven-member committee to investigate Brooks' behavior is unprecedented. Under the Nevada Constitution, lawmakers are given authority to judge the qualifications of their own members.
Assembly Majority Leader William Horne, D-Las Vegas, who will chair the bipartisan panel, said Sunday that Brooks' arrests reflect ongoing concerns about his fitness to serve.
"It's unfortunate that these things are happening in Mr. Brooks' life, and I'm grateful no one was injured," he told The Associated Press. "I'm not a mental expert. But I would agree it has shown some signs that Mr. Brooks is dealing with problems that may distract from his ability to do the service he was elected to do."
Horne said he hopes the special committee can reach a decision "fairly quickly." The panel's choices range from no action to expelling Brooks from the Assembly.
Kirkpatrick said Brooks' arrests have been a distraction for the Legislature, but have not stopped lawmakers from moving forward with business.
"As far as Mr. Brooks, we have to move on," she said Sunday. "I'm a little bit shocked (by the latest arrest)."
Reached later Sunday night, Brooks' lawyer, Posin, said he didn't know exactly what led to Brooks' arrest. But he said that he's optimistic there's more to the story than what can be found in the police's account.
Posin said that's what occurred after North Las Vegas police alleged Brooks threatened Kirkpatrick, noting that two witness have declined knowledge of threats made by Brooks against her.
State Sen. Kelvin Atkinson, D-North Las Vegas, one of the witnesses quoted in a North Las Vegas police declaration of arrest, released a statement last month saying he never told anyone he had knowledge of direct threats against Kirkpatrick made by Brooks.
Las Vegas City Councilman Ricki Barlow, through his lawyer, also denied knowing of threats made by Brooks against Kirkpatrick.
"Once some more facts come out, it turns out the initial reports are not the entire story," Posin said. "I'm hoping and expecting that is the case this time as well."
Review-Journal reporter Antonio Planas and The Associated Press contributed to this report.
Contact reporter Benjamin Spillman at
bspillman@reviewjournal.com or 702-383-0285.