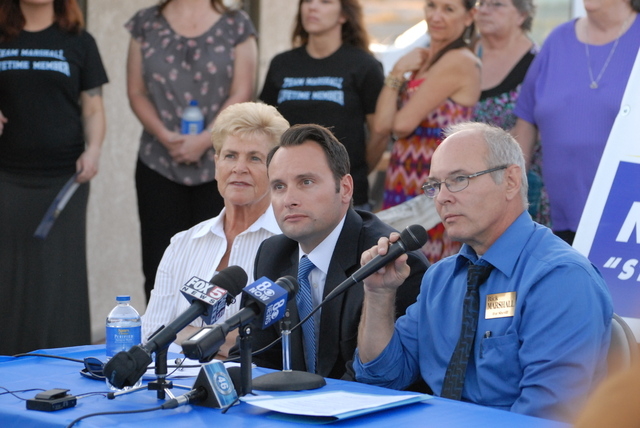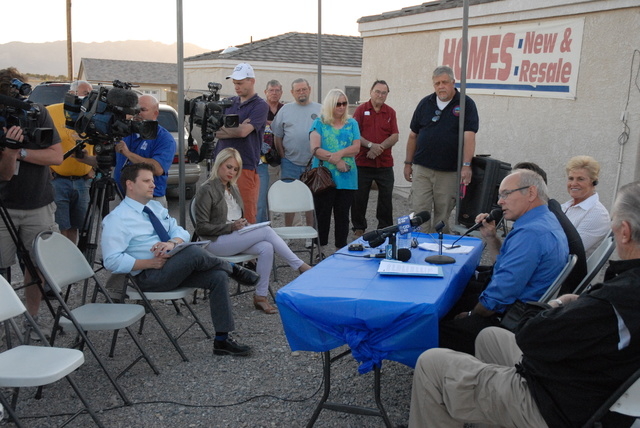 PAHRUMP — Being arrested by his own sheriff's department isn't going to slow down Rick Marshall.
A leading candidate to replace Nye County Sheriff Tony DeMeo in November's election, Marshall held a 30-minute press conference Thursday night to tell his side of the story after returning to work.
When asked why he wasn't on administrative leave, Marshall said that sometimes the facts of a case simply don't require one to be placed on leave.
The assistant sheriff was arrested with longtime sheriff's office volunteer Ben Gulley on Tuesday after they were found with stolen campaign signs in their possession.
According to arrest reports, the men were videotaped when destroying and stealing signs aimed at defeating Marshall in his bid to become sheriff.
Marshall asserted he did not break the law by removing signs from private property because he had permission from the property owner to do so. He also disputed a charge of resisting arrest.
He admitted to taking one sign and throwing it to the ground in frustration. Gulley, he said, took two others.
Two longtime Pahrump residents and property owners, Jan Jensen and Erik Peterson, joined Marshall at the press conference to support his recounting of events.
Marshall described how he typically checks on his campaign signs four or more times a week after work and often with a campaign volunteer. He said that a number of property owners gave him permission to remove negative campaign signs from their properties.
Sheriff's investigators targeted Marshall and Gulley before their arrests after receiving a report Sunday from Steven Lee, a 15-year Pahrump resident and the president of Citizens to Elect an Ethical Nye County Sheriff, a political action committee. Lee says he told police he suspected Marshall and Gulley of stealing and destroying between 40 and 50 of his political signs.
Lee said he was unaware that any property owners were upset about his signs being on their property.
"I was warned it was going to be a very negative campaign, but I was not prepared for this," Marshall said.
Marshall faces charges of conspiracy to commit a crime, possession of stolen property and resisting arrest. Gulley faces charges of conspiracy to commit a crime and possession of stolen property. Both were booked into the Nye County Detention Center, but were released on their own recognizance by a justice of the peace two hours later.
The men are set to appear in court in August, but their cases are likely to be handed over to the Nevada attorney general's office.