Attorney for Cristiano Ronaldo's accuser ordered to pay $334K in fees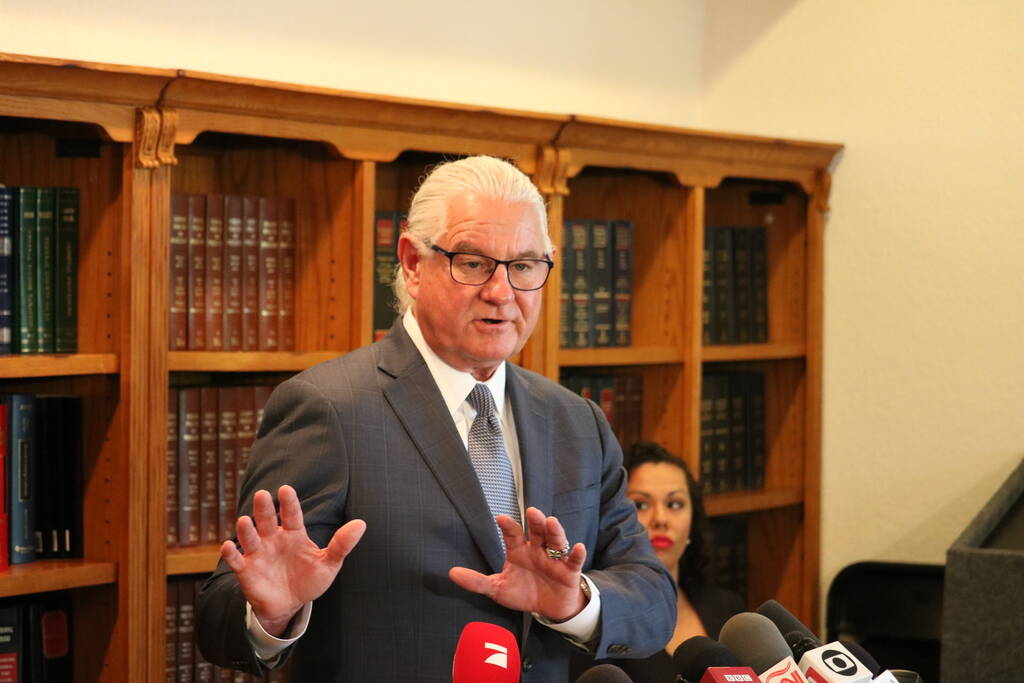 A federal judge has ordered a Las Vegas attorney to pay hundreds of thousands of dollars to Cristiano Ronaldo's defense team for relying on privileged documents to pursue court proceedings alleging the soccer star raped a woman in Las Vegas in 2009.
U.S. Magistrate Judge Daniel Albregts first recommended that the case be dismissed in October 2021 after ruling that Kathryn Mayorga's attorney, Leslie Stovall, based the civil case on leaked and stolen documents that were considered privileged communications between Ronaldo and his lawyers. In June, U.S. District Judge Jennifer Dorsey kicked the case out of court to punish Stovall for "bad-faith conduct," the Associated Press has reported.
In an 18-page, strongly worded document filed Tuesday, Dorsey ordered Stovall to personally pay Ronaldo's attorneys $334,647 in legal fees.
Ronaldo's attorneys, Peter Christiansen, had initially sought more than $626,000 in fees, according to the Associated Press.
"Judges don't relish the need to sanction a lawyer," Dorsey wrote in the order. "But when Kathryn Mayorga's attorney, Leslie Stovall, Esq., sought out and relied on the cyber-hacked, privileged documents of Cristiano Ronaldo's attorneys to resurrect Mayorga's long-since-released claims, tainting this case in a way that disqualification could not purge, I unenthusiastically dismissed it as a sanction for that bad-faith lawyering."
Stovall did not respond to requests for comment on Thursday.
He has appealed Dorsey's dismissal of the case to the 9th U.S. Circuit Court of Appeals, court records show.
Stovall has previously argued that his actions regarding the confidential documents were justified because he was not the one to steal them and it could not be proved they were stolen.
Mayorga, a former teacher and model, claimed in the lawsuit that she met Ronaldo at a nightclub inside the Palms in June 2009. The lawsuit alleged that she went with other people to Ronaldo's hotel suite, where she said he assaulted her in a bedroom.
She went to Las Vegas police, but the investigation was dropped because Mayorga did not identify her alleged attacker, Clark County District Attorney Steve Wolfson said in 2019.
Wolfson did not file criminal charges based on a new investigation in 2018 because he said too much time had passed and evidence failed to show the case could be proved beyond a reasonable doubt.
In 2010, Mayorga entered a deal with Ronaldo's representatives in which she received $375,000. Ronaldo's attorneys have acknowledged the deal but said that the soccer star and Mayorga had sex, and that it was consensual and not rape.
Details of the settlement were published by the German news outlet Der Spiegel in 2017, based on documents from a whistleblower called "Football Leaks."
Stovall did not dispute that he specifically asked for the "Football Leaks documents," which were attorney-client privileged information, from "a suspicious source," Dorsey wrote in Tuesday's order.
"This bad-faith conduct in bringing and maintaining this case on the basis of information contained in ill-gotten, attorney-client-privileged documents warrants an award of attorneys' fees under the court's inherent powers," Dorsey wrote.
Contact Katelyn Newberg at knewberg@reviewjournal.com or 702-383-0240. Follow @k_newberg on Twitter.