Attorneys appointed for two Las Vegas men jailed in iPad killing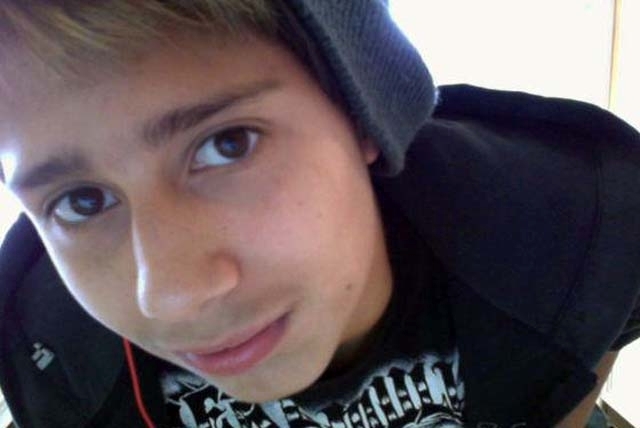 Two men accused of killing a Las Vegas high school student who refused to give up his cherished iPad will remain jailed without bail pending another court appearance later this week, a judge decided Tuesday.
Michael Samuel Solid, 21, and Jacob "Jake" Dismont, 18, said little during a brief initial court hearing at which Justice of the Peace Diana Sullivan assigned public attorneys to represent them. The judge ordered Solid and Dismont to return Thursday for bail arguments and to pick a date for a preliminary hearing of evidence in their case.
Solid, who police said had a criminal history of petty crimes, and Dismont, a former high school baseball player, said they understood the charges against them — felony murder with a deadly weapon, robbery and conspiracy to commit robbery — and that they might be able to hire lawyers. They weren't immediately asked to enter a plea.
Each could face life in prison if they are convicted in the slaying of 15-year-old Marcos Vicente Arenas on Thursday, just a few blocks from Bonanza High School.
"Bottom line, the kid was minding his own business, walking with his iPad," Las Vegas homicide Lt. Ray Steiber said. "Unbeknownst to him, he was being targeted for a robbery."
Police call the slaying a fatal example of a nationwide grab-and-run computer theft phenomenon dubbed "Apple picking." Las Vegas police warned in September that detectives investigating a report of a stolen cellphone turned up evidence that two groups of thieves were preying on people who were distracted or inattentive while using hand-held smartphones and personal computers in public.
In some cases, police said, victims were talking or texting when a thief grabbed the device and ran to a waiting vehicle.
Steiber said investigators were trying to determine if Solid and Dismont were responsible for other similar cases.
Defense attorneys David Schieck, for Solid, and Dan Silverstein, representing Dismont, declined comment outside court and said they needed time to consult with their clients.
Prosecutor Robert Daskas also declined comment.
Police said Arenas tried to hold onto his iPad computer tablet when Dismont grabbed for it and jumped into a moving SUV driven by Solid.
Arenas, who received the computer for his birthday several months ago, refused to let go. Arenas was killed when he was dragged beneath the wheels, police said.
Security video showed a man later identified as Solid walking past Arenas at a nearby convenience store and then fueling the white Ford Explorer with no license plate. Another man, later identified as Dismont, got out of the SUV and followed Arenas as he walked away, according to a police report.
Police said they received a tip that led them to Solid, who was arrested Saturday.
Dismont was found later Saturday with the white Ford Explorer, which police said had different tires, various stickers on the body and a license plate from another vehicle.