Audit: Henderson officers improperly voided traffic tickets
March 23, 2015 - 10:10 pm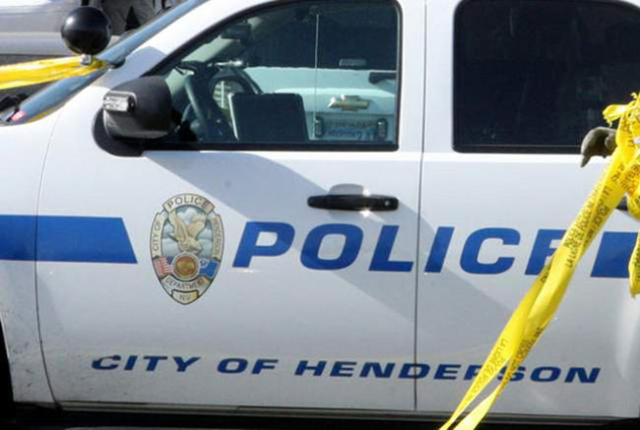 Henderson police improperly voided almost 100 traffic citations after they had been filed in court — and in at least one case, did so because a friend or family member of a police employee had received the ticket, an internal audit found.
Police officers are allowed to void citations after writing them in certain cases, but it's against state law for anyone except a judge to dismiss a ticket once it's been filed in court.
But internal police policies did not make that clear, and officers routinely had tickets thrown out after they had been filed by simply filling out a form and sending it to the Henderson Municipal Court, City Auditor Melissa Wright wrote.
The audit covered Oct. 1, 2012, through Sept. 30, 2014, a period in which Henderson police wrote 37,256 citations — an average of 51 a day.
Of 171 tickets voided at the request of police, the majority — 96 of them — were dismissed after being filed in court. On all 96, the reason was listed as "in the interest of justice," usually with no further explanation. But on one form, the reason was listed as "Interest of Justice Family/Friends of HPD."
Under state law, dismissing a ticket for that reason — or any other unauthorized reason — could constitute misconduct of a public officer, a felony punishable by a year in jail (or more if the person had a prior record).
The results of the audit were presented last week to the city's Audit Committee, made up of Mayor Andy Hafen, Councilman John Marz and citizen member Bryan Allison.
Marz, who chairs the Audit Committee, said he did not see the line in the seven-page report about a ticket being dismissed for "family/friends of HPD" and was not aware of it until a reporter called.
He said he wanted to know more about the circumstances but that "on the surface," it did not seem appropriate. Marz said he did not believe the issue was discussed during last week's committee meeting but that he plans to look into it further.
Hafen did not return a call seeking comment. Nor did the head of the union representing rank-and-file Henderson officers.
Police spokeswoman Michelle French said the department has already changed policies to ensure more "checks and balances" because of the audit. Requests to dismiss tickets now must be approved by police supervisors and presented to the court by assistant city attorneys. Police officials do not believe any officers committed wrongdoing and don't plan any Internal Affairs investigation or discipline, French said.
The Police Department's procedure manual says, "In order to avoid the appearance of impropriety, citations will only be voided for legitimate and excusable reasons."
It gives examples of proper reasons: the person issued the ticket was subsequently arrested, making the ticket unnecessary; or the officer made an error.
It also lists "in the interest of justice" as a possible reason. That's a broad term often used by prosecutors to justify dismissing cases. But the audit recommended that police change the policy and require officers to give more detailed reasons when asking that a citation be voided.
It's hard to know how often police or court officials dismiss a ticket as a favor for someone they know.
A small section of the U.S. Justice Department's recent report on Ferguson, Mo., noted that a judge, attorneys and court staff there routinely dismissed traffic and parking tickets as favors. In one case, a court clerk dismissed a ticket for the wife of a friend's coworker, writing in an email: "It's gone baby!"
The majority of the DOJ report focused on serious flaws, including racial profiling, in Ferguson's criminal justice system.
William Sousa, an associate professor who heads UNLV's Center for Crime and Justice Policy, said he wasn't aware of any systematic research on ticket fixing.
But he pointed to one study that found officers viewed covering up a fellow officer's drunken crash as relatively minor, compared to other wrongdoing. That suggests they might also view fixing tickets as relatively minor.
That 2000 National Institute of Justice survey on "police integrity" asked 3,235 officers from 30 departments around the country how serious they believed certain actions to be.
On average, the officers saw driving a drunk colleague home after a crash as much less serious than taking money from a speeding driver in exchange for letting him go.
Driving the drunken officer home would warrant a suspension, the officers said, but taking cash to let a speeder go should be a firing offense.