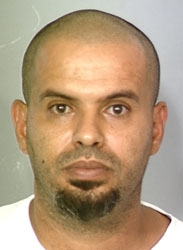 A team of local and federal law enforcement officers busted a North Las Vegas store owner Wednesday morning on suspicion of buying and reselling stolen cigarettes, alcohol and other retail goods.
Working with the federal Bureau of Alcohol, Tobacco, Firearms and Explosives, North Las Vegas and Las Vegas police took Amer "Sunny" Ramo into custody at his store, Sunny Market, on Lake Mead Boulevard and Englestad Street. 
It was the latest arrest related to organized retail crime in the valley, and police have their eyes on other stores in the area. 
On Tuesday, Las Vegas police arrested Nabiail Dhalai, 35, on three charges of attempted possession of stolen property in connection with what they called a similar theft operation.
Authorities also are looking for Mazen Hamou, 47, the owner of record of M&R Beauty Supply and Smoke Shop in downtown Las Vegas and a co-owner of Hookah Palace, Las Vegas police spokesman Bill Cassell said.
North Las Vegas police Sgt. Tim Bedwell said there are more stores running similar operations on their radar. He declined to discuss specifics but called it a real problem in the valley.
"Anyone that's involved in this kind of criminal activity better look over their shoulders," he said. "You're going to see some more arrests coming." 
Las Vegas joined the National Retail Federation's list of the top 10 metro areas affected by large-scale retail theft in 2011, with Los Angeles, Chicago, Dallas and New York. It isn't on the 2012 list. Lea Tauchen, director of government affairs for the Retail Association of Nevada, said organized retail crime had a $245 million annual impact statewide in 2010, and she suspects that has gone up.
Experts think stealing and reselling retail goods has a $15 billion to $30 billion impact nationwide each year. Ninety-six percent of retailers surveyed in 2012 said they had been victims of organized retail crime in the past year – up from 78 percent in 2005, according to the National Retail Federation.
A routine shoplifting arrest at a Vons grocery store in Las Vegas led authorities to Ramo, 54, after one of the thieves admitted he regularly sold him stolen alcohol. Bedwell said Ramo recruited teens and young adults to steal alcohol and cigarettes for him.
That arrest triggered an investigation and sting operation. Ramo knowingly bought stolen merchandise from an undercover police officer, including 12,000 untaxed and unstamped cigarettes, more than 60 bottles of liquor and some baby formula, according to the criminal complaint filed in U.S. District Court.
ATF resident agent Thomas Chittum said the arrest Wednesday morning went smoothly. The federal agency got involved because Ramo illegally bought cigarettes, authorities said. ATF wasn't involved in Dhalai's arrest and won't be involved with Hamou's arrest. 
If convicted, Ramo could face up to five years in prison and $250,000 in fines.
"It's a great loss to the retailers, and it's also a great loss to the community," Bedwell said. "They're basically developing criminals at an early age."
Tauchen said there are other hidden costs of organized retail crime. The government loses out on tax dollars, and retailers have ramped up security and invested in surveillance systems to combat the problem.
"Their business is hurting, but they're having to spend more and more money," she said.