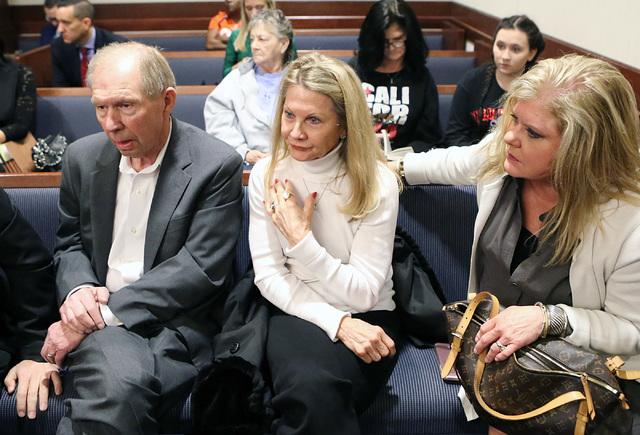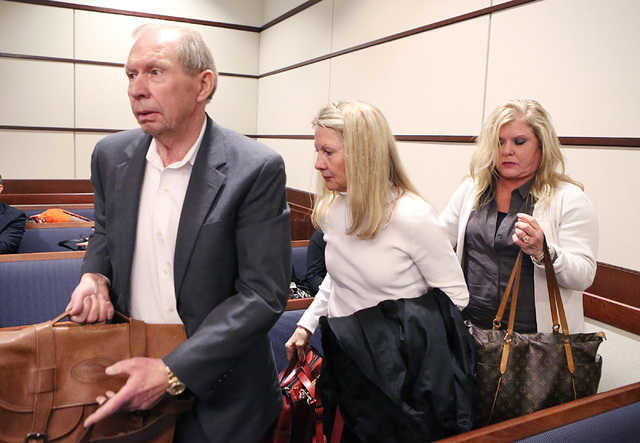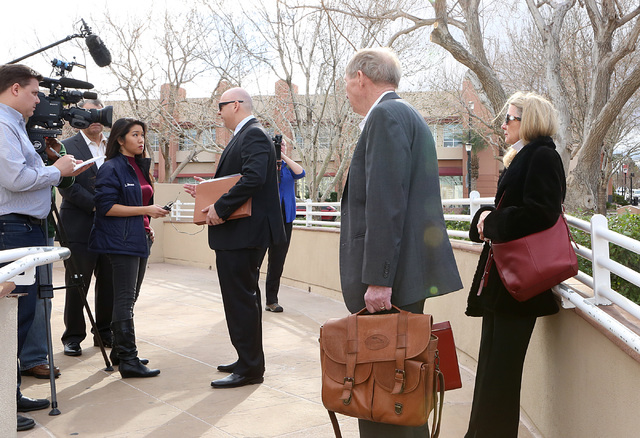 A Henderson judge set bail at $250,000 Monday for jailed psychologist Gregory "Brent" Dennis, who is facing a murder charge in the 2015 death of his wife, attorney Susan Winters.
Justice of the Peace Sam Bateman ordered Dennis to surrender his passport and told him he may not leave the state without court permission. He also ordered Dennis not to use any controlled substances other than those prescribed to him.
Prosecutors and defense lawyers had struck a deal agreeing to the $250,000 bail before they went to court Monday morning.
One of the defense lawyers, Richard Schonfeld, said bail was posted about 9:30 a.m., but as of Monday afternoon, Dennis was still waiting to be released from the Henderson Detention Center.
"We believe this is a fair bail setting under the circumstances," Schonfeld said. "We look forward to vigorously defending Dr. Dennis in court."
Dennis, 54, who runs a Boulder City mental health clinic, was booked into the Henderson Detention Center with no bail last week on a charge of open murder with a deadly weapon.
FEBRUARY COURT DATE
Batemen set a Feb. 27 status hearing to decide the next step in the case. A preliminary hearing must be held to determine whether Dennis should stand trial in Clark County District Court.
Based mainly on information provided by Dennis, the Clark County coroner's office had concluded that Winters, a part-time North Las Vegas judge, killed herself on Jan. 3, 2015.
But in a 27-page declaration of arrest obtained by the Las Vegas Review-Journal, Henderson Detective Ryan Adams alleged that Dennis originally lied to police about his wife's death and had a financial motive to kill her.
Dennis stood to inherit roughly $2 million, including a $1 million life insurance policy, upon his wife's death and was dealing with a cocaine addiction that was draining his finances, according to the report.
The licensed psychologist also wanted to prevent his wife from exposing his addiction and harming his professional livelihood, Adams wrote.
Despite the murder charge and his admitted drug problem, Dennis still had an active license Monday with the Nevada Board of Psychology, according to the board's website.
Morgan Alldredge, the board's executive director, did not return a call for comment.
RELIEVED PARENTS
Both of Winters' parents, Avis and Danny Winters, and other family members were in court Monday, as Dennis made his first appearance on the murder charge. The parents have filed a lawsuit against Dennis implicating him in their daughter's death.
Their lawyer Anthony Sgro told Bateman in court that Winters' parents are "relieved that finally justice is being served."
"They're satisfied that there's been an arrest, but every time something like this happens, it's a constant reminder that their daughter is not with them anymore," Sgro said.
In his declaration of arrest, Adams said Susan Winters' two daughters supported their father's claim that Winters committed suicide, and they attempted to corroborate his version of what happened. In a civil deposition, one daughter supported Dennis' contention that his wife researched the effects of consuming antifreeze before she died, Adams said.
But Adams alleged in his arrest report that Dennis — not his wife — had done the internet antifreeze research before his wife's death.
Adams said the police investigation uncovered additional evidence that suggests Dennis did the research from a computer at his mental health clinic, rather than at the couple's home. Dennis also had special programming installed that allowed him remote access between his office and home computers.
Henderson police discovered internet searches as far back as October about the effects of blood poisoning and drinking antifreeze, Adams wrote.
COMPUTER EXPERT
Detectives also gathered evidence that shows Dennis, aided by a computer expert with a federal fraud conviction, tampered with his computer to "scrub" potentially harmful information and cover up his actions in his wife's death.
That expert, Todd Emond, worked at Dennis' mental health clinic.
Emond disclosed during questioning by police that Dennis had asked him to come to his home in the spring of 2016 and try to determine whether there was a record of searches about antifreeze on the computer, according to the arrest report.
After finding what he said was a virus, Edmond dismantled the computer and sent the hard drive to a company in Chicago to look for the searches, but the company found none, Adams wrote.
At the time, Dennis was preparing for a sworn deposition in the lawsuit filed against him by his wife's parents.
"Emond had no explanation as to why Dennis was asking him to tamper with the evidence which had been demanded by Winters' parents' lawyers on multiple occasions," the arrest report stated.
Defense lawyer Todd Leventhal, who represents Emond, said his client was involved in data recovery, not scrubbing.
"If there was any tampering with evidence on Todd's part, it was unknowingly," Leventhal said. "It was not out of the ordinary for the doctor to have Todd come over into his house and work on his computers."
Leventhal said his client cooperated fully with investigators.
Contact Jeff German at jgerman@reviewjournal.com or 702-380-4564. Follow @JGermanRJ on Twitter. Contact David Ferrara at dferrara@reviewjournal.com or 702-380-1039. Follow @randompoker on Twitter.
RELATED
Henderson police detail drug allegations against psychologist charged in wife's murder
Psychologist booked on murder charge at Henderson jail in wife's death
Grand jury targets husband in lawyer's 2015 death
After waffling, Henderson police say they have reopened investigation into lawyer's 2015 death
Coroner fired investigator months after Henderson attorney's death
Prosecutor tells judge investigation into Henderson lawyer's death winding down
Complaint filed with Nevada psychology board against husband of late attorney
Husband wants to stop Clark County lawsuit over death of wife, attorney Susan Winters