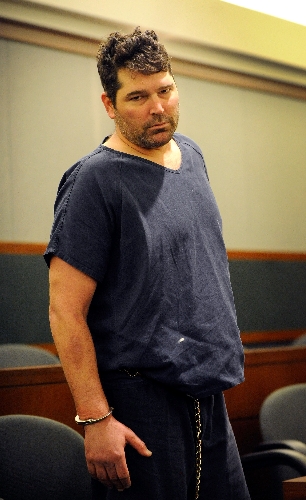 Las Vegas Justice of the Peace Eric Goodman set bail at $100,000 for a man charged with drunken driving after his vehicle struck and killed a 12-year-old girl while she was trick-or-treating in Summerlin on Halloween , records show.
Justin Caramanica, 41, faces a felony DUI-causing-death charge and was being held at the Clark County Detention Center. If he is able to post bail, Caramanica will be placed on house arrest, will not allowed to drive and must wear an alcohol-monitoring bracelet, among other stipulations.
A status check in the case was set for Thursday before Goodman.
A Las Vegas police report showed Caramanica failed several field sobriety tests after the crash. Faith Love was killed.
A breath test taken nearly three hours after the crash revealed Caramanica blew a 0.068 and 0.067 on the tests, according to the report. The legal limit for a blood alcohol reading under state law is 0.08.
The crash happened about
8:20 p.m. Monday at Sandstone Bluffs Drive and Wesley Lake Place in Summerlin.
The police report indicated Caramanica had slurred speech, glassy eyes and dilated pupils.
He performed "unsatisfactorily" on several field sobriety tests, including his failing to walk a straight line, according to the report.
Police think Caramanica was under the influence of alcohol and a prescription drug, the report said.