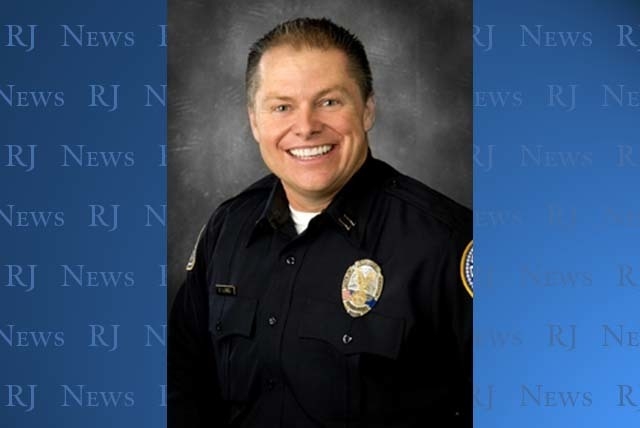 Everybody hates waiting at the bank, but Henderson police Capt. Bobby Long is now under investigation for letting his ire bubble over in the teller line.
The 21-year-veteran of the department had a meltdown last week — apparently threatening bankers — after the off-duty officer was forced to wait a few minutes to cash a check at the U.S. Bank in the Vons grocery store at 45 E. Horizon Ridge Parkway, near Horizon Drive in Henderson.
A store supervisor ended up calling 911 the morning of April 25 after Long refused to leave the bank and continued his tirade, threatening and harassing employees, according to an audio recording obtained by the Review-Journal.
The assistant manager told dispatchers Long threatened to find him after he left work.
"He's like, well, you're only a banker while you're here, and you're not here all the time," the assistant manager told the dispatcher.
Henderson spokesman Bud Cranor said the department has opened an internal investigation of Long's conduct.
"We don't condone that kind of behavior at all," Cranor said. "We take allegations like this very seriously."
Long, 46, said he couldn't comment because of the investigation. But he promised there were "two sides to the story" and denied threatening the banker.
"Unfortunately I don't have the privilege of being able to go spouting off," he said. "I do feel kind of helpless here. Anybody that knows me knows it would never happen, I'd never do something like that."
The assistant manager who said he was threatened declined comment Thursday afternoon.
But the bankers voiced plenty of frustrations during the 911 call.
On the recording, the branch manager eventually took the phone and told the dispatcher that Long's attitude "was ridiculous in our branch."
Long had apparently waited for 20 minutes prior to the bank opening at 9:30 a.m., she said. But a customer with an appointment was called first.
"There was another customer in front of Bobby, and he didn't want to wait in line," the exasperated manager said. "Seven minutes after we opened, we helped him."
But Long threw a fit and closed his business account, she said.
He then left but came back to deposit his cashier's check because "obviously he can't take it somewhere else," the manager said.
Long then began to berate the employees and insulted their profession, she said.
He was "just wanting to bad-mouth us" and belittled the fact "that we work for a bank," she said.
"Like, who does that? Who does that when all we're trying to do is cash a check?" she said.
After Long cashed the check, he stayed in the grocery store near the bank, sitting on a chair and yelling at employees, she said. Shortly after 911 was called, he left the store.
The manager asked for the on-duty police commander to respond to the bank. Cranor said the bankers filed a complaint with the officer, but no criminal charges are being considered.
An off-duty Henderson officer's conduct has embarrassed the department previously.
In February 2013, officer Justin Simo was scrutinized for driving his $50,000 SWAT vehicle with a flat tire for several miles, scraping the rim against the pavement until the car burst into flames.
The car was totaled. Simo was fired.
And in July, SWAT officer Justin Dera, 35, was suspended after he shocked officer Daniel Boskovic with a hand-held stun gun, not a department-issued Taser, while a group of officers clowned around at the office.
Long was promoted to captain in March 2013. The next month, he hosted the department's first Talk Shop With Cops event for residents to get to know officers and spoke about improving the department's customer service.
"We do a good job, and we're working to do better," he said last year. "If you're not happy with the service, we want to know."
Long remains on the job, but his bank lost a valued customer. He earned $143,816 in salary last year, records show.
But the bank branch manager probably won't miss him. She told the dispatcher she was miffed at the unprofessional behavior.
"It's just the conduct of a local police officer. Really? That is really unacceptable. … Who really acts that way when you are supposed to be in our community as a police officer?"
Contact reporter Mike Blasky at mblasky@reviewjournal.com. Follow @blasky on Twitter.