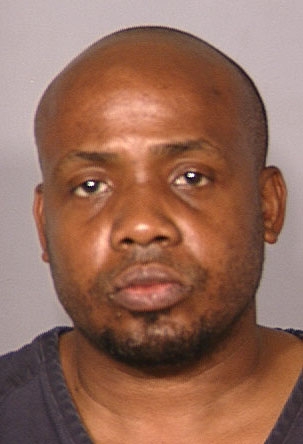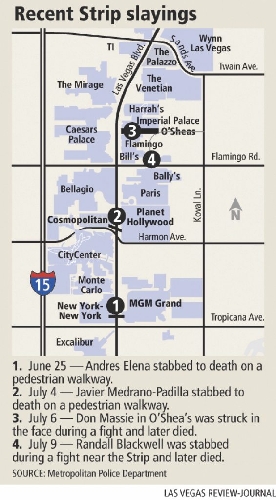 It's been a bloodier summer on the Strip than authorities have admitted.
The Review-Journal has learned of a fourth homicide case that occurred earlier this month after a two-week span that saw three other men killed.
Three days after Las Vegas police held a news conference calling the rash of homicides on the Strip an "anomaly," Randall "BP" Blackwell was stabbed in the heart July 9 in front of a convenience store up the block from Bill's Gamblin' Hall & Saloon, near Las Vegas Boulevard and Flamingo Road.
Blackwell, 25, died from his wounds a week later, bringing the total number of Strip homicides this summer to four, including three as the result of knife attacks.
Police did not report the homicide to media following the July 6 news conference, when authorities tried to assure the public that the Strip was a "safe environment."
Asked why news of the homicide case was not released, officer Jay Rivera said it was because Blackwell died seven days after the incident. Rivera later explained it was an error that information about the homicide wasn't released. "We should've followed up" on the case, he said.
According to court documents, the fight that resulted in Blackwell's death appeared to be an isolated incident. Authorities think fisticuffs erupted between Christopher Mcintosh and Jerome Hopkins, both 38, and Blackwell and his friends because they were talking to a woman the two defendants were with.
A patrol officer was flagged down and witnessed the fight. The officer was able to call for backup and then arrest Hopkins and Mcintosh, but not before Blackwell and Jeremy Fenney were stabbed. Fenney's injury was not life-threatening.
Before a scheduled preliminary hearing today , prosecutors are expected to slap Hopkins and Mcintosh with an amended criminal complaint charging both with murder with use of a deadly weapon for Blackwell's death. Both probably will face at least two other counts, including battery with a deadly weapon and conspiracy. They were originally arrested on attempted murder charges.
A knife was recovered from the roof of Battista's Hole in the Wall Italian restaurant after a witness told police he saw Mcintosh throw a knife there.
Hopkins told police he was being assaulted by five men when Mcintosh interceded, but witnesses said Hopkins was "punching" Blackwell in the chest when others tried to break it up.
Blackwell's friends had flagged down a nearby patrol cruiser after they realized he had been stabbed.
Blackwell's friend Larry Hicks said it seemed like a "lifetime" as they waited for paramedics to arrive.
"He said 'They got me. They poked me,' " Hicks recalled his friend saying.
Blackwell was wearing a red button-down shirt, so initially no one realized the severity of his injury, Hicks said.
After security guards and a tourist from North Carolina, who was a firefighter, began to help, Hicks said he could see blood soaking through a white T-shirt Blackwell was wearing.
Hicks said he was bothered police hadn't released information about the case to the public. "They don't want the bad publicity for the resort corridor. That's the last thing they want," he said.
Hicks is hoping to raise money to send Blackwell's body to his hometown of San Diego for a funeral. Blackwell was a foster child who didn't know his biological mother or father, Hicks said. "His friends were his family," he said.
Blackwell came to Las Vegas to work for a friend's construction business. Blackwell was a father to a 2- or 3-year-old boy, Hicks said.
Defense attorneys James Gallo and Aurora Maskall, representing Hopkins and Mcintosh, respectively, could not be reached for comment.
According to court records Hopkins has a criminal history that includes three felony convictions over two decades. In 1991, Hopkins pleaded guilty to assault with a deadly weapon and was sentenced to four years in prison. In 1995, he pleaded guilty in an armed robbery case and was sentenced to 5½ to 14 years in prison. In 2003, he pleaded guilty to attempted possession of drugs and was sentenced to three months in jail.
Mcintosh, too, has had run-ins with the law. In 1994, he pleaded guilty to possession of drugs and was sentenced to probation. In 1998, he pleaded guilty to forgery and was sentenced to probation.
Hopkins and Mcintosh are each being held on $80,000 bail at the Clark County Detention Center. Their bail amount is expected to be increased after the filing of murder charges .
The case meets the criteria for review by the district attorney's death penalty committee, which would decide whether prosecutors should seek capital punishment against the defendants.
Authorities have said the first three slayings were unrelated. There appears to be no evidence linking Blackwell's death to the other three homicides.
The first slaying happened June 25 when two groups scuffled over a comment about a woman. Andres Elena, 21, died after being stabbed in the chest during a fight on the walkway between MGM Grand and New York-New York. Another man was stabbed but survived.
Victor Quijano, 25, was charged with murder with a deadly weapon, attempted murder with a deadly weapon and possession of a dangerous weapon.
Elena's slaying resulted in gang violence at a downtown funeral home when a gunman shot seven people attending his memorial service. None of the injuries suffered at Palm Mortuary on Main Street was life-threatening.
On July 4, a fight between two groups of men on the walkway between The Cosmopolitan and Planet Hollywood ended with a fatal stabbing.
Javier Medrano-Padilla, 21, died from multiple stab wounds, and Pedro Carlos Robledo, 28, was arrested on murder charges. Robledo told detectives he acted in self-defense but didn't remember anything because he blacked out from alcohol, his arrest report said.
The third death came after a confrontation in a restroom at O'Shea's.
Benjamin Gerard Hawkins, who is black, told police Don Massie made a comment about "a black man in a yellow shirt," according to Hawkins' arrest report.
Hawkins told him to shut up, and the men exited the restroom.
Hawkins told police Massie asked him what he was going to do about it, which Hawkins interpreted as "aggressive."
Hawkins turned as if to walk away, then spun and landed a right punch to Massie's jaw. Massie died from a head injury suffered when he hit the ground.
Contact reporter Francis McCabe at fmccabe@reviewjournal.com or 702-380-1039.