Board finds officer's poor tactical decisions led to shooting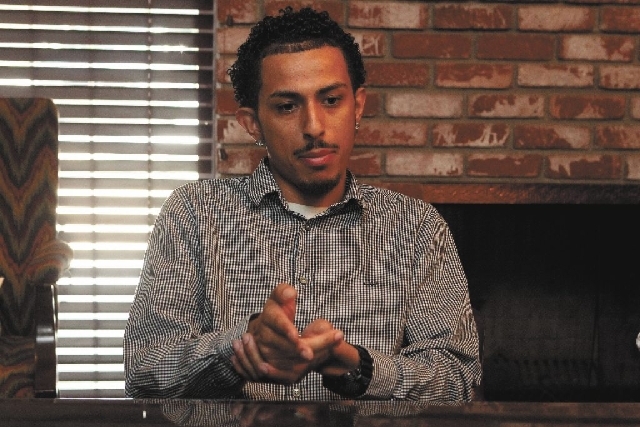 An internal Las Vegas police report released Wednesday states that officer Jacquar Roston made "poor tactical decisions" that led to the nonfatal shooting of an unarmed man.
The Use of Force Board classified the Nov. 11 shooting with "administrative disapproval," said Roston's actions were not within police policy and recommended his termination.
Roston responded to a domestic dispute call and mistook the shine in a hat label for a weapon. He shot Lawrence Gordon once in the leg. Gordon did not have a gun.
A Force Investigative Team report stated Roston was called to a domestic dispute about 10:30 p.m. in the parking lot of 1650 S. Hollywood Blvd.
Roston approached and asked the woman in the car to walk to the front of his patrol car. While there, Roston observed Gordon digging under the seat with his hands. Gordon took his hands from under the seat and Roston fired one shot, the report said.
The board found Roston's approach to the vehicle and his decision to separate couple without a second officer present poor tactical decisions that did not follow domestic violence training protocols, according to the Office of Internal Oversight review.
The decisions forced Roston to make a "rushed and incorrect threat assessment," the review stated.
The board said that Roston used "unreasonable" use of force, and should receive punitive discipline and further training.
Sheriff Doug Gillespie chose to save Roston's job against the recommendations of the board, and a series of Use of Force board resignations followed.
Another nonfatal officer-involved shooting from earlier in the year was given "administrative approval" by the use of force board, and officer Steven Lehmann was recommended for a formal commendation.
On July 17, 2012, Lehmann shot Lawrence Howard, who was armed, during a 7-Eleven robbery. The internal review concluded the officer's response was in accordance with all policies and procedures.
The review stated that Lehmann's approach was "performed to a high standard" and he "demonstrated excellent tactical movement," when entering the building and followed use of force protocol.
Lehmann distracted Howard, 19, who had a gun trained on the store clerk, with verbal instructions and then fired twice when Howard pointed the gun at him, the investigative report stated.
Contact Rochel Leah Goldblatt at rgoldblatt@reviewjournal.com or 702-383-0381.