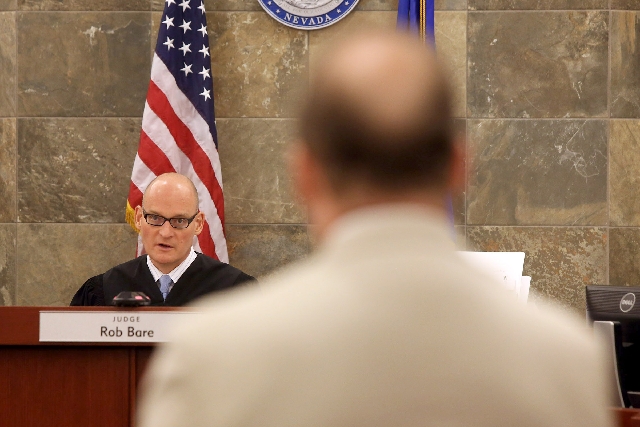 Las Vegas Township Constable John Bonaventura is appealing to the Nevada Supreme Court in a fight to preserve the existence of his office.
It's the latest legal maneuver between Bonaventura and Clark County. County commissioners had voted unanimously on March 19 to abolish the Las Vegas Township constable's office, effective when Bonaventura's term ends in January 2015.
The notice of appeal was filed Monday, said Kenneth Frizzell, Bonaventura's attorney, after a District Court hearing Tuesday.
Bonaventura took the county to court before commissioners voted, unsuccessfully seeking a temporary restraining order to stop the vote. At the time, Judge Rob Bare's ruling allowed the vote to proceed. The judge also had set a hearing for Tuesday to hear arguments about a potential injunction following the commission's action.
That hearing didn't end up taking place.
Frizzell opted not to go that route, asking the court to hold off on the proceedings. In an interview, he said the case eventually would have ended up in the state Supreme Court because either losing side would have filed an appeal.
His appeal challenges Bare's ruling that allowed the vote and also seeks to stay the implementation of the county's ordinance.
Frizzell noted the need for the case to move forward efficiently, with the filing deadline for Bonaventura to declare his intent to run for re-election in April 2014.
"We've got to get this in front of the supremes, and candidly I didn't want to wait," he said in an interview.
That move caught Bare by surprise.
"I have to say I really felt like we were going to have a full-blown hearing," the judge said, adding that he was prepared to make a decision.
Robert Gower, a deputy district attorney representing the county, told the judge he had no objections to Frizzell's request holding off on the hearing. Gower noted that he just got an email with the latest legal pleadings the day before.
Bonaventura wasn't present at the hearing. He couldn't be reached for comment Tuesday.
The constable's office has gained a high profile since Bonaventura's election in 2010. Those reasons run the gamut, including a roundly criticized venture into reality television, hiring deputies with questionable backgrounds and a deputy failing to notice a body in a residence.
About 42 deputies in the constable's office handle evictions and serve legal paperwork.
Court dates and schedules haven't been set yet for the case, said Supreme Court spokesman Bill Gang.
Contact reporter Ben Botkin at bbotkin@reviewjournal.com or 702-455-4519.